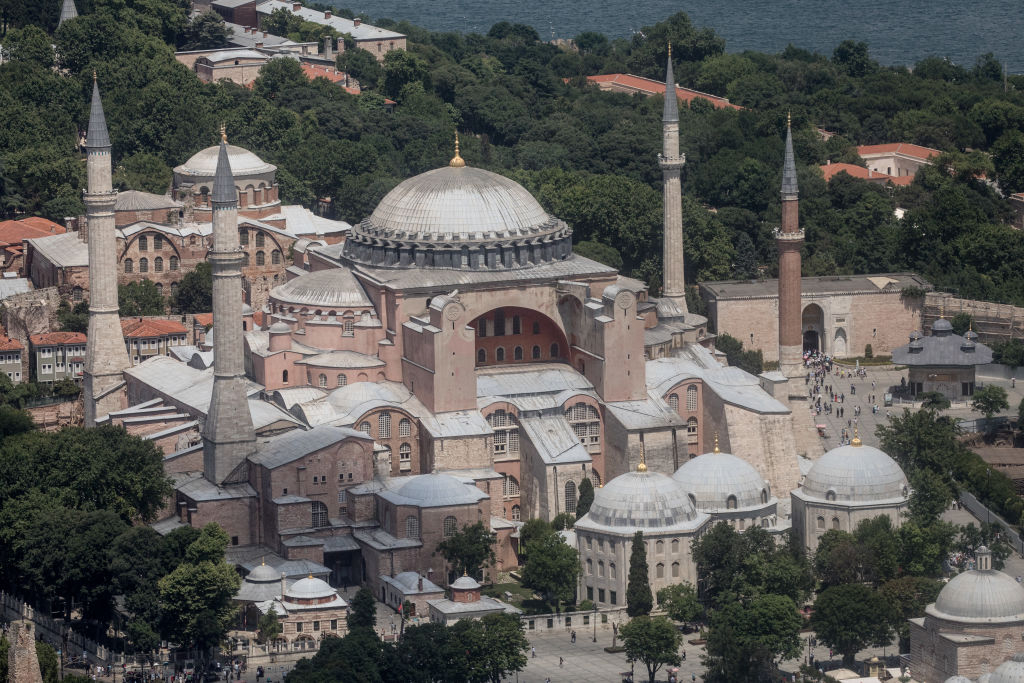 Turkish President Recep Tayyip Erdogan recently announced plans to convert the Hagia Sophia museum, originally a Byzantine cathedral, into a mosque. (Photo by Chris McGrath/Getty Images)
Addressing a rally ahead of the March 31 municipal elections in Turkey, President Recep Tayyip Erdogan announced plans to convert the Hagia Sophia museum, originally a Byzantine cathedral, into a mosque.
Erdogan repeated this statement the following day during a televised interview. "Hagia Sophia will no longer be called a museum," he declared. "Its status will change. We will call it a mosque."
Erdogan took the opportunity to respond to foreign officials critical of his intention to violate the former church by venting against Israel.
"Those who remain silent when Al Aqsa mosque is attacked, trampled [and] its windows smashed cannot tell us what to do about the status of Hagia Sophia," he said, referring to clashes between Palestinian-Arab rioters and Israeli police on the Temple Mount in Jerusalem, the holiest site in Judaism and the location of the Al Aqsa mosque.
Hagia Sophia, however, has nothing to do with either Al Aqsa or Israel. Destroying churches to use as mosques is also not new to Turkey, both during and preceding Erdogan's rule. Islamic supremacists have, in fact, been engaging in this practice since the Turkish invasion and takeover of Asia Minor in the 11th century.
Hagia Sophia (Greek for "Holy Wisdom") was built in the 6th century in Constantinople -- today's Istanbul -- and remained the world's largest cathedral for nearly 1,000 years, until the Ottoman Turks conquered the city and looted it.
Dr. Alexandros K. Kyrou, professor of history at Salem State University, recounts:
"When Constantinople fell to the Ottoman Turks in 1453, virtually all of the city's surviving cathedrals and churches were — after being desecrated and thoroughly plundered — forcibly seized and turned over to the Turks' religious establishment to be converted to mosques and used as Muslim properties. The conquering sultan, Mehmet II, personally oversaw the conversion of Hagia Sophia. Crosses were demolished and exchanged for crescents, altars and bells were destroyed, icons were burned or hacked to pieces, mosaics and frescoes depicting Christian imagery were plastered over, and most of the cathedral's priests were killed or enslaved. In time, four colossal minarets were erected to surround Hagia Sophia, producing the iconic image that has come to be globally associated with Ottoman Constantinople and Turkish Istanbul...

"Indeed, the purpose for the construction of the massive minarets that now tower over Hagia Sophia was to project to the world Islam's triumph over Christendom's greatest empire, city, and church. The capture of Hagia Sophia confirmed and symbolized in the Ottomans' imagination their belief in the superiority of their state and faith over all other nations and all religions, a putative affirmation of their providential role and destiny in history. Hence, the Ottomans formally dedicated their greatest, most celebrated single piece of loot — Hagia Sophia — as Great Fatih Mosque, or 'Great Conquest Mosque.'"
The Turkish Republic, established in 1923, changed the name of Constantinople to Istanbul in 1930, and, under the first president Mustafa Kemal Ataturk, turned the city's Hagia Sophia mosque into a museum in 1935 -- but not back to a church. For at least the last six years, however, Turkish officials have been talking about their desire to reconvert it into a mosque.
In 2013, Turkey's then-deputy prime minister, Bülent Arınç, told reporters that he hoped to see Istanbul's Hagia Sophia Museum used as a mosque. In 2016, Turkish authorities announced that readings from the Koran would be broadcast from Hagia Sophia during Islam's holy month of Ramadan, spurring the government to appoint a permanent imam who would lead five daily Islamic prayers at the site.
The Hagia Sophia in Istanbul is not the first former Hagia Sophia church (and later museum) to be converted into a mosque in Turkey. According to Ersoy Soydan, assistant professor of communications at Kastamonu University and author of Churches and Monasteries in Turkey, nine other former Hagia Sophia churches are either being used as mosques already or are in the process of being renovated for this purpose. The youngest of these, in Trabzon, was converted into a mosque in 2013.
Sadly, Turkey's Greek community as a whole, let alone that of Istanbul by itself, is not sizeable enough to oppose or protest infringements on their historic cathedral. The 1914-1923 genocide of Greek Christians in Anatolia, and subsequent atrocities against the survivors -- such as the 1955 anti-Greek pogroms in Istanbul -- have almost completely wiped out the region's Greek populace.
Uzay Bulut, a Turkish journalist, is a Distinguished Senior Fellow at Gatestone Institute.