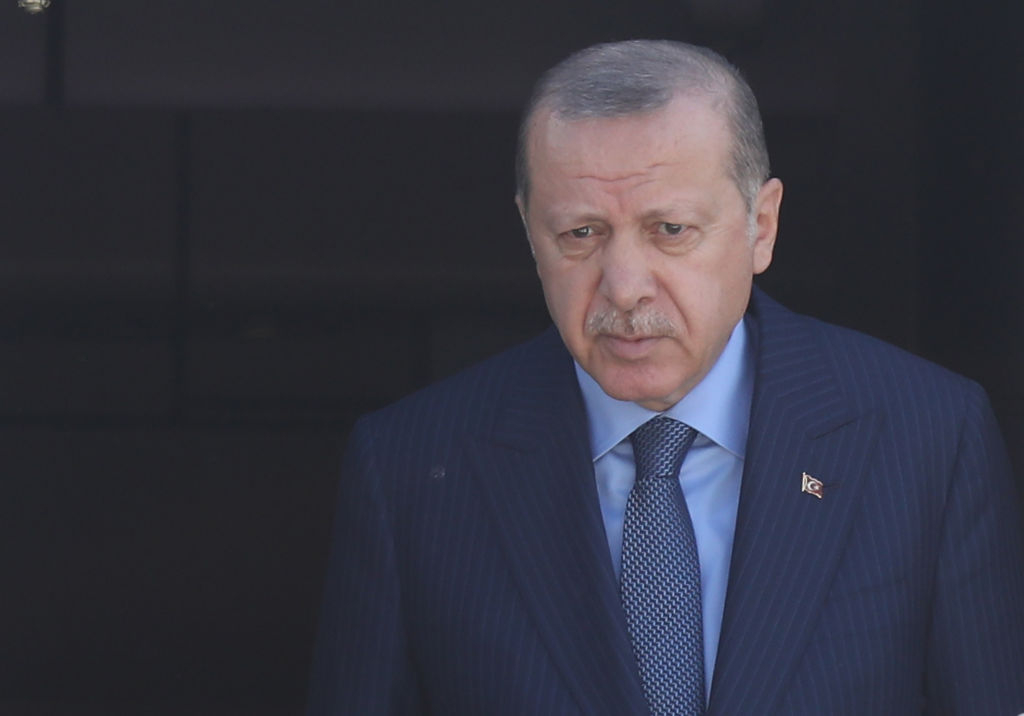 Turkish President Recep Tayyip Erdoğan may have the Supreme Electoral Board on his side, but bread-and-butter issues are looking gloomy for victory in the re-run of Istanbul's mayoral election... Even if Erdoğan wins Istanbul in the re-run, he will have lost the last few remaining crumbs of his international credibility. (Photo by Sean Gallup/Getty Images)
During most of his nearly 17-year-long term as Turkey's leader, President Recep Tayyip Erdoğan's self-aggrandizing, assertive foreign policy and his Islamist and nationalist one-man-rule have earned him popularity and votes in a country where average schooling is a mere 6.5 years. Erdoğan believed -- and made the average Turk believe -- that Turkey is a major world power. He claimed that his rule made miracles in the economy. Therefore, since his Justice and Development Party (AKP) came to power in 2002, he has not lost a single election. Everything was coming up roses all the time. Not anymore.
"Who wins Istanbul wins Turkey," has been Erdoğan's dictum since 1994, when he won mayoral elections in Turkey's biggest city (home to nearly 15% of Turkey's 57 million voters and accounting for 31% of its GDP). Twenty-five years later, his candidate for mayor of Istanbul, former prime minister Binali Yıldırım, lost in the local election -- the first defeat in Istanbul for Islamists since 1994. Game not yet over, Erdoğan ruled.
Upon appeal from the AKP over alleged irregularities, the Supreme Electoral Board, consisting of judges apparently under government pressure, cancelled the election result for Istanbul, suspending the mandate of the opposition candidate, Ekrem Imamoğlu, and setting the date for a re-run on June 23. The Board cancelled the election result on the pretext that some officials serving at the polling stations were not civil servants, as required by the law. "The Board's decision brings Turkish democracy one big step closer to death," wrote Kemal Kirişçi, senior fellow at TÜSİAD, Turkey's biggest business association.
Erdoğan may think this is a non-losing bet: he already lost Istanbul and a second loss would not cost him further; and this time there is a chance that he may even win. The opposition's win had come in by a margin of only 13,000 votes in a city with 10.5 million registered voters. But he would be wrong to think so. A second loss for the man who says "who wins Istanbul wins Turkey" would be embarrassing. A win could trigger massive protests that might deepen Turkey's economic woes and discredit Erdoğan even further in the West as an "elected dictator," bringing his image closer to that of his ally, Venezuela's Nicolás Maduro.
After the Supreme Electoral Board's ruling, the European Union issued a statement that said:
"... The justification for this far-reaching decision, taken in a highly politicised context, should be made available for public scrutiny without delay.

"Ensuring a free, fair and transparent election process is essential to any democracy and is at the heart of the European Union's relations with Turkey..."
EU officials are now calling for international observers to oversee Istanbul's re-run.
"It appears that losing Istanbul entails too many risks for the AKP for the matter to be left to its own resources. Many are convinced that if the AKP were to lose Istanbul to the opposition, after having held it – with its precursor – for 25 years, a hornet's nest of vested interests, corruption, and abuse of power would be revealed," wrote Semih Idiz, a columnist for Sigma Turkey, an Ankara-based think tank. "Had he done the politically correct thing and accepted the defeat in Istanbul nobly he would have elevated his moral stature. As matters stand he and his party have been tainted and it is difficult to understand how they expect to reap any benefits from this".
Erdoğan may have the Supreme Electoral Board on his side, but bread-and-butter issues are looking gloomy for victory in Istanbul. On May 7, only six weeks before the re-run, the Turkish lira slumped to its lowest level in seven months as further political unrest weighed on the nation's currency. Justin Low, an analyst at ForexLive, attributed the lira plunge to the electoral board's controversial decision. Meanwhile, Turkey's unemployment rate "surged to 14.7 percent in the December-February period, its highest level in nearly a decade... The Turkish economy contracted a sharper than expected 3 percent in the fourth quarter of 2018, its worst performance in nearly a decade, indicating that last year's near 30 percent slide in the lira had tipped it into recession." The economy is performing too badly to be portrayed as "good" by any electoral board under pressure from Erdoğan.
But Erdoğan is not giving up. His re-run strategy is based on contacting every single registered voter who abstained from voting in the March 31 local elections and persuading them to vote AKP in the re-run. His party officials must visit 1.7 million people -- an enormous task, but too much is at stake, and Erdoğan's local party organization is known to be an efficient machine Besides, pollsters found out that most abstainers are traditionally AKP voters who abstained due to economic reasons. Some of them may return home on June 23.
Even if Erdoğan wins Istanbul in the re-run, he will have lost the last few remaining crumbs of his international credibility.
Burak Bekdil, one of Turkey's leading journalists, was recently fired from the country's most noted newspaper after 29 years, for writing in Gatestone what is taking place in Turkey. He is a Fellow at the Middle East Forum.