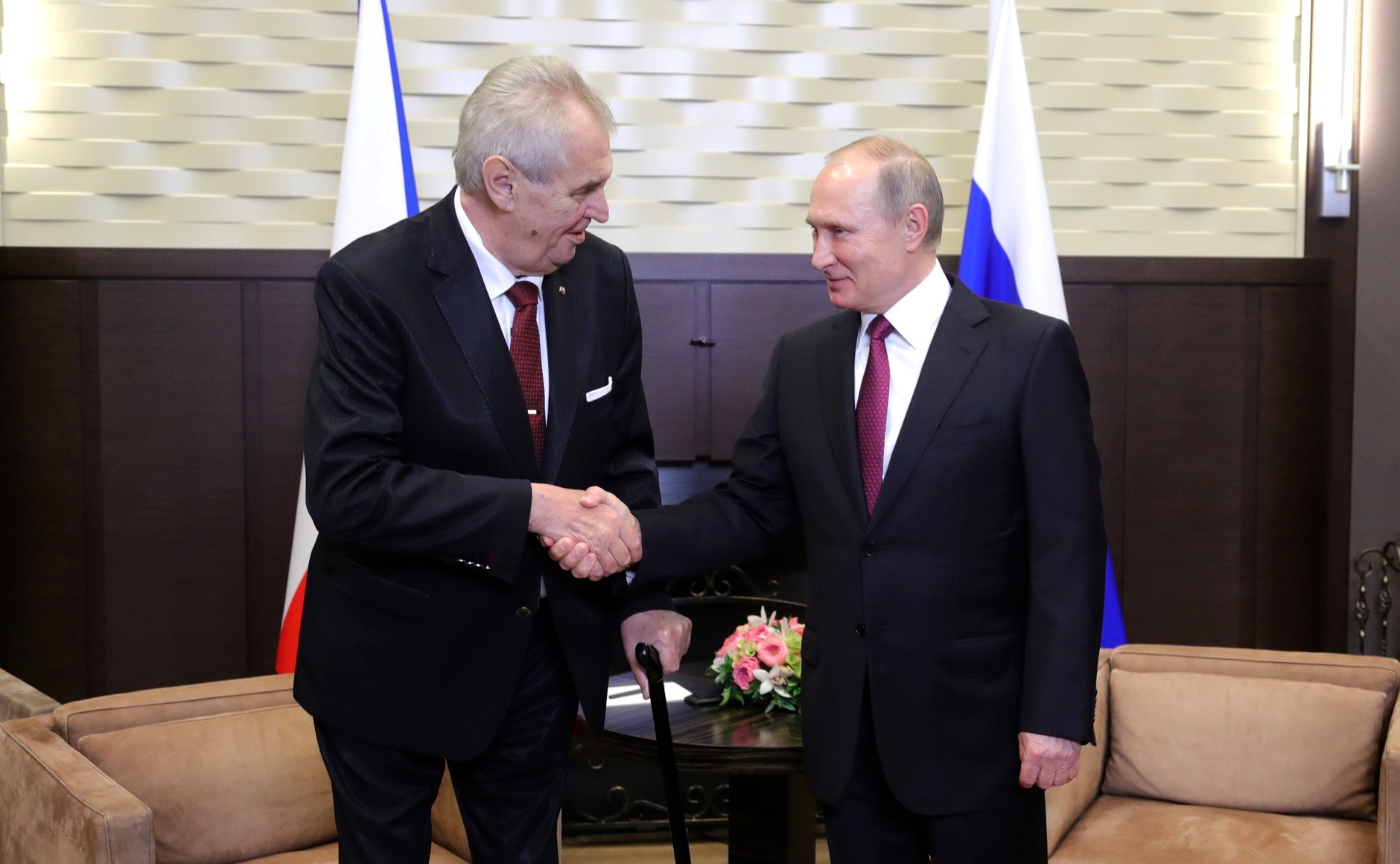 Russian President Vladimir Putin is now focusing on the Czech Republic, where the Kremlin is actively engaged with the country's pro-Russian president, Miloš Zeman, as well as Andrej Babiš, the controversial prime minister. Pictured: Russian President Vladimir Putin meets with President of the Czech Republic Milos Zeman, in Moscow on November 21, 2017.
No one is working harder to achieve a successful outcome from this week's European Union elections than Russian President Vladimir Putin.
Even though there is little prospect of Russia ever wanting to join the family of EU nations, that has not stopped Mr Putin from intensifying his efforts to expand his influence over those countries that are members of the European trade bloc.
Consequently, at a time when Moscow is desperate to have the sanctions lifted that have been imposed in response to various Russian acts of provocation, such as last year's Salisbury poisoning, Mr Putin is investing much time and energy to ensure that a strong pro-Russian lobby is elected to the new EU parliament following Thursday's Europe-wide ballot.
The EU, together with the US, has been at the forefront of the international campaign to hold Moscow to account for its role in the Salisbury attack in March 2018, when a team of Russian GRU intelligence officers have been accused of attempting to murder former Russian Sergei Skripal with Novichok nerve agent. The attack resulted in the strengthening of the sanctions originally imposed against Moscow in the wake of Russia's illegal annexation of Crimea in 2014, as well as its interference in eastern Ukraine.
Despite Moscow's protestations to the contrary, the sanctions have had an adverse impact on the Russian economy, which has contracted by around 3 per cent, prompting Mr Putin to search for ways to ease the impact the sanctions are having on Russia's economic fortunes.
To this end he is actively cultivating a network of contacts in EU member states with the aim of building a pro-Russian bloc in the next EU parliament, one that will be active in calling for the sanctions to be lifted.
The recent political upheavals in Austria, where a minister from the far-right FPO party has been forced to resign this week over his alleged involvement in a Russian-linked corruption scandal, is perhaps the best example of the growing links between prominent European politicians and Moscow.
Concerns about Russian influence have also been raised in France, Italy, Greece, the Netherlands and Germany, while questions remain as to whether Moscow tried to interfere in Britain's 2016 referendum on leaving the EU.
Elsewhere Moscow has worked hard to forge closer relations with Hungary and Bulgaria, two former Soviet satellites that appear to prefer maintaining good links with Russia over their support for the EU.
The extent of Hungary's preference for Moscow over the EU was demonstrated in the wake of the Salisbury attack when Budapest only agreed to expel a single Russian diplomat, while Bulgaria, another ally of the Kremlin, expelled none.
Slovakia, one of the EU's more recent recruits, also declined to support Brussels' request for member states to demonstrate diplomatic solidarity against Moscow.
As part of his effort to broaden his ties with pro-Russian states, Mr Putin is now focusing on the Czech Republic, where the Kremlin is actively engaged with the country's pro-Russian president, Miloš Zeman, as well as Andrej Babiš, the controversial prime minister.
Mr Zeman, who won re-election to serve a second term last January, is known for his pro-Russian sentiments and his profound Euroscepticism, especially over the EU's handling of the recent migrant crisis.
Mr Babis, whose premiership has been dogged by allegations of fraud, is regarded as a close ally of Mr Zeman, who has been described as "the most influential Kremlin ally in central Europe" because of his avowed support for Russia's military intervention in Syria, as well as endorsing Russian interference in eastern Ukraine.
Mr Babis is increasingly seen as a controversial figure in his home country, especially in the wake of a strange incident at the end of last year when his son claimed he was abducted by a Russian business associate of the Czech prime minister while on holiday in Crimea.
Mr Babis has rigorously refuted the claims, and insisted his son was "mentally ill". The affair nevertheless prompted six Czech opposition parties to demand the prime minister's resignation. Mr Babis has also had to rebut allegations that he worked as an informer for communist Czechoslovakia's secret police, the StB, a Cold War ally of the KGB -- claims that have led to suggestions that he retains close relations with Moscow.
Certainly, from Moscow's perspective, adding the Czech Republic to the burgeoning list of EU states and political parties with pro-Russian sympathies can only strengthen its efforts to undermine the EU's efforts to maintain a united front against Russia.
Con Coughlin is the Defence and Foreign Affairs Editor of London's Daily Telegraph.