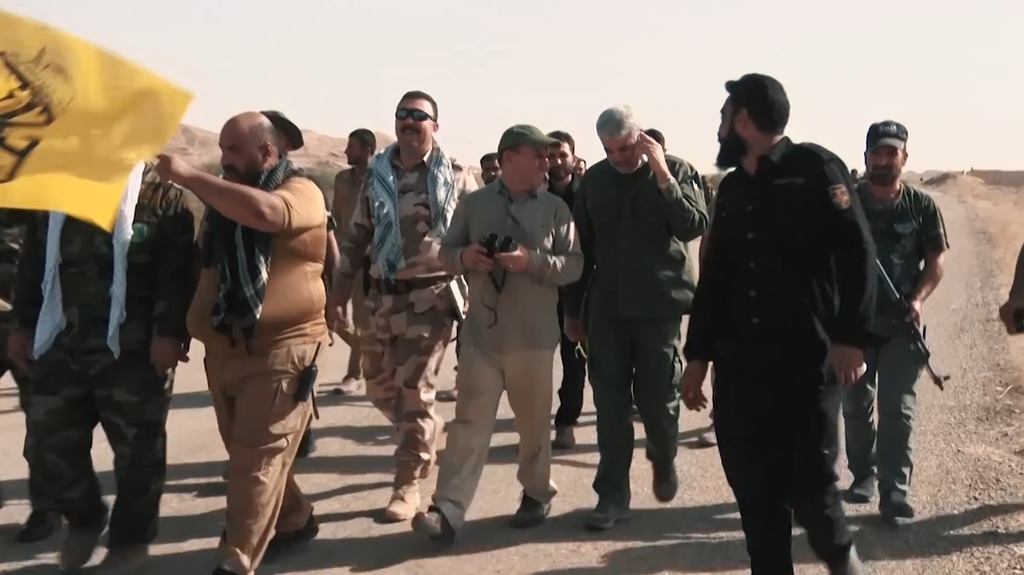 According to leaked reports, Qassem Soleimani, the head of the Quds Force, the elite branch of Iran's Islamic Revolutionary Guard Corps (IRGC), recently traveled to Iraq and instructed the leaders of Iraqi Shiite militia groups, which operate under the name Popular Mobilization Forces (PMF), to "prepare for proxy war". Pictured: Iraqi PMF militia commanders with Iranian advisors during Hawija offensive in Iraq, on September 27, 2017. (Image source: VOA video screenshot/Wikimedia Commons)
While plans were being concocted to harm or murder Americans, it is mind-boggling that people -- even entire governments -- were criticizing the Trump administration for preparing preemptive measures against multiple credible threats from the Iranian government and its forces.
While people were squabbling over the choices the Trump administration was making, the Iranian leaders, known to have mastered conducting asymmetric warfare, were giving directives to kidnap and kill American soldiers.
A leading Republican lawmaker, Rep. Michael McCaul (R-Texas), also the ranking Republican on the House Foreign Affairs Committee, has pointed out that recent intelligence obtained about Iran's threat was extremely detailed.
"To the extent I can discuss it, it was human intelligence," he said, and added that, "One of the Hezbollah cells is known for its kidnapping and killing operations, and their directive was to go in and kill and kidnap American soldiers."
According to leaked reports, Qassem Soleimani, the head of the Quds Force, the elite branch of the Islamic Revolutionary Guard Corps (IRGC) that is mandated to advance Iran's revolutionary and political interests in foreign nations, recently traveled to Iraq and met with the leaders of Iraqi militia groups that the Iranian regime controls.
Iran's most senior general instructed the Iraqi Shiite militias to "prepare for proxy war". Iran's leaders continue to exert significant influence both directly and indirectly in Iraq through a conglomerate of more than 40 Iraqi militia groups that operate under the name Popular Mobilization Forces (PMF).
Soleimani is also well known as one of the Middle East's deadliest operatives, and is considered by many Iran's most dangerous man. The Quds Force has, in addition, given birth to a variety of designated terrorist groups, including Asaib Al-Haq and Kataib Al-Imam Ali (KIA), which use horrific tactics of torture similar to the Islamic State (ISIS).
Kataib Al-Imam Ali is, like ISIS, known for showing videos of beheadings and burning bodies; Asaib Al-Haq reportedly receives more than $2 million a month from Iran.
A recent report showed that Iran has murdered more Americans in Iraq than was previously thought. This is in addition to the thousands of innocents — including Iraqi children and women — who have been killed by the Islamic Revolutionary Guard Corps, the Quds Force, and their militias.
It is not the first time that the Quds Force had prepared militias and proxies to carry out attacks against foreign entities. The Quds Force has been accused of failed plans to bomb the Saudi and Israeli embassies in the US, and to assassinate the Saudi Ambassador to the U.S. at the time, Adel Al-Jubeir. An investigation further revealed that the Quds Force was also behind the assassination of Lebanon's Sunni Prime Minister Rafiq Hariri, and implicated in the 9/11 attacks. US Federal Judge George Daniels issued an order stating that Iran, its Lebanese Shiite proxy Hezbollah and Al-Qaeda were jointly responsible for those terrorist attacks.
In Iraq, the Quds Force has been busy stoking unrest by providing deadly, sophisticated bombs such as improvised explosive devices (IEDs) that have killed countless soldiers and civilians, including Iraqis and Americans.
The Quds Force rules over roughly 20,000 members and it can also use forces from the IRGC and Basij paramilitary group in cases that are considered emergencies, or hire fighters from a multitude of countries, including Afghanistan, to fight as proxies.
As a result, considering these serious threats, the U.S. State Department recently ordered all non-emergency employees immediately to leave Iraq. There are approximately 5,000 American troops in Iraq. The U.S. also took preemptive measures by deploying an aircraft carrier, along with B-52 bombers and other military forces, to the Middle East. In addition, President Trump stated to Iran that if it threatens the US, Tehran would meet its "official end".
These were simply preemptive measures that any rational state would take in the face of those clear threats. They were being taken to save the lives of American citizens and prevent the world's official leading state sponsor of terrorism from further destabilizing the region.
What do critics of the Trump administration expect the American government to do, aside from putting the issue "temporarily on hold"? Do these critics want the Trump administration to ignore Iran and its terror groups until another terrorist act like 9/11 occurs? Or is it possible that these critics, deep-down, do not care about U.S. national security and the lives of ordinary citizens?
Dr. Majid Rafizadeh is a business strategist and advisor, Harvard-educated scholar, political scientist, board member of Harvard International Review, and president of the International American Council on the Middle East. He has authored several books on Islam and US Foreign Policy. He can be reached at Dr.Rafizadeh@Post.Harvard.Edu