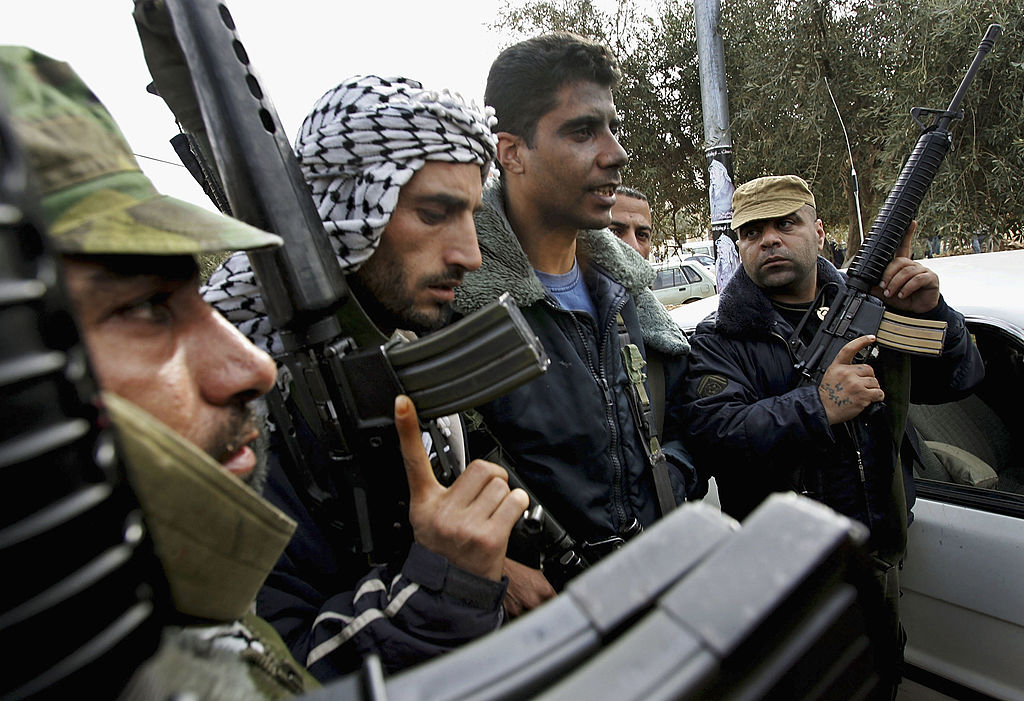 Earlier this year, Palestinian Authority President Mahmoud Abbas' ruling Fatah faction expressed outrage because Israel arrested Zakariya Zubeidi, one of its senior terrorists, for carrying out shooting attacks against Israelis between 2016 and 2019. Zubeidi was a leader of Fatah's Al-Aqsa Martyrs Brigades terrorist group during the Second Intifada (2000-2005). In 2007, Zubeidi was pardoned by Israel as part of a deal signed with the PA, in which he and other terrorists signed a pledge to refrain from terror activities. Pictured: Zubeidi (third from left) on December 30, 2004 in Jenin. (Photo by David Silverman/Getty Images)
The Palestinian ruling Fatah faction, headed by Palestinian Authority President and PLO chief Mahmoud Abbas, is often described as a "moderate" and "pragmatic" group. There are many reasons and sufficient evidence to believe, however, that this assumption is unrealistic, if not totally false.
Before examining the rhetoric and actions of Fatah, one might do well to consider the group's emblem, which depicts two fists holding rifles, and a hand grenade in the middle. In the background is a map of Israel (with no mention of Israel); the emblem is accompanied by a caption reading: "Revolution until victory."
Why any group that proudly uses rifles and a hand grenade as its symbol is described as "moderate" and "pragmatic" remains a mystery. Could it be because it is an anti-Israel group that calls itself the Palestinian National Liberation Movement and was established with the declared goal of "liberating Palestine" -- specifically meaning, destroying Israel?
The rifles and hand grenade are a blunt sign of Fatah's true message to the Palestinians -- that the armed struggle against Israel should continue until the "liberation of Palestine," just as its name suggests.
Why does Fatah continue to use rifles and a hand grenade after its leaders signed the Oslo Accord with Israel in 1993 and Abbas continues to claim that he supports a two-state solution?
How does Abbas explain his opposition to the use of weapons and terrorism against Israel while his own faction displays rifles and a hand grenade and a map where Israel is completely ignored?
Fatah is now spearheading the Palestinian campaign to thwart US President Donald Trump's yet-to-be-announced plan for peace in the Middle East, also known as the "Deal of the Century."
Fatah leaders, who admit they know nothing about the upcoming peace plan, have been devoting most of their time and energy to inciting Palestinians against Trump's plan and the US-led economic conference scheduled to take place next week in Bahrain. At the conference, the US administration is expected to unveil the economic portion of the Deal of the Century. Abbas and his Fatah officials, however, are already doing their utmost to foil the conference, including threatening Palestinian business leaders that anyone who attends the economic "workshop" will be accused of treason.
As part of their effort to derail the Trump plan, Fatah leaders have called for mass protests in the West Bank and Gaza Strip on June 25 and 26 -- when the Bahrain conference is scheduled to take place.
Jamal Muheissen, a senior Fatah official, said that the two days will be marked as "days of rage" by Palestinians to voice their rejection of both the Deal of the Century and the Bahrain conference. He urged Palestinians to rally behind Abbas and the Fatah leadership and express their support for efforts to thwart the unseen peace plan.
A Fatah poster calling for mass protests against the Bahrain "workshop" features a masked Palestinians throwing a rock (at Israelis).
The message Fatah is sending to its people is: Go out and throw stones at Israelis during the Bahrain conference, whose chief goal is to discuss ways of boosting the Palestinian economy and improving living conditions in the West Bank and Gaza Strip. Fatah is, in other words, calling for a new Intifada [uprising] against Israel because the US is seeking ways to help the Palestinians. This is nothing less than loony.
Further evidence of Fatah's alleged "moderation" and "pragmatism" emerged last week, when the ruling faction expelled from its ranks a Palestinian mayor for hosting Jewish settlers at his son's wedding.
Pictures of settlers attending the wedding in the West Bank town of Deir Qaddis have enraged Fatah leaders, who said they formed a commission of inquiry to investigate the mayor and his family. The mayor, Radi Nasser, has also lost his job with the Palestinian Ministry of Education for hosting the settlers at the wedding. Fatah is now also demanding that the mayor be removed from his job.
The mayor has since been forced publicly to apologize to Fatah and the Palestinians for inviting Jews to his son's wedding.
Last month, Fatah strongly condemned a Palestinian businessman from the West Bank city of Hebron for inviting Jewish settlers to a Ramadan iftar dinner after sundown. Fatah accused the businessman, Ashraf Jabari, of promoting "normalization" with Israel and being part of "suspicious American-Israeli schemes against the Palestinians."
Earlier this year, Fatah expressed outrage because Israel arrested one of its senior terrorists in the West Bank -- Zakariya Zubeidi.
Zubeidi, former commander of Fatah's armed wing, Al-Aqsa Martyrs Brigades, was arrested for carrying out several shooting attacks against Israelis in the West Bank.
Zubeidi was one of the leaders of Fatah's terrorist group in the northern West Bank during the Second Intifada (2000-2005). In 2007, he was pardoned by Israel as part of a deal signed with the Palestinian Authority (PA).
Because of his affiliation with Fatah, Zubeidi was appointed member of the faction's Revolutionary Council, a key decision-making body dominated by Abbas loyalists. In addition to this position, he was also given a senior job with the PA's Commission for Palestinian Prisoners, a group that provides financial and legal assistance to terrorists imprisoned by Israel.
Earlier this week, Zubeidi and Tarek Bargut were indicted for carrying out shooting attacks between 2016 and 2019. According to the charge sheet, the two terrorists used a car issued to Zubeidi by the Palestinian Authority in his capacity as a senior official of Fatah and the Commission for Palestinian Prisoners.
Instead of distancing itself from Zubeidi and his accomplice for their involvement in terrorism, Abbas's Fatah rushed to condemn Israel for arresting the terrorist leader and his friend. This is the same Fatah whose leader, Abbas, says he is committed to non-violence and is opposed to all forms of terrorism.
"The arrest of Zubeidi will lead to an open confrontation [with Israel]," said Munir Jaghoub, a senior Fatah official. "The arrest shows that Israel is headed toward an all-out escalation against the Palestinians and their leaders. Israeli leaders would be foolish to believe that the Palestinians will remain silent toward their practices and crimes."
Fatah's Revolutionary Council also condemned Israel for preventing Zubeidi from pursuing his plan to murder Jews. In a statement, the council said that the arrest of its member (Zubeidi) was an Israeli "violation of agreements and understandings" with the Palestinian Authority.
The Fatah council claimed that Israel was preparing to bring Zubeidi to trial for political reasons. "Israel wants to bring the Palestinian struggle to trial," it said in its statement.
According to the logic of Fatah, it was Israel, and not the terrorist, who "violated" the agreements and understandings signed with the Palestinian Authority. In fact, Zubeidi is the one who violated the agreements and understandings by continuing his terrorist activities.
As a gesture of goodwill, in 2008 Israel had informed the Palestinians of its decision to stop pursuing dozens of Fatah terrorists in the West Bank. A senior Palestinian official said at the time that the Israeli decision to pardon the terrorists belonging to Fatah's armed wing, Al-Aqsa Martyrs Brigades, had arrived after a three-month "trial period" during which they refrained from launching attacks against Israel.
Under the terms of the "pardon," the terrorists, including Zubeidi, were required to stay inside Palestinian security installations after surrendering their weapons and signing a pledge to refrain from terror activities.
Zubeidi's decision to continue his terror activities against Israel did not come as a surprise to Palestinians. The man who grew up in the Jenin refugee camp in the northern West Bank had spent most of his life carrying weapons and launching terror attacks against Israel. The group he headed in his camp, Al-Aqsa Martyrs Brigades, was established during the Second Intifada on orders from Yasser Arafat.
In several interviews over the past few years, Zubeidi made it clear that he never had any intention of renouncing terrorism. In one interview, he said that the Palestinian "resistance" could coexist alongside negotiating with Israel. "Resistance is not defined yet," he explained. "It could be armed resistance and it could be peaceful resistance."
Recently, Zubeidi told an Israeli TV correspondent that he "misses the intifada and the revolution."
By its very own words and actions, Fatah makes it plainly clear that it is anything but moderate and pragmatic. This is the same faction that is supposed to be Israel's peace partner and whose leaders are welcomed around the world as advocates of peace and coexistence. If this is moderation, one wonders how do Palestinians define extremism? The international community might check Fatah's communications in Arabic before answering that question for themselves.
Bassam Tawil is a Muslim Arab based in the Middle East.