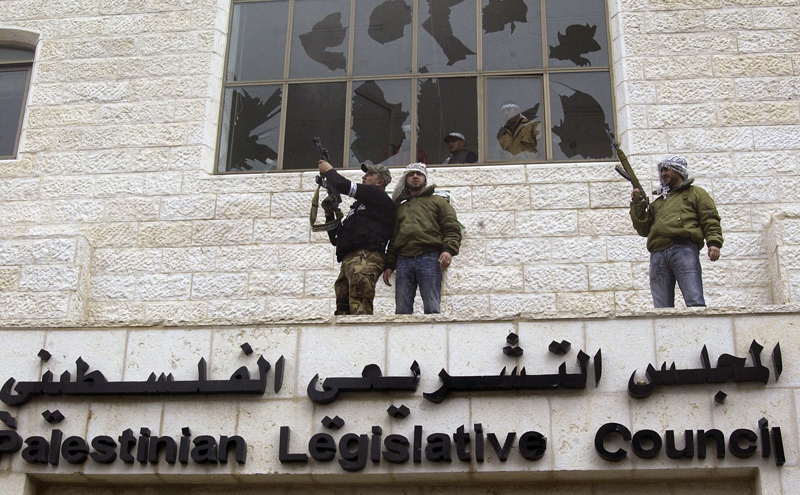 Pictured: Gunmen from the Palestinian Fatah faction occupy the Palestinian Legislative Council building in Ramallah and fire shots in the air, on January 28, 2006, in protest of Hamas' victory over their party in elections held three days prior. (Photo by Zharan Hammad/Getty Images)
Palestinian Authority President Mahmoud Abbas says that he is ready to hold long-overdue presidential and parliamentary elections, and has even instructed the Palestinian Central Elections Commission to start preparing for the vote.
Abbas seems to be taking quite a gamble. There is a real possibility that his rivals in Hamas will manage to push him off the presidential throne he has been occupying so persistently for the past fourteen years.
Hamas leaders have responded by welcoming the initiative to hold new elections. The leaders say they are not afraid of elections: they are confident that their movement will win.
Hamas leaders are clearly hoping that if and when new elections are held, they would facilitate its takeover of the Palestinian Authority (PA) presidency and the Palestinian Legislative Council.
New elections are certain to result in the creation of another Hamas-controlled entity in the West Bank. The Palestinians would end up with two Hamas-run mini-states, one in the West Bank and one in the Gaza Strip.
The last Palestinian parliamentary election, held on January 2006, resulted in a Hamas victory. Hamas officials, who contested the vote under a list called Change and Reform, won 74 of the 132 seats. The Hamas victory came as a severe blow to Abbas's ruling Fatah faction, whose representatives won only 45 seats.
Eighteen months later, Hamas violently seized control of the Gaza Strip after overthrowing the Fatah-dominated Palestinian Authority. Since then, the Palestinian Legislative Council has been effectively paralyzed, leaving the Palestinian Authority without parliamentary supervision.
The last Palestinian presidential election was held in January 2005, when Abbas was elected to succeed Yasser Arafat. Since then, Palestinians have been deprived of electing a new president due to the continued power struggle between Fatah in the West Bank and Hamas in the Gaza Strip. The 83-year-old Abbas is now in the 14th year of his four-year-term in office. Many Palestinians stopped relating to him as a legitimate and rightful leader after his term in office expired in January 2009.
Abbas is now embarking on a risky move by expressing his readiness to hold new parliamentary and presidential elections.
First, there is a high probability that Hamas would win the parliamentary election again. One of the main reasons Hamas won the 2006 election was because of rampant financial and administrative corruption in the Palestinian Authority. That is evidently why Hamas chose to name its list Change and Reform -- to promise Palestinians an end to corruption.
In addition, many of the Fatah candidates suspected of involvement in corruption and mismanagement who ran in that election are still in power. It is safe to assume that Palestinians are not going to vote for the same Fatah list that includes the same people who were voted out because of their corruption.
Second, Abbas's initiative to hold new elections will be seen as an admission of his failure to remove Hamas from power in the Gaza Strip. Worse, the participation of Hamas in the new elections will legitimize the Islamist movement and enhance its role as a major player in the Palestinian arena.
In the past, Abbas and his officials have said that there can be no elections as long as Hamas officials refused to end their rule over the Gaza Strip. Abbas now seems to have dropped that condition.
Third, Abbas has no assurances that the election in the Gaza Strip would be conducted in a free and fair manner so long as Hamas remains in power. Given Hamas's ongoing, vicious crackdown on its political rivals, particularly Fatah, it is highly unlikely that Fatah candidates would feel safe openly to challenge the rulers of the Gaza Strip. Under the current circumstances, Hamas will not allow Fatah candidates to run election campaigns criticizing the Hamas regime and leaders.
Last March, Palestinians living in the Gaza Strip got a first-hand -- and painful -- taste of what happens to anyone who dares to challenge Hamas. Protests that erupted in different parts of the Gaza Strip against economic hardship were met with the iron fist of Hamas.
Hamas not only accused Fatah of being behind the economic protests, its security forces arrested dozens of Fatah members in the Gaza Strip. Fatah says many of its men were subjected to brutal torture in Hamas detention. Fatah has also held Hamas responsible for assassination attempts against two senior Fatah officials in the Gaza Strip: Ahmed Hils and Atef Abu Seif.
"Hamas has abducted and brutally tortured Fatah members," said Fatah spokesman Osama Qawassmeh. "No Palestinian can imagine what Hamas did."
In addition to severe beatings with clubs and plastic pipes, some Palestinians say Hamas officers forced them to drink their own urine and broke detainees' arms and legs.
If Fatah members are not even permitted to protest the living conditions of Palestinians in the Gaza Strip, how will they be able to participate in free and fair elections under Hamas?
Also, if Fatah members are being systematically targeted and tortured by Hamas for expressing their views, how will they ever be allowed to conduct election campaigns that challenge the rulers of Hamas in the Gaza Strip?
Abbas's initiative, meanwhile, has been applauded not only by Hamas, but also by several Palestinian factions and institutions that have long been calling for new parliamentary and presidential elections. Recently, the factions and institutions sent a letter to Abbas expressing their support for his initiative and saying the Palestinians were entitled to elect their leaders through fair and transparent elections.
In the bizarre parallel world of the Palestinians, Hamas leaders say that while they are not afraid of elections, they are not sure that the vote could be free and fair in the West Bank, where the Palestinian Authority is continuing to crack down on Hamas supporters almost on a daily basis.
"Hamas is not afraid of elections," said senior Hamas leader Mohammed Nazzal. "In fact, it's Abbas who's afraid of elections because public opinion polls have shown that he and Fatah will be defeated by Hamas. Despite our mistakes, Hamas remains the conscience of the Palestinians because it does not conduct security coordination [with Israel] and does not steal the money of the people."
Hamas leaders are confident that they will win any new election for two reasons: the Palestinian Authority's continued security coordination with Israel is seen by Hamas officials and many Palestinians as an act of treason, and Palestinians seem disgusted with the rampant corruption among the top brass of the Palestinian leadership.
A recent public opinion poll published by the Palestinian corruption monitor Aman Coalition revealed that 91% of Palestinians surveyed do not trust the Palestinian Authority. Other polls have shown that more than 60% of surveyed Palestinians would like to see Abbas step down.
At this stage, it is premature to predict whether Abbas's latest initiative will succeed. Tensions between his Fatah faction and Hamas remain as high as ever. Even the Egyptians, who have been laboring in recent months in mediation to end the dispute, seem to have thrown their hands up in the air and quit.
Khaled Abu Toameh, an award-winning journalist based in Jerusalem, is a Shillman Journalism Fellow at Gatestone Institute.