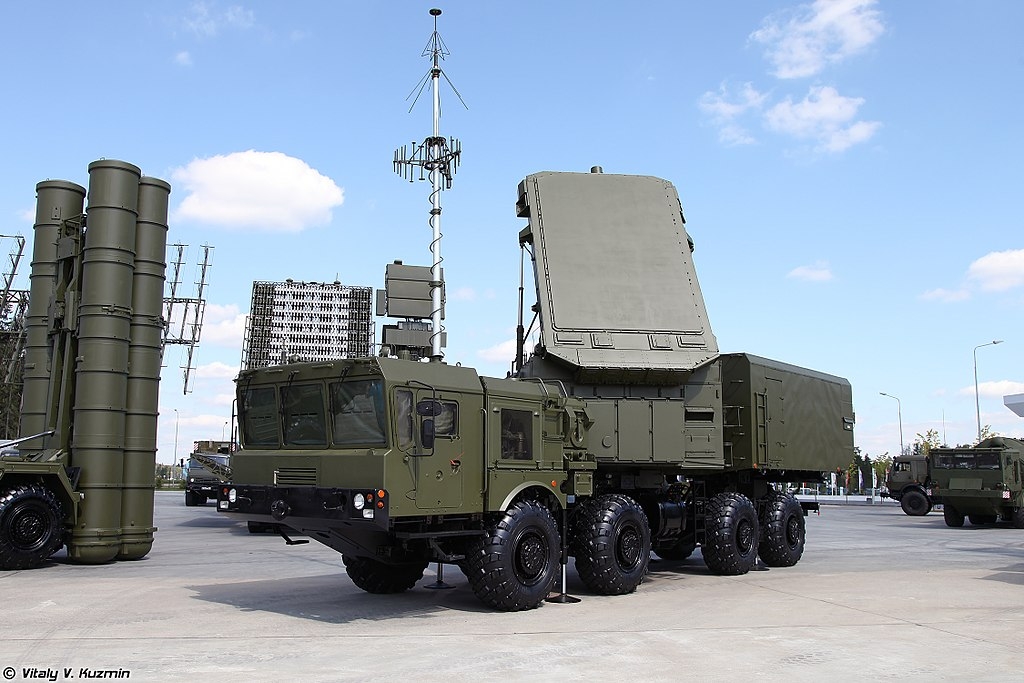 Last week, Turkey took delivery of the first parts for the Russian-made S-400 surface-to-air missile systems it ordered. The S-400 can engage targets at a range of up to 400km (250 miles). It has been designed to shoot down NATO's aerial assets -- including U.S.-made F-35 fighter jets. Pictured: A Russian S-400 missile battery. (Image source: Vitaly Kuzmin/Wikimedia Commons)
Ever since Turkey officially selected the Russian-made S-400 surface-to-air missile system for its long-range air-aircraft and anti-missile architecture at the end of 2017, Turkish President Recep Tayyip Erdoğan has not changed his rhetoric that the purchase was "a done deal;" and that "it is Turkey's sovereign choice to deploy which air defense system is on its soil." In response, the U.S. administration threatened to suspend Turkey's membership in the multinational Joint Strike Fighter program, which is building the F-35 Lightning II fifth-generation fighter jet. The U.S. has also threatened Turkey with more sanctions within the Countering American Adversaries Through Sanctions Act. Industry officials say the CAATSA sanctions may cost Turkish companies more than $10 billion in lost (sub-) contracts. Turkey has committed to buy at least 100 F-35s and has already paid $1.4 billion.
Erdoğan just shrugs it off. He says that Turkey would consider co-production of the S-400 and the more advanced S-500 system with Russia; that the S-400 was Turkey's sovereign decision and that Turkey would also open negotiations for the acquisition or co-production of the Russian-made Su-57 fighter jet in place of the F-35s.
The S-400 can engage targets at a range of up to 400km (250 miles). It has been designed to shoot down NATO's aerial assets -- including the F-35s in the making.
The first parts of the S-400 systems arrived in Ankara on July 13.
U.S. Representative John Sarbanes (D-Md.) released the following statement on July 12:
"Turkey's decision to proceed with the acquisition of the Russian S-400 surface-to-air missile system presents a serious national security threat to the United States and to our NATO allies. By purchasing and integrating a sophisticated Russian missile defense system into NATO hardware, Turkey not only stands to jeopardize NATO security in the region but also presents Russia with a victory in its ongoing effort to sow division and distrust among NATO member states. Under President Erdogan, Turkey has spiraled – perilously – into an anti-democratic, authoritarian regime whose actions have repeatedly undermined NATO defenses. In order to demonstrate that it can operate as a trusted and reliable partner in the region, Turkey must take immediate steps to completely dismantle and return the S-400 system to Russia."
Meanwhile, the Turkish lira fell and so far this year the country's economy has contracted again.
The relationship between Ankara and Washington could drift into a storm if the U.S. retaliates in the way it promised: Suspend Turkey's membership in the JSF program, stop Turkish pilots' training; fail to deliver other critical military gear, especially the smart munitions Turkey uses against Kurdish militants in its own southeast and/or in northern Syria and northern Iraq; sanction senior Turkish officials and defense companies involved in the S-400 program; and a new wave of economic sanctions may push the country's already fragile financial posture into a free fall.
One might use a bit of political acrobatics here: Squeeze Erdoğan further (economically) but without burning bridges: Erdogan will not be in charge by, say, 2074.
In Washington there are three options to deal with an ally-turned-menace:
Since there are several other transactional issues for which the U.S. and Turkey remain dependent on each other, go soft on the sanctions.
Recall the case of Pastor Andrew Brunson, when Turkey's economic downturn helped to secure the American pastor's release by squeezing Turkey economically. What Erdogan fears most are the U.S. CAATSA sanctions. According to the latest official statistics, the unemployment rate in Turkey is 13%, with 4.2 million people looking for work. The economy is in recession and the lira rate unstable.
Devise a pragmatic blend of both plans to try to avoid permanently explosive damage to the country.
By becoming the first NATO ally to deploy the Russian-made S-400 air defense system on its soil and ignoring interoperability, NATO members will have to figure out how to deal with a new "frenemy."
Burak Bekdil, one of Turkey's leading journalists, was recently fired from the country's most noted newspaper after 29 years, for writing in Gatestone what is taking place in Turkey. He is a Fellow at the Middle East Forum.