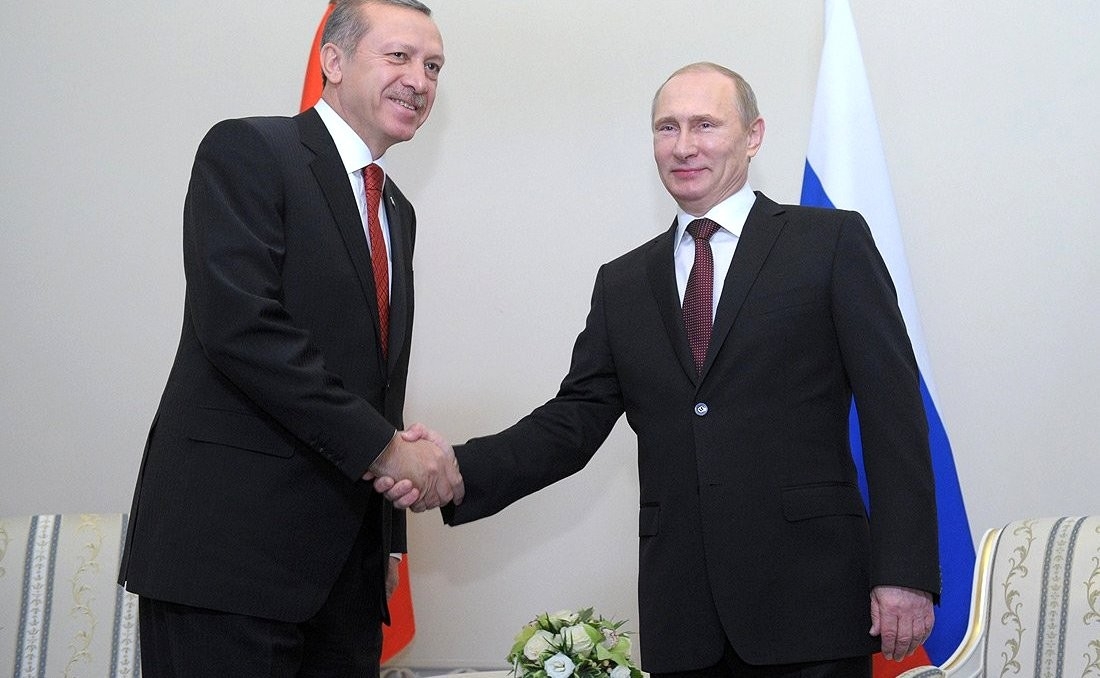 Turkish President Recep Tayyip Erdoğan's decision to deploy the Russian S-400 surface-to-air missile system in Turkish (NATO) territory reflects his ideological anti-Western thinking. It was not a coincidence either that Erdoğan in 2013 demanded from Russian President Vladimir Putin a seat at the Shanghai Cooperation Organisation, NATO's Eurasian replica. Pictured: Erdogan visits Putin in St. Petersburg, Russia, on November 22, 2013. (Image source: kremlin.ru)
Ironically, it was an anti-Islamist, Kemalist Turkish general who first suggested that Turkey should align its foreign policy with the rising powers of Eurasia -- all of Europe plus Asia. It was just eight months before President Recep Tayyip Erdoğan's Justice and Development Party (AKP) first came to power, and since then, has remained undefeated. The U.S. at the time was busy with the final touches on the military operation that would oust Iraq's dictator, Saddam Hussein, in March 2003.
General Tuncay Kılınç, the powerful secretary general of Turkey's National Security Council, said that Turkey should seek an alternative alliance with Russia and Iran. In November 2002, Erdoğan's AKP came to power, pledging to pursue pro-EU, pro-West, liberal governance, and wrongly accusing Kemalist ideology of being an obstacle against liberal democracy -- an incredible political story, to judge it 17 years later. Few observers back then warned that Erdoğan's pro-West façade was fake and his deep adherence to political Islam, an enemy of the Western civilization, would one day urge him to seek non-Western alliances.
Ostensibly, the S-400 vs. F-35 conflict between NATO allies Turkey and the United States is a matter of East-West military disputes, reminiscent of several others the world observed during the cold war. It is not.
It was not a coincidence that in 2009 the Turkish military became the first NATO force to have joint military drills with the Syrian army. In 2010, Turkey became the first NATO member state to have exercises with China's air force.
In 2013, Turkey selected a Chinese company to receive a multi-billion contract for the production of its first long-range air and anti-missile defense system -- a decision Ankara later scrapped.
Just like those "shocking" moves, Erdoğan's decision to deploy the Russian S-400 surface-to-air missile system in Turkish (NATO) territory reflects his ideological anti-Western thinking. It was not a coincidence either that Erdoğan in 2013 demanded from Russian President Vladimir Putin a seat at the Shanghai Cooperation Organisation (SCO), a Eurasian would-be replica of NATO. "Allow us into the Shanghai Cooperation Organization and save us from this [EU membership] trouble," Erdoğan told Putin. Turkey became the first NATO member state to become a "dialogue partner" with the regional body -- colloquially known as the Shanghai Five -- in April 2013. The SCO's members include Russia, China, Uzbekistan, Tajikistan, Kyrgyzstan and Kazakhstan.
That statement alone should have sufficed to tell Turkey's Western friends in what direction Erdoğan's Turkey was heading. Turkey's choice of a Russian-made air defense system that is primarily designated to hit NATO aerial assets is a reflection of its anticipation of an aerial military conflict with a NATO member in the future. But which one(s)? Does Erdoğan think it is likely that Turkey will engage in military confrontation over the Aegean skies with its traditional rival, Greece? Or any other European NATO member? The U.S.? Which NATO member's air force will attempt to hit Turkey with its aircraft or missiles? (The S-400 can engage targets at a range of up to 400km.)
As Turkey's "Western march" has come to a dramatic halt, the country has been increasingly aligning its foreign policy with the Eurasian bloc.
In simple terms, Eurasianism broadly encompasses the idea that Turkey should reorient away from the West in favor of an Eastern and Central Asian hinterland. Apparently Erdoğan's Turkey is an ideal theater: it can perform an oriental rehearsal. No doubt, the S-400 is also a sign of Erdogan's disregard for Turkey's increasingly problematic place in the Western alliance. Erdoğan's ideologues keep on portraying the U.S. as an "enemy country," and many Turks increasingly buy that line. Seven out of 10 Turks now report feeling threatened by U.S. power, an increase of 28 percentage points since 2013 -- a higher jump than in any country recently polled.
NATO is not the only Western institution showing signs of wariness in keeping Turkey at bay. Turkey has been a troubling candidate for full accession to the European Union; at the moment, membership negotiations are blocked. Turkey has completed only one of the required 31 "chapters" required for accession since it was given accession negotiations began in 2005. Political conflicts keep the procession process in deep freeze. Planned visa-liberalization talks between Ankara and Brussels are going nowhere. EU's pre-accession financial assistance for candidates hoping to become members is being significantly reduced. New funding for the next phase of the "refugee deal" is uncertain. The deal was that Turkey would keep the mainly Syrian refugees on its soil, preventing them from flooding EU countries, and the EU would grant Turkey visa-free travel rights. More importantly, in July, the EU decided to scale down the political dialogue and suspend negotiations on an aviation agreement, as a reaction to Turkey's drilling for oil and gas in contested waters of the Eastern Mediterranean.
While all this is happening, Erdoğan is trying further to establish Turkey as a reliable Eurasian partner, not just by instrumenting its rigid pro-Russian policy calculus.
In a recent visit to Beijing, Erdoğan repeated that Turkey would join the Shanghai Cooperation Organisation. His other words were also music to Chinese ears: Erdoğan mentioned Turkey's respect for "one China". The "One China" doctrine dictates that Chinese territory, including disputed Taiwan and Uyghur territories, are part of the People's Republic of China and cannot be divided. Erdoğan also pledged full cooperation against "terrorism" (read as full cooperation against the persecuted Uyghurs, an ethnic minority of Turkic descent in China who have been fighting for independence). According to an official Chinese report, Erdoğan, after meeting with Chinese President Xi Jinping -- and disappointing tens of thousands of Uyghurs still living in Turkey -- pledged further support for China's policy not to allow any anti-Chinese separatist activity to operate from Turkey.
There is no doubt that Erdoğan will now strengthen relations with China, says Uzi Rabi, director of the Moshe Dayan Center for Middle Eastern and African Studies. "He knows that the Chinese have a very multi-targeted policy. They attach military help with economic interests, and Turkey will have to consider it and accept it." Closer ties between Turkey and China will harm Washington's work in its trade war with China, said Rabi. Closer ties would create new trading partners for China, thereby giving Beijing a freer hand in its trade negotiations with Washington.
How ironic it is that Erdoğan has embraced Eurasianism -- the Kemalist ideology challenging Erdoğan's reformist, fake pro-Western ideas. In less than two decades, Erdoğan has embraced it as his main anti-Western policy.
Burak Bekdil, one of Turkey's leading journalists, was recently fired from the country's most noted newspaper after 29 years, for writing in Gatestone what is taking place in Turkey. He is a Fellow at the Middle East Forum.