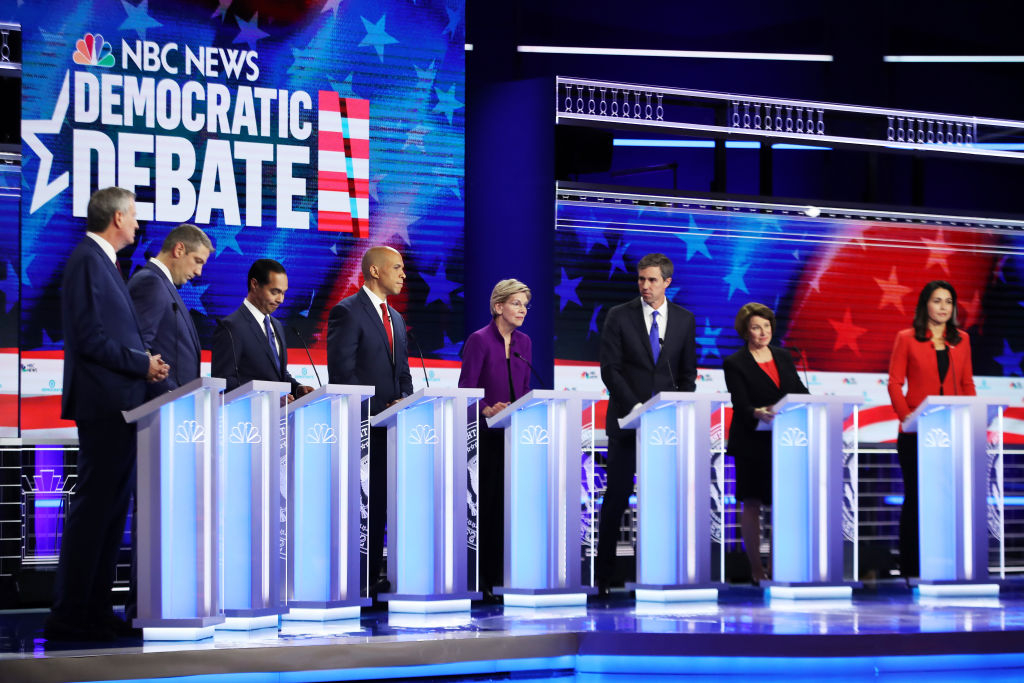 The Democratic Party's presidential campaign is receiving massive interest in Iran. Pictured: A Democratic Party presidential debate on June 26, 2019 in Miami, Florida. (Photo by Joe Raedle/Getty Images)
The ruling mullahs of Iran, whose undue influence and bullying in the region have been significantly restrained by America in times past, have, as expected, been championing hate and dissent against Washington. They have been monitoring events in the United States with keen attention; a vivid example is the massive interest the Democratic Party's presidential campaign is receiving from the Islamic Republic of Iran. The mullahs seem to enjoy a cordial relationship with the Democratic Party -- why not? The former administration of President Barack Obama was most generous and sympathetic to their cause: being able to create a nuclear-weapons capability.
As of now, nine or ten out of twenty candidates of the Democratic Party have been qualified to participate in the third round of presidential debate and Iran has been closely monitoring the situation examining the willingness and determination of each of the candidates to return to the Joint Comprehensive Plan of Action (JCPOA), commonly known as Iran nuclear deal.
Iran's state-controlled newspapers have, in fact, been filled with headlines from statements by the democratic candidates about Iran. Updates on the debate have become the staple everyone is chewing on in Iran as we speak. Etela'at (Intelligence), Iran's leading hardline newspaper, saluted Senator Bernie Sanders: its front page headline read, "Sanders: I'll Return to JCPOA on First Day of Presidency!" The Jomhori Islami newspaper boasted that "US Representatives Urge Return to JCPOA". Iran's Vice President responded, according to Iran's Ebtekar newspaper, by stating that "Iran's Return to JCPOA is Very Easy".
We all know that the Iranians are not friends of democratic norms and principles, so possibly there might be something in it for them to be so interested in America's political scene?
First of all, the return to the Iran nuclear deal, cancelled by President Donald J. Trump, would ensure that billions of dollars would be flowing again into the treasury of the theocratic establishment; there is a precedent to it.
President Obama during his tenure made significant concessions to the Islamic Republic. He transferred cash and $1.7 billion to Tehran; showered the ruling mullahs with $150 billion in lifted sanctions, and struck secret agreements under the nuclear deal, such as paving the way for Iranian leaders to advance their nuclear capabilities at a higher level and reducing the nuclear break-out timeline from one year to six months before the nuclear agreement was to end.
What did the Iranian government do with this gift from President Obama? It was deployed to fan the embers of unrest in the Middle East. It funneled some of the money into the Islamic Revolutionary Guard Corps (IRGC) to expand the government's influence and military stranglehold across the Middle East, including in Syria, Iraq, Lebanon and Yemen.
Syrian President Bashar al-Assad, who was on the verge of losing his stranglehold on power, received a boost of adrenaline as Iran ramped up its "investment" in Syria by spending between $6 and $35 billion a year to keep its staunchest regional ally in power. Iran succeeded in so doing.
The other major beneficiaries of the nuclear deal were Iran's militias and terror groups: they were able to strengthen their Shiite armies and their proxies, such as Hezbollah in Lebanon and the Houthis in Yemen. A conglomerate of roughly 40 Iraqi Shiite groups under the banner of the Popular Mobilization Forces also gained significant power.
The militias were empowered and emboldened to such an extent that they began admitting and boasting about receiving money from Iran. Hezbollah's leader, Hassan Nasrallah, pointed out, "We are open about the fact that Hezbollah's budget, its income, its expenses, everything it eats and drinks, its weapons and rockets, are from the Islamic Republic of Iran".
"As long as Iran has money," he added, "we have money... Just as we receive the rockets that we use to threaten Israel, we are receiving our money. No law will prevent us from receiving it".
"Iran Executed 110 In Six Months, Including Minors, Radio Farda noted in July.
"Iran executes more people per capita than any other country, and carries out more total executions than any nation but China (whose population is over 17 times the size of Iran's).... Capital punishment can be—and often is—carried out against juvenile offenders and for nonviolent crimes," United Against Nuclear Iran reports.
"The Iranian authorities have flogged and secretly executed two boys under the age of 18... displaying an utter disdain for international law and the rights of children," Amnesty International reported in April.
It is not hard to track Iran's aggression and quest for regional dominance in the Middle East.
It should therefore not come as a surprise that the Iranian government is excited about Democratic presidential debates and the prospects of returning to the nuclear deal.
What should come as a surprise, is that the Democratic presidential candidates have apparently not learned a thing from the damage their nuclear deal inflicted -- in Iran, in the region and even as far as Venezuela -- under the leadership of Barack Obama.
Dr. Majid Rafizadeh is a business strategist and advisor, Harvard-educated scholar, political scientist, board member of Harvard International Review, and president of the International American Council on the Middle East. He has authored several books on Islam and US foreign policy. He can be reached at Dr.Rafizadeh@Post.Harvard.Edu