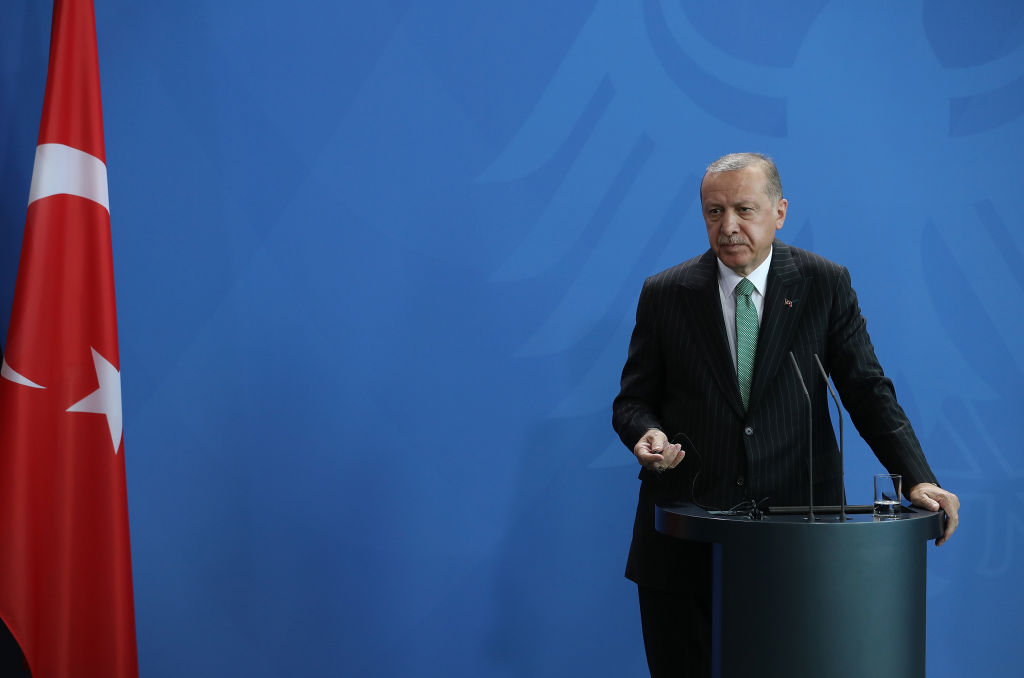 Turkish President Recep Tayyip Erdoğan may have dreamed of an Israel that is internationally isolated, but the world has not quite moved in the direction he wished for. (Photo by Sean Gallup/Getty Images)
Turkey's Islamist leaders, including President Recep Tayyip Erdoğan, have been pledging to their voters that they would "internationally isolate Israel" ever since they launched a diplomatic war on the Jewish state in 2010.
In a 2011 speech, Turkey's foreign minister at the time, Ahmet Davutoğlu (later prime minister), said that his country's Turkey's policies in the Middle East "have brought Israel to its knees" and isolated the Jewish state both regionally and internationally.
The facts, however, could not have been more distant.
According to official reports, Israel's Gross Domestic Product (GDP) rose by a healthy 3.3% in 2018, compared to 1.3% in 2009, while Turkey reported a drop from 8.5% in 2010 to 2.8% in 2018. The unemployment rate in Israel stood at 3.7% in July 2019. Turkey, meanwhile, boasted an unemployment rate of 14.7% in the December-February 2018-2019 period, its highest level in nearly a decade.
While the annualized inflation rate in Israel was a mere 0.5% in July 2019, Turkey's annualized inflation rate for the same month was 16.65%.
As a result, Israel enjoys a per capita GDP of $41,000 while Turkey's GDP per capita is merely $9,300.
Apparently neither Turks nor Israelis took Turkey's Islamists leaders seriously when they later vowed to isolate Israel. In the period of January-July 2019, Turkey was the main destination for flights from Israel's Ben Gurion Airport (mostly for connecting flights), leaving international hubs such as America, Britain and France in the dust. In that period, passenger numbers for flights to Turkey soared by 7% to 1.22 million.
Bilateral trade between Turkey and Israel exhibited a similar path, with two-way trade volumes rising sharply from $2.6 billion in 2009 to $5.6 billion in 2018, an increase of 115%. According to Deutsche Welle:
Hatice Karahan, Erdogan's top economic advisor, told DW that economic relations between the countries represented a "win-win situation" for both: "Turkey exports automobiles, iron, steel, electrical devices and plastic to Israel. And in return, it imports Israeli fuel and oil."
Erdoğan may have dreamed of an Israel that is internationally isolated. Instead, he has had grudgingly to watch the United States officially move its embassy to Jerusalem. "History," Erdoğan said, "will judge" the Trump administration's decision to relocate the U.S. embassy from Tel Aviv to Jerusalem.
When Turkey pledged to isolate Israel internationally, it was still formally a member of a prestigious international consortium that builds the stealth fifth-generation F-35 stealth fighter jet. In July, however, the U.S. removed Turkey from the F-35 joint strike fighter program. After having insisted on deploying the S-400, a Russian-made long-range anti-aircraft and anti-missile defense system, on its soil, Turkey will lose its production work for the F-35 by March 2020. Turkey is the first NATO member state deploying the S-400 architecture, which is not interoperable with NATO weapon systems. The S-400 was designed to shoot down NATO's aerial assets -- including F-35 fighter jets
Isolation? Israel's Channel 12 reported that Israeli officials in recent months lobbied the U.S. to drop Turkey from the F-35 program. Meanwhile, Israel remains a recipient of the strategic weapon system.
"Israel has agreed to purchase at least 50 F-35 fighter jets from the US defense contractor Lockheed Martin. So far, 16 aircraft have been delivered, and the remaining planes are slated to arrive batches of twos and threes until 2024.

"Israel is the second country after the US to receive the F-35 from Lockheed Martin and one of the few allowed to modify the state-of-the-art aircraft, known in Israel as the Adir."
Erdoğan was unjust, wrong and unrealistic in his quest internationally to isolate Israel. The world has not quite moved in the direction he wished for. An analysis by Rice University's Baker Institute concluded:
"[T]he rapprochement that significant sections of the Israeli military and security establishment have long wanted with the GCC [Gulf Cooperation Council] has taken root since 2011, as the post-Arab Spring landscape has provided the opportunity to deepen unofficial ties in areas of shared concern."
"It's almost a revolution in the Middle East," according to Yuval Steinitz, Israel's Minister of National Infrastructures, Energy and Water Resources.
Burak Bekdil, one of Turkey's leading journalists, was recently fired from the country's most noted newspaper after 29 years, for writing in Gatestone what is taking place in Turkey. He is a Fellow at the Middle East Forum.