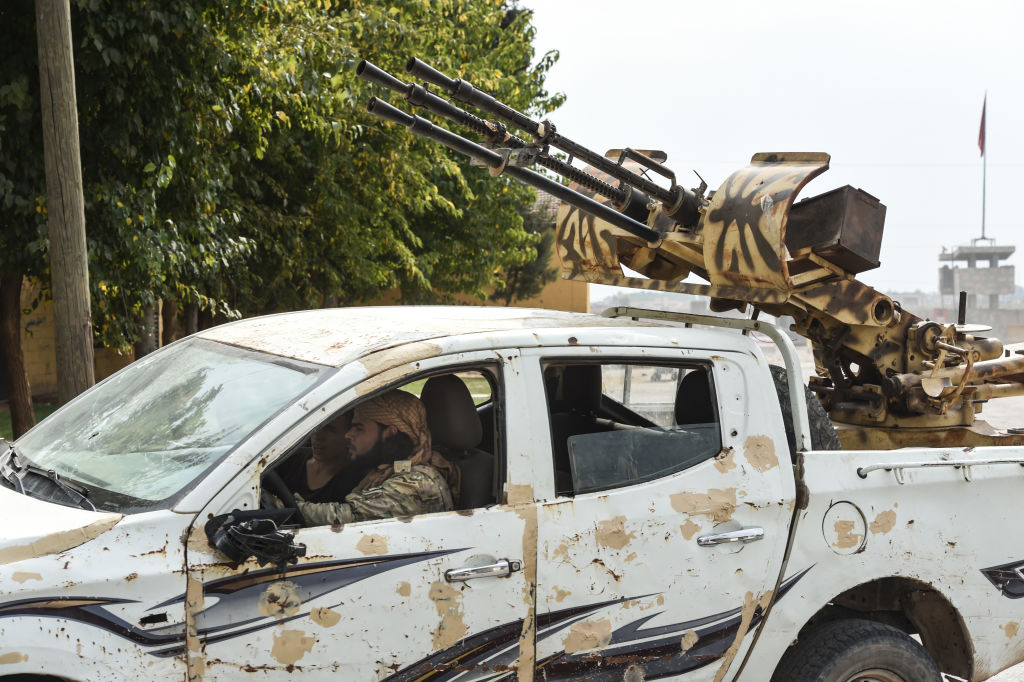 Turkey's principal armed allies in the Syrian war theater, the Free Syrian Army (FSA), which recently reflagged itself as the Syrian National Army (SNA), is a grouping of various factions of jihadists posing as a "liberation force." Pictured: FSA gunmen on October 19, 2019 in Akcakale, Turkey, near the border with Syria. (Photo by Burak Kara/Getty Images)
Bashibazouks ("corrupted heads" in Turkish) first appeared in the Ottoman army at the end of the 18th century and fought in Egypt against Napoleon's army. These irregular mercenary soldiers, often made up of homeless beggars and thugs, were notorious for their lack of discipline, plundering and brutality. During the Crimean War (1853-1856) the allied generals made futile attempts to discipline them. The bashibazouks' excesses during the Russian-Ottoman war of 1877-78 finally forced the Istanbul government to abandon using them.
More than two centuries after their Ottoman ancestors had used bashibazouks, the Turks found their Arab reincarnation in Syria.
Turkey's principal armed allies in the Syrian war theater, the Free Syrian Army (FSA), which recently reflagged itself as the Syrian National Army (SNA), is a grouping of various factions of jihadists posing as a "liberation force." According to a December 31, 2012 article in HuffPost:
"[The FSA] has in the recent past stolen wheat reserves intended for the residents of Aleppo and sold it to private Turkish grain traders, expropriated stocks of pharmaceuticals and forcibly resold them back to its owners, and ransacked schools...

"In the outskirts of Aleppo, the FSA has implemented a Sharia law enforcement police force that is a replica of the Wahhabi police in Saudi Arabia — forcing ordinary citizens to abide by the Sharia code...
"Lebanese newspapers such as Al-Akhbar and Assafir, and Alex Jones' infowars.com, have broadcast a disturbing video of a 12-year-old child apparently forced by the FSA to cut off the head of a Syrian military officer...

"The FSA has also been targeting the infrastructure of the country. One of the main power plants in Damascus was knocked out for three days last week, impacting 40 percent of the city's residents."
Apparently, the self-styled SNA, FSA's new brand of jihadists, is following suit. According to an October 15, 2019 report, Turkey's extremist proxies "vowed to kill 'pigs' and 'infidels,' paraded their Kurdish captives in front of cameras and, in one graphic video, fired several rounds into a man lying on the side of a highway with his hands bound behind his back." Trained and funded by Turkey since 2016 and with a reputation for violence and looting, the SNA fighters resemble very much the Ottoman bashibazouks.
During Turkey's most recent, ongoing, military incursion into Syria, launched on October 9, SNA militias captured a major highway that runs across northern Syria. According to Associated Press:
The Syrian Observatory for Human Rights, a Britain-based war monitor, said the Turkey-backed fighters shot and killed six civilians along the road, including Hevreen Khalaf, a woman who led a Kurdish political party.

In a video circulated online, fighters can be seen rushing toward a bullet-ridden armored vehicle, saying they have captured a "pig." A woman's faint voice can be heard from within, saying she is the head of a political party. The video indicates Khalaf was captured alive and later died or was killed...

Another video posted online showed the Syrian fighters screaming "God is greatest!" ["Allahu Akbar!"] as they fired several rounds into a bound prisoner who resembled one of the captured men in the previous video...

"The main problem with these forces is their criminality," said Elizabeth Tsurkov, a fellow at the U.S.-based Foreign Policy Research Institute who has interviewed dozens of the fighters and said they appear to be driven by a desire for power and money rather than by any specific ideology.

"Hatred of Kurds, a sense of Arab chauvinism, complete intolerance for any dissent, and just a desire to make a profit is what's driving most of the abuses," she said.
SNA's Turkish brothers-in-arms do not depict a more angelic picture either. According to Fox News:
A member of U.S. Special Forces serving alongside the Kurdish-led Syrian Democratic Forces (SDF) in Syria told Fox News on Wednesday they were witnessing Turkish atrocities on the frontlines.

"I am ashamed for the first time in my career," said the distraught soldier, who has been involved in the training of indigenous forces on multiple continents.
That gloomy testimony came at a time when Amnesty International compiled evidence of war crimes committed by Turkish forces and Turkish-backed Syrian armed groups during the offensive.
Amnesty International reports, based on witness testimony between October 12-16, shows "how Turkish forces have displayed a disregard for civilian life, including through summary killings and unlawful attacks that have killed and injured civilians."
"The information provides damning evidence of indiscriminate attacks in residential areas - including attacks on a home, a bakery and a school - carried out by Turkey and allied Syrian armed groups."
The bashibazouk spirit in the Turkish army seems to have revived centuries after it first emerged in the Ottoman army. With one difference, though: The Ottoman bashibazouks were merely bandits disguised as soldiers. The Turkish ones are "jihadist" bandits disguised as soldiers.
Burak Bekdil, one of Turkey's leading journalists, was recently fired from the country's most noted newspaper after 29 years, for writing in Gatestone what is taking place in Turkey. He is a Fellow at the Middle East Forum.