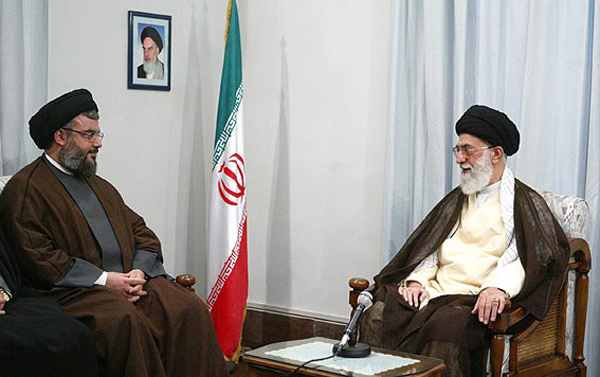 Iran continues to smuggle weapons and provide military, financial, intelligence and advisory assistance to proxies throughout the Middle East, such as the Houthis, Hezbollah, Iraqi Shiite militias, Kata'ib Hizballah, and Hamas. Pictured: Lebanese Hezbollah chief Hassan Nasrallah visits Iran's "Supreme Leader" Ayatollah Ali Khamenei. (Image source: khamenei.ir)
When the US State Department released its annual Country Reports on Terrorism on November 1, 2019, four countries -- North Korea, Sudan, Iran, and Tehran's staunch ally, Syria -- were listed as state sponsors of terrorism. The annual report describes the theocratic establishment of Iran as "the world's worst state sponsor of terrorism" in 2018.
How, in 2018, did the Iranian government receive the title "the world's worst state sponsor of terrorism"? The criteria by which it is determined if a country should be listed as a state sponsor of terrorism are based on whether that state has constantly provided support for acts of terrorism.
In the region, Iran has continued to smuggle weapons and provide military, financial, intelligence and advisory assistance to proxies such as the Houthis, Hezbollah, Iraqi Shiite militias, Kata'ib Hizballah, Hamas and other designated Palestinian terrorist groups, such as Palestinian Islamic Jihad and the Popular Front for the Liberation of Palestine-General Command (PFLP-GC).
Tehran has spent roughly one billion dollars per year to arm and train these militant groups, which serve Iran's interests. This sum has contributed to a greater capability for Houthi rocket launches at civilian targets in Saudi Arabia, the deployment of thousands of Hezbollah foot-soldiers in Syria, and the regular bombardment of southern Israel with Hamas rockets bankrolled by Iran.
The report indicates that in 2018:
"These Palestinian terrorist groups [Palestinian Islamic Jihad and PFLP-GC] were behind numerous deadly attacks originating in Gaza and the West Bank, including attacks against Israeli civilians in the Sinai Peninsula."
While Iranian leaders often attempt to deny any involvement in arming or training militia groups, the leader of one of these terror groups, Hassan Nasrallah openly admitted in 2016:
"We are open about the fact that Hezbollah's budget, its income, its expenses, everything it eats and drinks, its weapons and rockets, are from the Islamic Republic of Iran... As long as Iran has money, we have money... Just as we receive the rockets that we use to threaten Israel, we are receiving our money. No law will prevent us from receiving it."
Iran also went a step further in 2018 by providing technology to its proxies in order to enable them manufacture advanced weapons and missiles at home. The State Department report states:
"Israeli security officials and politicians expressed concerns that Iran was supplying Hizballah with advanced weapons systems and technologies, as well as assisting the group in creating infrastructure that would permit it to indigenously produce rockets and missiles to threaten Israel from Lebanon and Syria."
The Iranian government has, in addition, sponsored Shiite militant groups in Bahrain. The State Department blacklisted the Bahraini Shiite militant group, Al-Ashtar Brigades, because of its ties to Iran's Islamic Revolutionary Guard Corps (IRGC). In Iraq, Iran's Shiite militia groups have also committed unspeakable crimes against humanity.
Iran's terrorist plotting has been seen beyond the Middle East, particularly in Europe. In January 2018, German authorities discovered 10 individuals linked to the IRGC who were alleged to have been spying on Israeli citizens.
European officials also foiled a terrorist attack that in June 2018 targeted a large "Free Iran" convention in Paris, attended by many high-level speakers such as former US House of Representatives Speaker Newt Gingrich, former New York City mayor Rudy Giuliani, and former Canadian Foreign Minister John Baird. An Iranian diplomat and several other individuals of Iranian origin were arrested in France, Belgium and Germany. After a thorough investigation, French officials concluded that the Iranian regime had been behind the bomb plot.
Iran's attacks were also evident in 2018 in Denmark, where officials accused Tehran of attempting to assassinate one of its citizens. Foreign Minister Anders Samuelsen emphasized the seriousness of the plot:
"An Iranian intelligence agency has planned an assassination on Danish soil. This is completely unacceptable. In fact, the gravity of the matter is difficult to describe. That has been made crystal clear to the Iranian ambassador in Copenhagen today."
In Albania, two Iranian authorities were expelled from the country for plotting terrorist attacks in 2018.
The Iranian government was also behind major cyber attacks against foreign governments and private companies.
Finally, Tehran shelters members of the terrorist group Al Qaeda, and it is reportedly continuing to facilitate the group's operations.
Iran is indeed the world's worst state sponsor of terrorism, due to the government-backed terrorism in the region and beyond. Now imagine if this rogue state obtains nuclear weapons, what kind of destruction could it inflict on the world? The international community, particularly European nations, must take tangible steps to counter Iran-backed international terrorism and prevent it from becoming a nuclear state.
Dr. Majid Rafizadeh is a business strategist and advisor, Harvard-educated scholar, political scientist, board member of Harvard International Review, and president of the International American Council on the Middle East. He has authored several books on Islam and US Foreign Policy. He can be reached at Dr.Rafizadeh@Post.Harvard.Edu