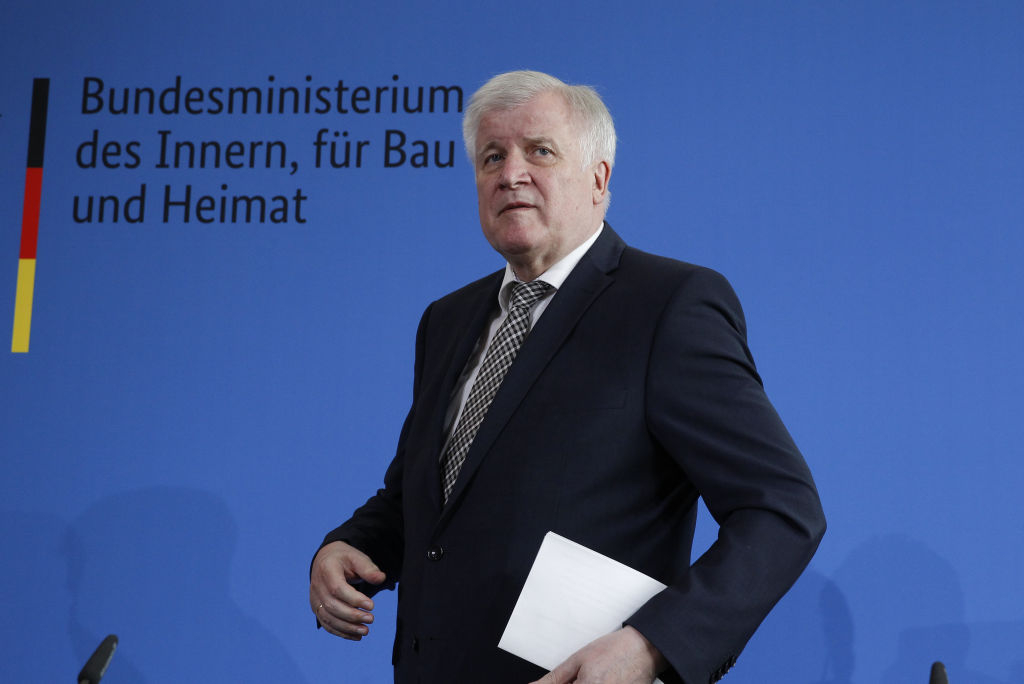 The German government, after years of equivocating, has approved a measure that would require clergy from abroad to prove that they have sufficient German language skills before they are allowed to work in Germany. According to Interior Minister Horst Seehofer (pictured), "Knowledge of the German language is indispensable for a successful integration... This is all the more important when clergy are reference points for many other immigrants. (Photo by Michele Tantussi/Getty Images)
The German government, after years of equivocating, has approved a measure that would require clergy from abroad to prove that they have sufficient German language skills before they are allowed to work in Germany.
The move, aimed at cracking down on foreign government control over Muslims in Germany, comes after an academic study found that approximately 90% of the imams leading the 2,000 or so mosques in Germany are from abroad.
The new measure, approved by the Cabinet on November 6, would amend two German laws — the Employment Regulation for Foreigners (Beschäftigungsverordnung) and the Residence Act (Aufenthaltsverordnung) — to stipulate that, in the future, anyone seeking to obtain a residence permit for the exercise of religious employment must demonstrate a sufficient knowledge of German.
Important details about the measure, which must still be approved by the German Parliament, remain unclear. The government said that during a transition period, proof of "simple knowledge" of German would be acceptable. It did not, however, clarify how long that transition period would be, define what is a "sufficient" level of German, or say what will happen to the foreign imams currently leading German mosques. Will those imams be exempt from the measure, will they be required to learn German, or will they be replaced by other imams who have the requisite language skills?
The government did say that the legal changes, which will affect not only Muslim clerics, but also clergy from other religious communities, is aimed at facilitating the integration of newcomers into German society:
"Religious communities are for many immigrants a point of reference and identification. In addition to conducting religious or pastoral activities, those working for religious reasons, because of their office, serve as role models and advisers for the peaceful coexistence of different cultures and religions. As such, they are important for a successful integration of new immigrants in Germany. Such an integrative function succeeds best when religious staff are themselves well integrated."
German Interior Minister Horst Seehofer added:
"Knowledge of the German language is indispensable for a successful integration. That is my firm conviction. This is all the more important when clergy are reference points for many other immigrants. This regulation will make an important contribution to successful integration in Germany."
The new measure comes in the wake of a study, produced by the center-right Konrad Adenauer Foundation, which found that an overwhelming proportion of imams in German mosques are from abroad. The study — "Imams: Made in Europe?" — found that between 2,000 and 2,500 imams working in Germany are from abroad, mostly from Turkey, North Africa, Albania, the former Yugoslavia, Egypt and Iran.
The Turkish government controls 986 of the approximately 2,000 mosques in Germany. This control is exercised through the Turkish-Islamic Union for Religious Affairs (DITIB), the largest Muslim umbrella organization in Germany and a branch of the Turkish government's Directorate for Religious Affairs, known in Turkish as Diyanet.
In recent years, Turkish President Recep Tayyip Erdoğan has greatly increased the size, scope and power of Diyanet, which now has an annual budget of $2.1 billion (€1.9 billion), five times that of Turkey's National Intelligence Organization (MİT), according to the independent Turkish news site T24. Diyanet now has 117,000 employees, compared to less than 10,000 at the MİT.
The Turkish clerics in Germany, whose salaries are paid directly by Diyanet, are effectively Turkish civil servants who do the bidding of the Turkish government. The German government has accused Erdoğan of using DITIB mosques to spy on followers of U.S.-based cleric Fethullah Gülen, accused by Ankara of organizing a failed coup in July 2016.
In October 2019, the mayor of Berlin's Neukölln district, Martin Hikel, in an interview with the newspaper Bild, said that supporters of Erdoğan were using German mosques to pray for the Turkish military incursion of Kurdish areas in northern Syria. This, he said, was fueling tensions between Kurds and Turks in Germany.
Erdoğan has also repeatedly used DITIB mosques to discourage Turkish migrants from integrating into German society. German politician Cem Özdemir, co-chairman of the Green Party, has said that DITIB is "nothing more than an extended arm of the Turkish state." He explained:
"Rather than being a legitimate religious organization, the Turkish government has turned DITIB into a political front organization of Erdogan's AKP party. Turkey must let go of the Muslims in Germany."
Meanwhile, the Erdoğan-aligned Islamist movement Millî Görüş (Turkish for "National Vision") controls 323 mosques in Germany, according to the Konrad Adenauer Foundation study. The movement, which has around 10,000 members in Germany, is, after the Salafist movement, the second-largest Islamist group in the country.
The latest annual report of Germany's Federal Office for the Protection of the Constitution (Bundesamt für Verfassungsschutz, BfV), the domestic intelligence agency, warned that Millî Görüş is strongly opposed to Muslim integration into European society:
"According to Millî Görüş, Western Civilization is presently dominated by a 'vain' order based on violence, injustice and exploitation of the weak. This 'vain' system must be replaced by a 'just order' that is based exclusively on Islamic principles, rather than on man-made and therefore 'arbitrary rules.' All Muslims should participate in the realization of the 'just order.' To do this, they must adopt a certain attitude and gain a certain vision ('Görüş') on earth, namely a national/religious ('Millî') vision, a 'Millî Görüş.'"
Another 300 mosques in Germany are controlled by the Turkish Association of Islamic Cultural Centers (Verband Islamischer Kulturzentren, VIKZ), which trains its imams in Cologne. More than 70 mosques are operated by the Bosnian community in Germany (Islamische Gemeinde der Bosniaken in Deutschland, IGBD), whose imams are trained in Bosnia and Herzegovina. The remaining mosques in Germany are run by smaller Muslim communities based in North Africa and Iran.
The Konrad Adenauer Foundation study also noted that foreign imams with no German language skills often enter Germany on tourist visas:
"Individual preachers who travel to Germany for a limited period of time with tourist visas (especially during Ramadan) and who generally have no knowledge of their host country are also considered problematic in Germany. They are, in part, sent by foreign actors and religious authorities such as the Al-Azhar University and Mosque in Cairo and are usually dependent on donations and membership fees of the hosting mosque communities."
The Konrad Adenauer Foundation also reported that the German government's initiative to offer Islamic theology courses at five German universities has failed to produce German-speaking imams. This failure stems, in part, from the fact that the Turkish government has refused to cooperate with the initiative. The report states:
"The Islamic associations distrust state-initiated theology courses and fear interference with content. In addition, they often lack organizational competence, content-related professionalism and human resources to constructively support the development of Islamic theology in Germany. Observers therefore take a critical view of the chances that DITIB might engage in fundamental cooperation with German universities for the qualification of imams. Such cooperation would diminish the control and accessibility of Diyanet in Germany and undermine its interest in the preservation of Turkish national identity."
Observers say that language requirements alone will be insufficient for foreign imams to promote integration and prevent radicalization.
In an essay in Die Welt, political editor Ricarda Breyton explained the crux of the problem:
"The new law stems from the German coalition agreement, which states, 'We expect imams from abroad to speak German.' The Interior Minister expects the new regulation to be an 'important contribution to successful integration in Germany.' But how effective is the project when it comes to actually pushing back radical ideas and foreign influences?

"The problem lies, above all, with the Turkish religious authority Diyanet. It is directly subordinate to the Ministry of Religious Affairs of the Turkish government and sends imams from Turkey to run DITIB mosques. These imams are paid by the Turkish state. This complicates integration and facilitates Turkish influence. Over and over again, there have been problems in Turkish DITIB mosques. Not only with questionable sermons, but also spying on Muslim parishioners....

"Many financially weak mosque communities in Germany cannot afford to finance their own imams. Even in the future, they will depend on financial assistance from abroad — and thus remain subject to foreign control."
Volker Münz, a parliamentary spokesman for the anti-mass-migration party Alternative for Germany (AfD), said that immigration authorities must carry out exhaustive background checks of each individual, "where he comes from, what he has done and what he is pursuing here." He added:
"What the Federal Cabinet has launched is insufficient. In the future, foreign clergy will only have to demonstrate sufficient language skills. This in and of itself will not promote integration but at best will facilitate rudimentary communication.

"The real problem, namely that clerics from Turkey or Qatar come and influence people with Turkish or Arab roots in this country, is not solved.

"The financing of clergy from abroad must be banned altogether."
The German government is unlikely to ban the foreign financing of mosques anytime in the near future. Such a move would, presumably, infuriate Erdoğan, who controls the floodgates of mass migration to Europe. Turkey continues to hold effective veto power over Germany's Islam policy.
Soeren Kern is a Senior Fellow at the New York-based Gatestone Institute.