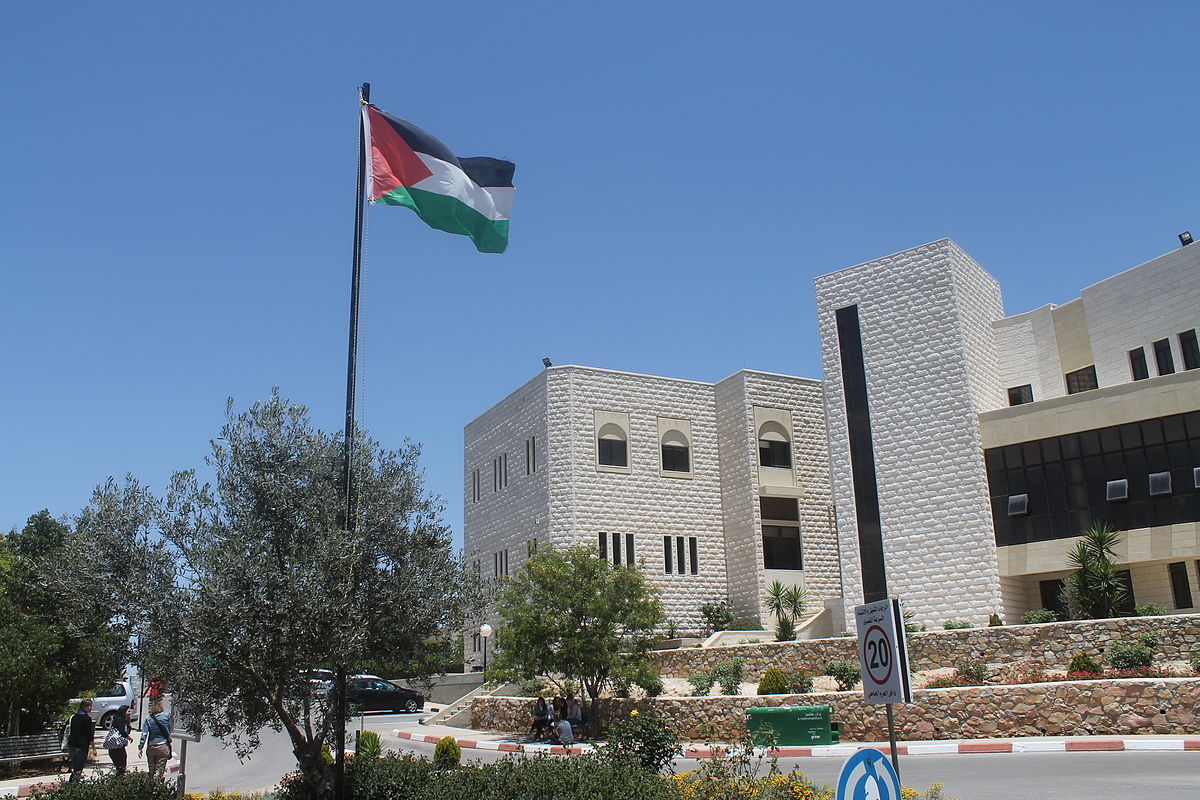 Abdel Rahman Hamdan, who studies at Bir Zeit University (pictured), was recently detained by Palestinian Authority security forces, who have not given any reason for the detention. Hamdan's detention triggered a wave of protests by fellow students. His family has accused the PA security forces of torturing their son. (Image source: Oromiya321/Wikimedia Commons)
While Palestinian officials repeatedly condemn Israel for violating Palestinians' freedom of expression, it is actually the Palestinian Authority (PA) that continues to harass, intimidate and detain Palestinians for expressing their opinions on social media or being affiliated with rival political groups. Business as usual.
The latest victims of the PA's ongoing assault on public freedoms, particularly freedom of expression, are Palestinian lawyers, judges, political activists and university students.
The most recent accusation came after the Israeli authorities closed the offices of a television production company illegally operating in Jerusalem. The offices were shut in accordance with an Israeli law that bans the PA from operating in Israel, including Jerusalem.
This is also business as usual for the international community and foreign media, which remain complicit in the PA's effort to keep the world from learning about human rights violations committed by Palestinians against Palestinians. While several Palestinian officials have, as usual, condemned Israel for acting in accordance with the law, as far as PA leaders are concerned, Palestinians who dare to criticize Palestinian leaders or speak about corruption possess no rights whatsoever.
Muhannad Karajeh is a prominent Palestinian lawyer from the PA-ruled West Bank who, for several years, has been defending Palestinians detained by the Palestinians for expressing their views on social media. As such, Karajeh has become quite a headache for the PA and its multiple security forces. The last thing they need is for a savvy lawyer to challenge them on social media and in court.
Recently, Karajeh was informed of intention to prosecute him for allegedly violating the controversial Palestinian Cybercrime Law, which allows the PA to take legal action against anyone who publishes "news that would endanger the integrity of the Palestinian state, the public order or the internal or external security of the State."
Critics of the law say it is aimed at silencing anyone who dares to criticize the Palestinian Authority leadership and is an infringement on freedom of expression and the media. The PA has since used the law to block access to dozens of news websites considered critical of the Palestinian leadership and its policies.
According to Karajeh, the decision to prosecute him arose because of a social media post in which he criticized Palestinians and Arabs engaged in normalization with Israel. He also said he believes that the PA is trying to punish him because of his public criticism of its human rights violations.
"The Palestinian Authority must stop pursuing political opponents, activists, lawyers and human rights advocates," he said.
"I am known for defending political detainees in Palestinian Authority courts. I have no problems with anyone personally. I am being tried because of my activity and because of my work."
A Palestinian group called Lawyers for Justice expressed outrage over the decision to prosecute Karajeh and said it "falls in the context of infringement on freedom of expression." The group appealed to the PA attorney-general to halt any action against the lawyer. Needless to say, the appeal is unlikely to impress the attorney-general or any senior PA official.
Also, the Palestinian human rights group Al-Haq criticized the PA for taking disciplinary measures against two judges, Ahmed al-Ashqar and Ayman Daher, for publishing critical comments on social media:
"Al-Haq considers that the protection of the right of judges to express their views falls within the framework of judicial reform and the independence of the judiciary, and that the exclusion of judges from freedom of expression implies a distinction between judges and non-judges, which is prohibited in the amended Basic Law and international standards.

"The protection of rights and freedoms requires that the right to human rights be guaranteed to judges. Judges have the right to express their opinions freely in the media and social media. Al-Haq, while condemning the violation of the right of judges to express their opinions freely, calls on [PA] President Mahmoud Abbas to ensure an environment conducive to the reform of the judiciary and the justice system in Palestine."
According to Palestinian journalist and writer Nadia Harhash, Judge Al-Ashqar is being punished for publishing an article titled, "Do not institutionalize human rights violations, what accountability do we want?"
The article, she noted, "called for ending human rights violations, redressing victims and those affected, applying the rule of law, and forming an independent commission of inquiry." Harhash said that as Palestinians face the possibility of holding new presidential and parliamentary elections, they have the burden of deciding who to vote for. She reminded the Palestinians of the writer George Orwell's famous quote: "A people that elect corrupt politicians, imposters, thieves and traitors are not victims... but accomplices."
Palestinian university student Abdel Rahman Hamdan also recently became a victim of the PA's supposed human rights violations. Hamdan, who studies at the West Bank's Bir Zeit University, was detained last week by the PA security forces, who have not given any reason for the detention.
Hamdan's detention triggered a wave of protests by his fellow students, who staged a sit-in strike on campus to demand his release. His family has accused the PA security forces of torturing their son. A lawyer who was allowed to visit the student in prison said that one of his arms had been broken and there were bruises on his face.
In another assault on freedom of expression, Palestinian political activist Ghassan al-Sa'di is currently facing charges of "insulting" senior PA officials. Palestinian sources said that al-Sa'di was summoned for interrogation after he posted a comment on Facebook deemed offensive to senior PA officials, accusing them of corruption.
These human rights violations continue in the face of the PA government's pledge to stop any violation of press freedoms. Ibrahim Milhem, spokesman for the PA government, was quoted earlier this year as saying: "The government will exert all efforts to make the media work environment in Palestine more open and free and to stop any violation of press freedoms."
Of course, the PA has not only broken its promise to its people. It is has also made turning the world's attention from its abuses by blaming Israel for the misery of Palestinians into high art.
This PA strategy, of inciting its people and the international community against Israel to deflect attention from its wholesale failure, has served the PA well. Unless the Palestinians manage to rise up against their abusive and corrupt leaders -- which they can only do with the backing of the international community and media -- their hope of building a democratic society will remain nothing more than a dream.
No one is expecting the international community to provide the Palestinians with weapons that will be used against Palestinian leaders. The international community, particularly those countries that provide financial aid to the Palestinians, should at least speak out against human rights violations committed by Palestinian leaders. That way, the Western donors will embolden reformists and other Palestinians who are working to end corruption and dictatorship. The donors should also make their financial aid to the PA leadership conditional on halting human rights violations and persecution of political opponents.
Bassam Tawil is a Muslim Arab based in the Middle East.