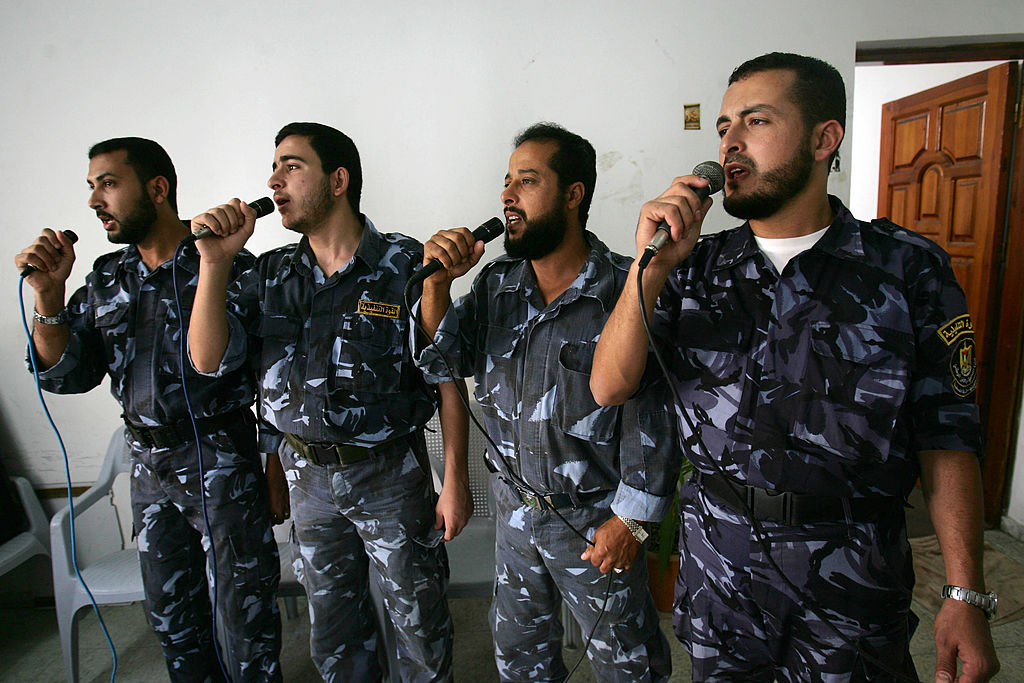 The only songs Hamas and its followers want are those that promote hate and violence.... "I will eat you alive, tastes best without salt, Zionist – Yes, yes, you." Pictured: Members of the Hamas "Protectors of the Homeland Police Band" practice in Gaza City on November 4, 2007. (Photo by Abid Katib/Getty Images)
Palestinian musicians in the Hamas-ruled Gaza Strip are facing death threats after a Muslim scholar, Sheikh Mohammed Sliman al-Farra, published a fatwa (a legal opinion or ruling issued by an Islamic scholar) prohibiting a local band from performing.
Farra works for Islamic University of Gaza, a member of four regional and international associations of higher education, and has project partnerships with more than 130 European universities and research centers located in 21 EU countries.
Published on November 23, 2019, the fatwa targets Sol Band, a Palestinian music group established in the Gaza Strip eight years ago:
"The music group Sol Band, which has been roaming the streets of the Gaza Strip, has been violating God's sanctities by promoting tabarruj (women dressing up immodestly in violation of Islamic teachings) and the mixing of the sexes... Their actions weaken the young men and encourage sinners. Indulging it leads to great corruption and evil and results in behavioral and intellectual deviation among young people. It is not permissible to promote or meet with them or listen to their songs, even if they are patriotic."
Shortly after the publication of the fatwa, the five members of Sol Band left the Gaza Strip for Turkey, apparently out of fear for their lives. Many Palestinians, meanwhile, strongly criticized the fatwa as a violation of freedom of expression.
"Such fatwas spread discord among our people, promote extremist ideologies and endanger the lives of musicians and artists," said Palestinian human rights activist Ahmed Shbair. "These fatwas are aimed at inserting politics into all aspects of our life. Palestinian law does not ban singing, which does not violate Islamic sharia laws."
Former Palestinian Authority Minister of Culture Ehab Bseiso commented on the fatwa by calling on "those who fear music and the creativity of the word to read history from an angel that promotes freedom of expression."
A post published on the Facebook page of Radio Nisaa, the first commercial women's radio station in the Middle East run by Palestinian women, complained that "some of our sheikhs and extremists have begun distorting the image of Sol Band and are fighting it by spreading rumors."
The post said that Islamic scholars who issue such rulings "turn a blind eye the real evils in society such as poverty, unemployment, divorce, injustice and misery."
"They don't talk about young people who burn themselves and commit suicide [in protest against economic hardship in the Gaza Strip]. These extremists don't talk about the university graduates who can't find jobs. They don't talk about justice and freedom of expression. Singing doesn't kill or corrupt people. Instead, injustice, oppression and repression corrupt society and kill its beautiful values. Don't fight signing; fight injustice. Don't kill our joy; kill tyranny and injustice."
Palestinian university student Ahmad Sha'ban also commented on Farra's fatwa:
"I want to assure you, Mr. 'mufti': The Sol Band group doesn't want to see your face. This beautiful band today left the Gaza Strip for Turkey, where your group is based."
According to the Beirut-based Samir Kassir eyes Center for Media and Cultural Freedom (SKeyes), members of the Sol Band have received threats from people close to Hamas and its government in the Gaza Strip. "The security services affiliated with Hamas investigated the father of the band's founder, Said Fadel," SKeyes said in a statement, adding that all members of the band have received threats from some extremists. Another member of the band told the center that "it's difficult for us to return to the Gaza Strip after the threats and fatwa that prohibits our work."
The Gaza-based Palestinian Center for Human Rights (PCHR), established in 1995 by a group of Palestinian lawyers and human rights activists, also weighed in on the threats against the band.
"This fatwa creates an atmosphere of incitement against the band and its members, which may amount to 'hate speech,'" PCHR warned in a statement.
"The Islamic preacher's statement, shared in his Facebook page, smeared the band members as infidels who promote obscenity and violate Islamic religious teachings in a manner that departs from tradition and culture. His speech explicitly attacked the Gaza authorities for being responsible for allowing the band to roam freely in the society. PCHR denounces this inciting speech and stresses that the Gaza Strip authority is obliged to respect the freedom of opinion and expression and protect this right from any assault. PCHR considers the statement issued by a member of Palestine Scholars Association as an attempt to impose certain ideology on the Gaza Strip, which is in violation of the Palestinian Basic Law."
The campaign of incitement against Sol Band did not surprise many Palestinians, particularly those living in the Hamas-controlled Gaza Strip. The only songs Hamas and its followers want are those that promote hate and violence.
One Hamas song, released in 2017, is titled "Zionist, You Will Perish in Gaza."
Another Hamas song threatens to eat Jews alive. "I will eat you alive, tastes best without salt, Zionist – Yes, yes, you." The lyrics and rhythmic beat are accompanied by animation, in which rockets are being fired from the Gaza Strip towards Israel.
A recent Hamas song includes many images of violence and actual terror attacks. Among the scenes showed during the rendition are stabbings, car-ramming attacks and explosions. The lyrics include the following statements:
"Where are you, O rebel; wrap the explosive belt around [your waist]; blow up the Zionists, don't fear; scatter the enemies' body parts, make the skulls fly in the sky."
The members of Sol Band did not call for "scattering the body parts" of Jews, and that is probably the main reason why they are being targeted by Hamas and its allies in the Gaza Strip. The musicians would have been welcomed by Hamas had they called on Palestinians to "make the skulls of (Jews) fly in the sky." This is the only type of song that the Muslim extremists are willing to tolerate.
What is disturbing, however, is the silence of the international community, specifically the EU partners of Islamic University in Gaza, where Farra serves as a lecturer. Do the Europeans working with the university condone threats against musicians?
Or are the Europeans ignoring Farra's fatwa because it was issued by a Muslim against Muslims? The EU countries and educational institutions are most likely ignoring such threats because they were not made by Israel.
Had Sol Band been threatened by Israel, the Europeans and other international human rights organizations would have issued immediate statements condemning Israel.
The silence of the international community emboldens Hamas and scholars such as Farra, and allows them to continue their repressive measures against Palestinians. It also allows Hamas and terror groups to continue calling for blowing up the skulls of Jews and eating them alive.
Khaled Abu Toameh, an award-winning journalist based in Jerusalem, is a Shillman Journalism Fellow at Gatestone Institute.