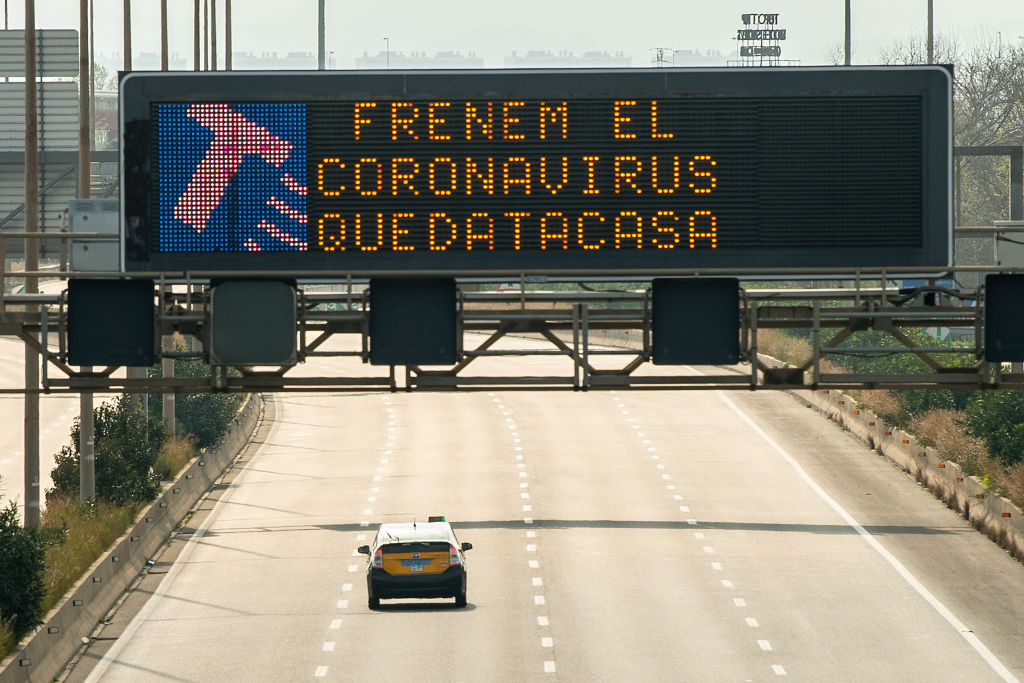 In Spain, the government has announced a nationwide state of emergency that effectively quarantines 46 million people. All non-essential travel has been prohibited. The public will be confined to their homes except in cases of emergency or to purchase food or medicine. Pictured: A taxi drives on a deserted highway, under a road sign that reads, "Stop the coronavirus, stay home" on March 14, 2020 in Barcelona, Spain. (Photo by David Ramos/Getty Images)
Europe is now the epicenter of the global coronavirus pandemic that has reached more than 45 countries on the continent. As of March 14, upwards of 42,000 people have tested positive for the disease, according to data from European health ministries.
The so-called Coronavirus Disease 2019 (COVID-19) is spreading extremely fast: roughly 40,000 of the cases (95% of all cases) in Europe were confirmed during just the first 14 days of March.
Italy is Europe's worst-affected country, followed by Spain, Germany, France, Switzerland and Norway.
In Europe as a whole, more than 1,600 people — 4.0% of those confirmed as having been infected — have died from COVID-19. In Italy, the lethality rate currently is 5.8%, according to the Ministry of Health.
As the scale of the unfolding crisis has come into view, European leaders have started to implement increasingly severe measures aimed at slowing the spread of the disease. The unprecedented restrictions on the movement of people, unimaginable only two weeks ago, is bringing life in Europe to a virtual standstill.
In Italy, the epicenter of Europe's coronavirus outbreak, where more than 21,000 people have been diagnosed with COVID-19 (as of March 14), Prime Minister Giuseppe Conte ordered a nationwide lockdown. The quarantine of Europe's third-most populous country, with 60 million inhabitants, bans non-essential travel to, from and within Italy; prohibits all public events; requires people to maintain a distance from each other of at least one meter (three feet); and shutters all bars, restaurants and shops (except for grocery stores and pharmacies).
The "social distancing" measures so far have not slowed the spread of the disease: approximately half of all confirmed cases in Italy were diagnosed since the restrictions entered into effect on March 10. This implies that the nationwide lockdown may continue for more weeks.
In Spain, the worst-affected European country after Italy, the government announced a nationwide state of emergency that effectively quarantines 46 million people. All non-essential travel has been prohibited. The public will be confined to their homes except in cases of emergency or to purchase food or medicine. All schools and universities in the country are closed. All employers, both public and private, are required to allow as many employees as possible to work from home.
The restrictions, which will be in place for an initial period of 15 days and may be extended, have resulted in panic buying, with long lines at grocery stores across the country and a shortage of essential supplies.
In France, President Emmanuel Macron, in a televised address on March 12, announced the shutdown of all nurseries, daycare centers, schools, universities and until further notice. "This epidemic is the gravest public health crisis that France has known in a century," Macron said. "Despite the efforts to slow it down, the virus continues to spread and is accelerating."
On March 13, Prime Minister Édouard Philippe reduced the number of people allowed to gather to 100, down from the previous official limit of 1,000. "The idea is to slow down the progress of the disease," he said. "We want to prevent the virus from circulating."
In Norway, where the virus has spread rapidly in recent days and the number of confirmed cases of COVID-19 now exceeds 1,000, the government on March 12 imposed a national lockdown. The measures have been described as the most radical that Norway has experienced in peacetime.
All kindergartens, schools, secondary schools, colleges and universities are closed. Sports and cultural events are banned. Restrictions have been placed on bars, restaurants, pubs, gyms, swimming pools, and companies that offer hairdressing services, skin care, massage and body care. Anyone who has traveled outside the Nordic countries since February 27 will be quarantined for 14 days when they return home.
"It has been important for us to find the right time to implement such measures," said the head of the Norwegian Directorate of Health, Bjørn Guldvog. "We have long hoped that this would be unnecessary, but we have seen an escalation of the situation in Europe and Norway in the last 24 hours."
In Switzerland, the government announced sweeping measures to stem the spread of the virus. Schools throughout the country have been closed and public gatherings of more than 100 people are banned. The border with Italy remains open but further restrictions will be applied.
Austria and Slovenia announced that they would impose restrictions on the border with Italy, with other countries in the region apparently considering similar measures.
In Germany, Europe's most populous country, the government has equivocated, apparently fearful of damaging the economy. After initially saying that the coronavirus posed a "very low" health risk for Germans, Health Minister Jens Spahn later admitted that the country is facing a "coronavirus epidemic."
During a press conference on March 11, Chancellor Angela Merkel, in her first public comments on the coronavirus since Germany's initial case was confirmed on January 27, warned that more than two-thirds of the population — 58 million people — could become infected. She said her government's top priority was to slow down the contagion to prevent a collapse of the German healthcare system. Her government has not, however, implemented social distancing measures such as those in other European countries, including Italy, Spain and France.
Most of the measures to confront the crisis have been taken at the state level. In North Rhine-Westphalia, one of the most affected regions in Germany, schools were closed. The states of Bavaria, Berlin, Bremen, Hesse, North Rhine-Westphalia and Schleswig-Holstein have banned gatherings of more than 1,000 people.
Austrian Chancellor Sebastian Kurz explained the urgent need for social distancing:
"For many people the full extent of what we are dealing with here is not yet fully visible.... It's not about the number of cases we're dealing with, it's about the rise of the curve. As in Italy or in other countries, it is dramatically high and dramatically fast. We must now take all the measures that can be taken somehow to flatten and slow down this growth in infections....

"It would be absolutely negligent to have the certainty of what to expect and not to react. All people who have worked in detail on the development of the coronavirus are alarmed. Look at the pictures in Italy, where doctors have to decide who is allowed to go to the hospital and who is not....

"Hopefully the attempts at trivialization will now stop. Some said it was like flu. It is not like the flu. We have a mortality rate 10 to 30 times higher than that of the flu. And it is in addition to the flu. There is limited capacity in the hospitals to treat sick people. Everyone has a responsibility for the older generation. For me as a young person, the virus may not be a problem. It looks different for older people....

"Each individual can contribute to saving lives.... Everyone who now reduces his social life for a few weeks, social contacts that avoid above all trying not to infect older people, contributes....

"We have to be prepared for the fact that Europe will be hit hard, that Europe will be hit even harder than China and that we will be dealing with this challenge for months."

"China managed the virus with very, very tough measures. The development in Europe is a very, very negative one. We can still react, we can still do something. But the numbers are growing alarmingly fast."
Soeren Kern is a Senior Fellow at the New York-based Gatestone Institute.