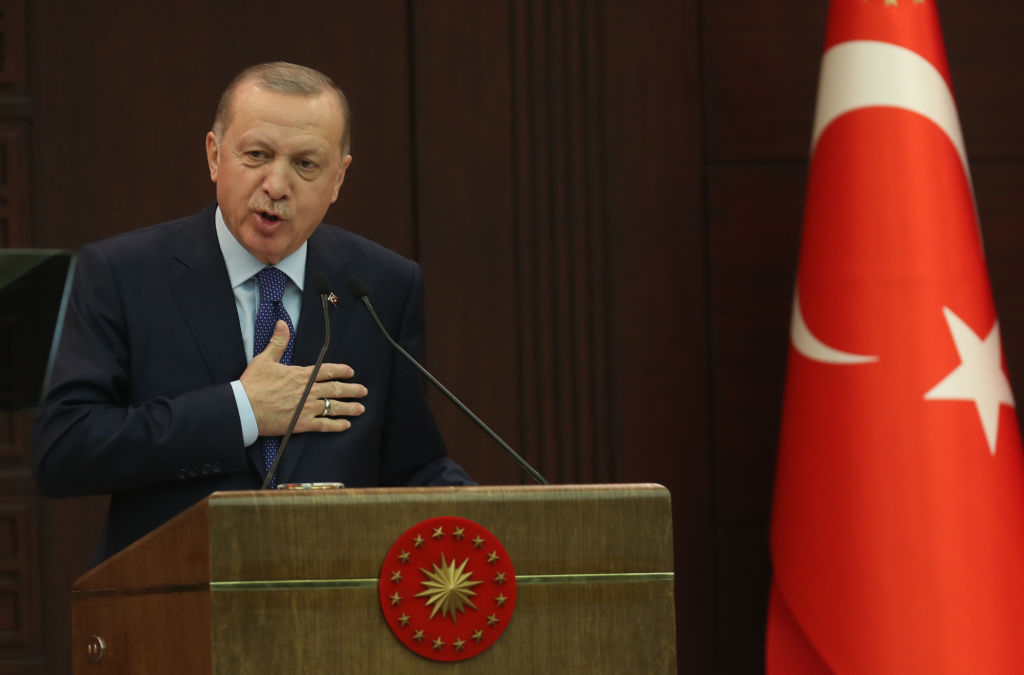 In 2020, the collective fear of Turks is the coronavirus pandemic. And just as in the previous instances based on fear, it seems to be working to the advantage of President Recep Tayyip Erdoğan. Pictured: Erdoğan speaks at a press conference addressing the coronavirus crisis in Ankara, Turkey on March 18, 2020. (Photo by Adem Altan/AFP via Getty Images)
When a group of military officers attempted a putsch to overthrow Turkish President Recep Tayyip Erdoğan in July 2016, the Islamist strongman replied with two reflexes: survival, and a vigorous political campaign to make political gains from the failed coup. He succeeded in both.
Most Turks, including Erdoğan's opponents, weary of decades of military coups, united behind him to resist the putsch that ended up killing 250 people and wounded more than 2,000. Erdoğan's approval rating rose sharply from 45% before the failed coup to 67.6% in its aftermath. For many observers, that was not a surprise. Only a year earlier, Erdoğan had gambled over the Turks' collective security concerns and won.
In the general elections on June 7, 2015, Erdoğan's Justice and Development Party (AKP) lost its parliamentary majority for the first time since it came to power in November 2002.
After the initial shock, and as the AKP was forced into coalition negotiations with unwanted political partners, Turkey was suddenly gripped by a wave of terror attacks, including a suicide bombing in the heart of Ankara that killed more than 100 people -- the worst single terror attack in Turkey's modern history. For a while, bombs exploding here and there became almost part of daily life. Erdoğan refused to open coalition talks with any of Turkey's adversaries and, instead, called a repeat election in November 2015. His gamble paid off: the AKP easily won a parliamentary majority by increasing its national vote by 8.5 percentage points (to 49.5%) within a span of five months. Once again, threatened by a lethal force, the Turks united behind their strong leader.
It is therefore not surprising that, other things being equal, the coronavirus pandemic has the potential to give Erdoğan a similar political boost, although the next presidential and parliamentary elections are three years away. Who else would the Turks turn to in these difficult days of quarantine and curfew?
Erdoğan recently suspended parliament for 45 days, citing a national campaign to fight the coronavirus pandemic. But he did that only after passing bills he had sponsored.
Kemal Kılıçdaroğlu, leader of the main opposition Republican People's Party (CHP), accused Erdoğan of abusing the coronavirus crisis to tamper with the legislative authority. "The suspension of parliamentary sessions is the result of Erdoğan's one-man rule," he said. "Erdoğan is mistaken if he thinks he can unilaterally resolve any problem or any crisis."
One of the laws Turkey's rubber-stamp parliament passed before the recess allowed the release of tens of thousands of common criminals, to ease overcrowding in jails and protect inmates from the pandemic. The amnesty, however, excluded hundreds of political prisoners including journalists, writers, academics and social media users critical of Erdoğan's authoritarian regime.
In 2015, Turks had a collective scare from terrorists and their bombs. In 2016, they feared their military officers who fired on civilians and bombed the parliament building. In 2020, the collective fear is the coronavirus pandemic. And just as in the previous instances based on fear, it seems to be working to Erdoğan's advantage.
Metropoll, a non-partisan pollster with no ties to the AKP, found that Erdoğan's approval rating rose from 41.1% in February (when no coronavirus cases had been detected in Turkey) to 55.8% in March (when the virus started to spread in Turkey). According to Metropoll's findings, Erdoğan's coronavirus crisis management was approved by 19.6% of (main opposition) CHP voters. Before the coronavirus, only 4.3% of CHP supporters had a favorable opinion of Erdoğan. In March, Erdoğan's approval rating from the opposition bloc was an impressive 25.8% from voters of the pro-Kurdish People's Democratic Party; 23.8% from the center-right IYI Party; and 64.7% from the Islamist Felicity Party.
Özer Sencar, president of Metropoll, explains that with a general tendency to trust Erdoğan's crisis management, "The people tend to unite behind strong leaders in times of national crisis like war, terror, security threats, disasters or pandemic."
Burak Bekdil, one of Turkey's leading journalists, was recently fired from the country's most noted newspaper after 29 years, for writing in Gatestone what is taking place in Turkey. He is a Fellow at the Middle East Forum.