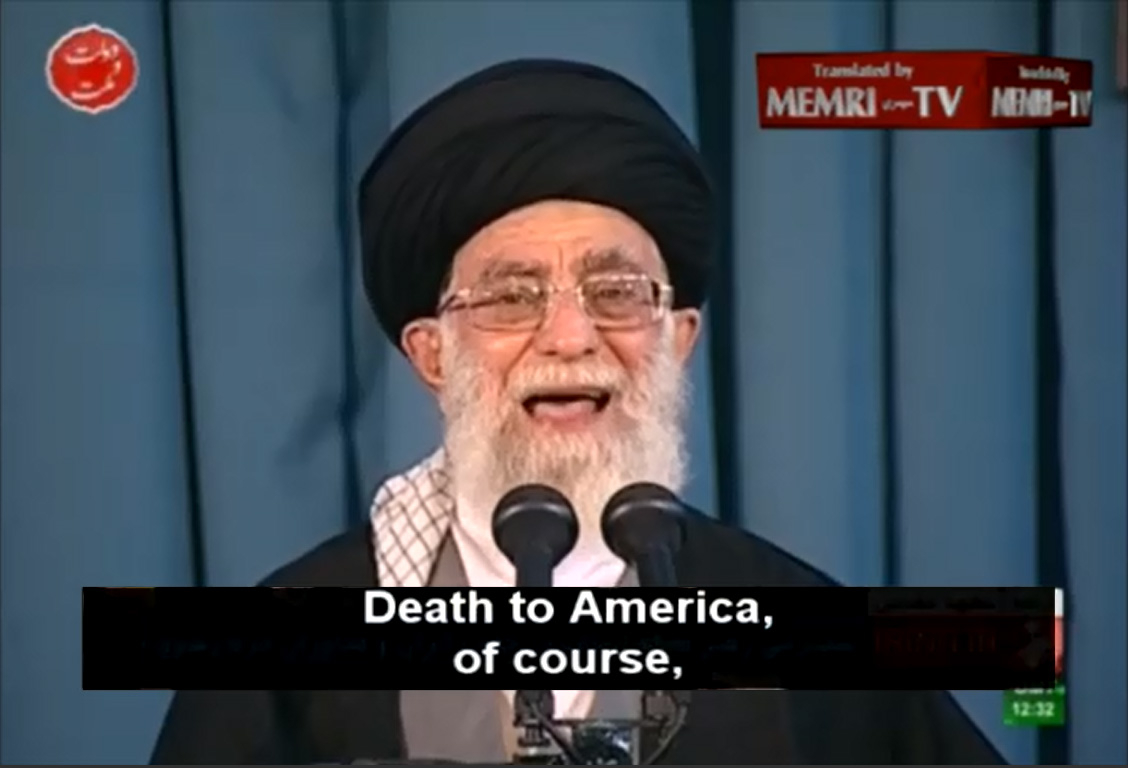 Iran's Supreme Leader, Ali Khamenei, proclaims "Death to America". (Image source: MEMRI video screenshot)
While the US has offered medical assistance to Iran, the regime in Tehran appears to be exploiting the coronavirus pandemic to spread disinformation. It includes pro-China and anti-US narratives, most likely to ratchet up anti-Americanism.
Recently, the social media analyst Graphika revealed that a pro-Iranian influencing operation, known as the International Union of Virtual Media (IUVM), had begun a social media disinformation campaign about the coronavirus outbreak around end of February.
According to the detailed report:
"the 'International Union of Virtual Media' - is a prolific operator that is centered on websites rather than social media. Its long-running practice has been to create or copy web-based content that amplifies Iranian government narratives, then post it to social media accounts that pose as independent news outlets or journalists."
The disinformation campaign is centered on spreading the narrative that the US government developed the novel virus in order to advance its interests around the globe. The IUVM argued, through its posts on social media, that "it is no coincidence that the virus selectively goes to countries that are considered enemies of the United States, namely China, Iran, some EU countries, including Italy", based on Graphika's report.
"Much of the [Facebook] account's content attacked Trump, in line with Iranian state narratives" the report added.
"It is pro-Iran and pro-Palestinian, while taking every opportunity to criticize Saudi Arabia, the United States, Israel and the Saudi-led war in Yemen... IUVM copies its content verbatim from Iranian regime sources such as PressTV and the website of Ayatollah Khamenei, but posts it without attribution."
The disinformation network, using sophisticated methods, includes in its contents "video reports, news articles and memes that it hosts on a series of IUVM-branded websites, and then posts across social media accounts that the operation controls more or less covertly."
"Over the past few years, social media platforms such as Facebook, Google and Twitter have repeatedly removed IUVM accounts from their platforms for being engaged in pro-Iran information operations and deceiving users, and have continued investigating and disrupting this network."
Iran's covert disinformation operations concerning COVID-19 are not only aimed at inciting hatred toward the US; they are also, it seems, aimed at negatively impacting the international community's efforts to fight the virus. As the US Deputy Assistant Secretary of Defense for Russia, Ukraine and Eurasia, Laura Cooper, pointed out in an April 13 statement:
"These are messages that are endangering global health because they're undermining the efforts of governments, of health agencies and of organizations that are in charge of disseminating accurate information about the virus to the public."
This was not the first time the Iranian regime's disinformation operations have been exposed. In August 2018, for example, a cybersecurity firm, FireEye, also revealed data about Iran's widespread misinformation campaigns. Of course, Iran has been spreading disinformation about its nuclear and missile development programs for decades.
After the report, some of the giant social media platforms took action and removed hundreds of accounts said to be linked to the Iranian government. Facebook, for example, had to remove "652 pages, groups and accounts for coordinated inauthentic behavior that originated in Iran and targeted people across multiple internet services." Other popular social media outlets, such as Twitter and Google owner Alphabet, have also identified and removed many "inauthentic" accounts that evidently originated in Iran.
Those accounts, not surprisingly, were also busy promoting the Iranian regime's narratives and interests. As Facebook explained on August 21, 2018:
"Based on FireEye's tip, we started an investigation into 'Liberty Front Press' and identified additional accounts and Pages from their network. We are able to link this network to Iranian state media through publicly available website registration information, as well as the use of related IP addresses and Facebook Pages sharing the same admins. For example, one part of the network, 'Quest 4 Truth,' claims to be an independent Iranian media organization, but is in fact linked to Press TV, an English-language news network affiliated with Iranian state media."
Also not surprisingly, whenever social media accounts or websites linked to the Iranian regime's disinformation campaigns are exposed and removed, the Islamic Republic seems to find other outlets or else creates new accounts to continue spreading its propaganda.
Even amid the coronavirus outbreak and public health crisis, the Iranian regime seems to still prioritize its revolutionary ideals and its anti-American agenda. Unfortunately, the United Nations and the EU remain silent on the Iranian regime's efforts to spread disinformation as well as on its other malign behavior. Just this week, it was reported that Iran executed "at least six... people in recent days.... According to the latest annual Amnesty International report released last Tuesday, about one-third of executions worldwide are carried out in Iran."
Dr. Majid Rafizadeh is a business strategist and advisor, Harvard-educated scholar, political scientist, board member of Harvard International Review, and president of the International American Council on the Middle East. He has authored several books on Islam and US foreign policy. He can be reached at Dr.Rafizadeh@Post.Harvard.Edu