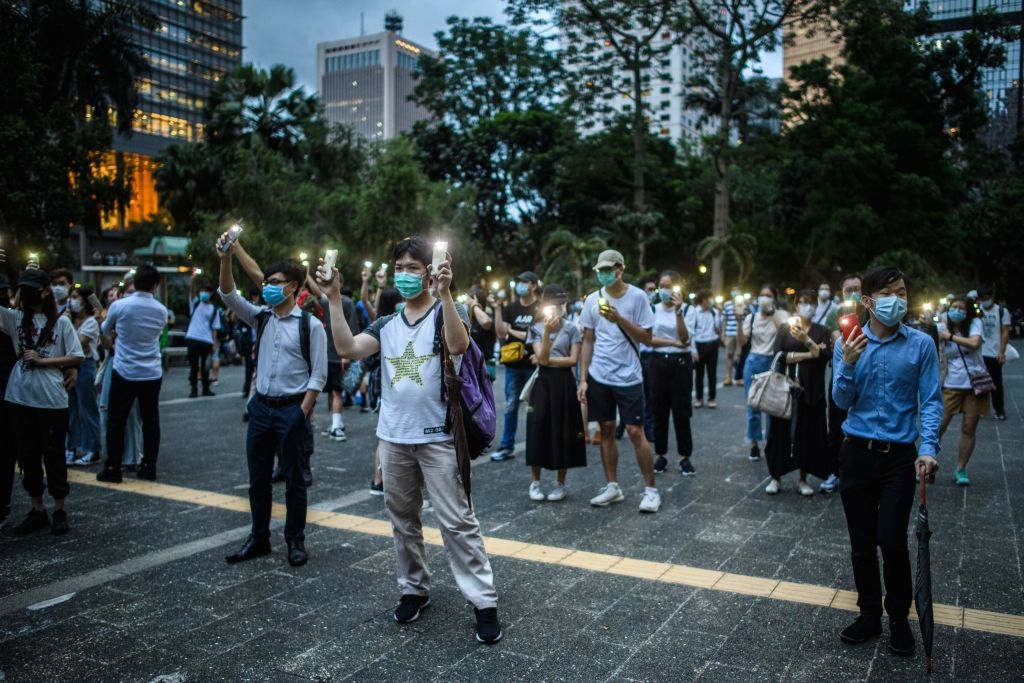 The deeply offensive propaganda war China has launched against the U.S. over the killing of George Floyd is nothing more than a clumsy attempt by Beijing to seek revenge against Washington for supporting pro-democracy activists in Hong Kong. Pictured: Pro-democracy protesters in Hong Kong, on June 9, 2020, mark the one-year anniversary since pro-democracy protests erupted. (Photo by Anthony Wallace/AFP via Getty Images)
The deeply offensive propaganda war China has launched against the U.S. over the killing of George Floyd is nothing more than a clumsy attempt by Beijing to seek revenge against Washington for supporting pro-democracy activists in Hong Kong.
At the height of Hong Kong's pro-democracy demonstrations last year, a number of prominent American politicians from both sides of the political divide voiced their support for the campaigners.
In November American President Donald Trump, defying calls from China to block the legislation, signed two bills supporting Hong Kong's pro-democracy protesters.
The activists also received support from U.S. House Speaker Nancy Pelosi, who described the protests as a "beautiful sight to behold."
More recently U.S. Secretary of State Mike Pompeo came to the defence of the territory's 7.5 million residents after China's ruling communist party (CCP) unilaterally imposed new security measures that undermined Hong Kong's semi-autonomous status.
"The United States stands with the people of Hong Kong as they struggle against (China's) increasing denial of the autonomy that they were promised," Mr Pompeo declared at the end of last month.
The Secretary of State followed this by announcing that the territory would no longer enjoy special status under American law, a move that could add a negative impact on Hong Kong's status as a major financial hub, thereby increasing the pressure on Beijing's already battered economy.
Washington's increasingly assertive policy towards Hong Kong has not been well-received in Beijing, where Chinese President Xi Jinping defiantly pressed ahead with the imposition of the new security laws despite strong protests from the U.S.
In an attempt to seize back the initiative, Beijing's communist rulers are now attempting to exploit the widespread civil unrest that has erupted across the U.S. over the killing by a white policeman of a black man, George Floyd, who was allegedly resisting arrest, to launch a propaganda offensive in defence of its actions in Hong Kong.
China's state-run media has falsely accused Washington of having a "double standard" by supporting anti-China protests in Hong Kong, and criticising China's record on human rights at a time when Washington has been struggling to cope with anti-racism protests in America.
In a brazen attempt to portray China as being a more stable power than the U.S., state-run Chinese television stations and newspapers have aired vivid images of the protests, with graphic footage of looting and rioting. They claim Chinese citizens have been cheering the unrest, insisting that the riots are retribution for the Trump administration's support for activists in Hong Kong. At the same time CCP activists have been busy trolling American politicians on social media, with China's Xinhua state news agency poking fun at Ms Pelosi's comment about last year's Hong Kong protests by describing the unrest in America as "Pelosi's beautiful landscape".
Beijing's propaganda campaign to equate the protests in America with the pro-democracy demonstrations in Hong Kong has prompted a fierce rebuke from Mr. Pompeo: "As with dictatorships throughout history, no lie is too obscene, so long as it serves the Party's lust for power. This laughable propaganda should not fool anyone."
Beijing's increasing use of propaganda and fake news, in relation to both the coronavirus pandemic and the Floyd killing, could ultimately prove to be counter-productive.
Early on during the Covid-19 outbreak, many global bodies were prepared to give China the benefit of the doubt, even though doubts persisted about China's role in creating the pandemic.
The more Beijing tries to cover its tracks regarding the outbreak, however, and instead continues to indulge in conducting blatant propaganda campaigns against its geopolitical rivals, the more isolated Beijing will become.
Already there are signs in Europe of a hardening attitude towards Beijing. British Prime Minister Boris Johnson, who angered Washington earlier in the year by pressing ahead with a trade deal with China's Huawei telecoms giant, has now said he will review the decision, and is planning to introduce legislation that will limit China's ability to invest in British companies.
The European Union, too, has suddenly found the resolve to stand up to Beijing, voicing its opposition to Chinese plans to rewrite the rules overseeing the administration of the internet which would far better suit Beijing's totalitarian outlook.
All of which suggests that, if Beijing continues to indulge in using propaganda and fake news to attack the U.S. and its allies, it may come to rue the day it tried to play politics with the killing of an American black man in Minnesota.
Con Coughlin is the Telegraph's Defence and Foreign Affairs Editor and a Distinguished Senior Fellow at Gatestone Institute.