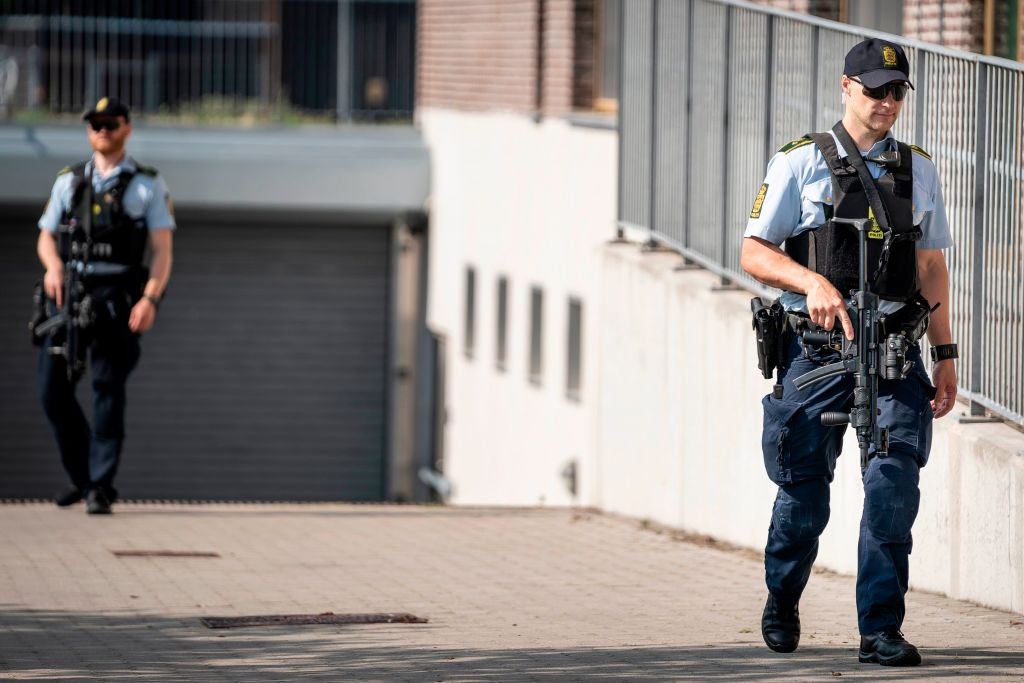 The Iranian regime has been involved in assassinations, terror plots, and terrorist attacks in more than 40 countries. Pictured: Police patrol in front of the Roskilde District Court in Denmark on June 26, 2020, as the court prepares to deliver its verdict for an Iranian spy for being an accessory to the attempted murder of an Iranian dissident. (Photo by Mads Claus Rasmussen / Ritzau Scanpix / AFP via Getty Images)
Another spy from the Iranian regime, Mohammad Davoudzadeh Loloei, 40, has been sentenced to prison in a European court -- this time, Denmark -- for being an accessory to the attempted murder of one or more individuals who are opponents of the Iranian regime. What is unusual is that this is all taking place while Europe's leaders continue to pursue a policy of appeasement with the ruling mullahs of Iran.
According to Roskilde District Court, in Denmark, Loloei had collected information on a dissident, so far unnamed, and given it to Iran's intelligence service, who planned to murder the man. The information included photos of the target's house, street and surroundings. "The court found that the information was collected and passed on to a person working for an Iranian intelligence service, for use by the intelligence service's plans to kill the exile," the court's statement read.
The public prosecutor, Soeren Harbo, pointed out that the Iranian spy has received a permanent entry ban and would also be expelled from Denmark after serving his sentence. Harbo added that "It's a historic case. And it's a powerful message to (foreign) intelligence services: they have to handle their conflicts among themselves and stop involving us."
Remarkably, this case involving the Iranian regime's intelligence service carrying out espionage and attempting to assassinate its opponents abroad is not a rare one. The Iranian regime has been involved in assassinations, terror plots, and terrorist attacks in more than 40 countries.
Last fall, in November 2019, another dissident, Massoud Molavi, who ran a social media channel on Telegram criticizing the Iranian regime and exposed corruption in the Islamic Revolutionary Guard Corps, was gunned down while walking on the streets of Istanbul.
After Molavi's murder, US Secretary of State Mike Pompeo said:
"The Iranian regime also continues to export cruelty outside its own borders. Last week, an Iranian dissident, Massoud Molavi, was assassinated in Istanbul after he defected to Turkey from Iran. The killing of Mr. Molavi is yet another tragic example in a long string of suspected Iran-backed assassination attempts outside of Iranian soil. The regime's brutality and amorality know no international boundaries."
In 2018, in Denmark, the Iranian regime attempted another assassination. Denmark's former Foreign Minister Anders Samuelsen emphasized the seriousness of the plot:
"An Iranian intelligence agency has planned an assassination on Danish soil. This is completely unacceptable. In fact, the gravity of the matter is difficult to describe. That has been made crystal clear to the Iranian ambassador in Copenhagen today."
Germany summoned Iran's ambassador in Berlin, after a 31-year-old Pakistani student was convicted of spying for Tehran on Reinhold Robbe, the former head of the German-Israel Friendship Society, in 2018. The American Jewish Committee in Berlin urged Germany's Foreign Ministry to expel the Iranian ambassador, but the German leadership took no such action.
In June 2020, an Iranian fugitive judge was killed and thrown out of his hotel room window in Romania. The Foreign Ministry of Romania also summoned the Iranian ambassador for an explanation because the Iranian authorities had made different claims about the death of the judge.
It is worth noting that the United States is not immune from the mullahs' spies and terror plots as well. Two individuals in California, Ahmadreza Mohammadi Doostdar, 38, in Chicago and, Majid Ghorbani, 59, were sentenced to prison by the federal court on January 15, 2020 for giving the Iranian regime information that could be used to harm American citizens.
Assistant Attorney General for National Security John C. Demers pointed out:
"This case illustrates Iran's targeting of Americans in the United States in order to silence those who oppose the Iranian regime or otherwise further its goals. The defendants, working for Iran, gathered information on Americans that could then be used by the Iranian intelligence services to intimidate or harm them or their families. These prosecutions should serve as a reminder to anyone here working covertly for Iran that the American law enforcement will pursue you to protect this country, its citizens and the First Amendment principles upon which it was founded."
Iran Intelligence Minister and chief spy, Mahmoud Alavi, has bragged about the fact that Tehran has agents across the West, including in Washington DC as well. "Many who live in Canada, London, or the United States," Alavi added, "[are devoted] to the [Islamic] revolution and the supreme leader ... In those places some attend religious ceremonies. [Those people] love the [Islamic] Revolution."
While the Iranian regime continues its assassinations and terrorist plots in the West, the EU and the UN -- which it is time for the US to defund -- remain silent.
Dr. Majid Rafizadeh is a business strategist and advisor, Harvard-educated scholar, political scientist, board member of Harvard International Review, and president of the International American Council on the Middle East. He has authored several books on Islam and US foreign policy. He can be reached at Dr.Rafizadeh@Post.Harvard.Edu