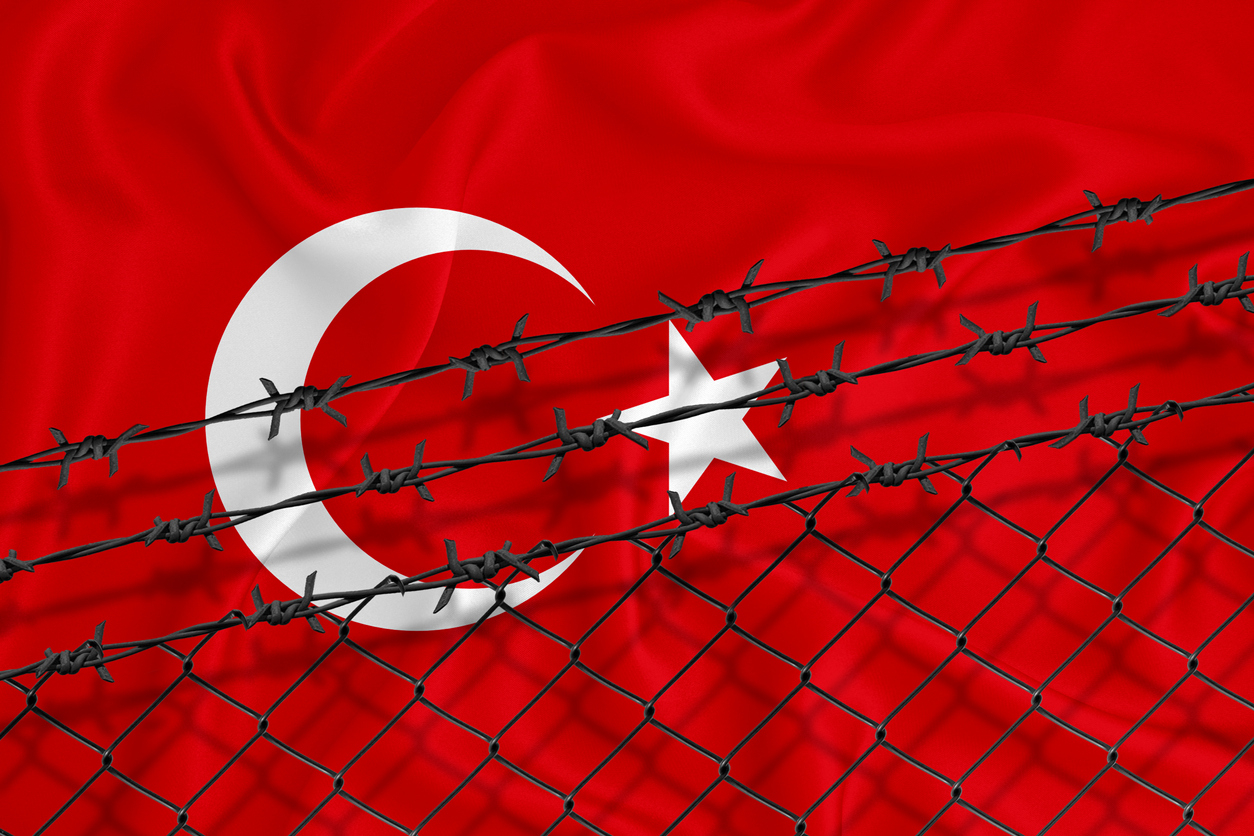 Dozens of Protestant Christian families, according to the Association of Protestant Churches, have been asked to leave Turkey or have not been allowed to enter the country -- all based on trumped-up charges, such as "being a threat to national security". (Image source: iStock)
An alarming practice targeting Protestant Christians in Turkey has been brought to the attention of the public by the country's Protestant community and its organizations.
"We would like to inform you," said a statement by the Association of Protestant Churches, "of a deportation practice targeting foreign national Protestants in our country especially in recent years, which we do not make much sense of and whose rationale we don't understand."
One of the recent victims is an American citizen, Joy Anna Subaşıgüller. She is the wife of Pastor Lütfü Kerem Subaşıgüller, a Turkish citizen in the active service in a Protestant Church in Ankara.
On June 5, Joy learned that her application for the extension of her family residence permit had been rejected without any stated justification. In a letter sent to her by Turkey's Directorate General of Migration Management of the Ministry of the Interior, the reason for rejection was marked as "other reasons" and she was asked to leave the country within ten days. The couple has been married for seven years and has three young children who are citizens of Turkey. Joy had been living in Turkey for ten years without any problems, noted the Association. On June 7, to stop the deportation, the couple took the document to a court and are awaiting a response.
Dozens of Protestant Christian families, according to the association, have been asked to leave Turkey or have not been allowed to enter the country -- all based on trumped-up charges, such as "being a threat to national security".
The association, however, noted that the Protestant Christians who have been targeted have no criminal record and have been living in Turkey, without problems and with respect for law and order.
"The lives of these people who have been living in our country for many years have been turned upside down by a sudden shock without prior notice," said the Association.
"As required by the state of law, the accusations imposed on these individuals should be based on evidence. It is unacceptable that in a shocking manner based on secret intelligence reports citing their participation in purely legal and open church meetings, they are not taken into the country.

"In families where one of the spouses is a foreign national, the family unity is fundamentally disrupted by imposing a ban on entry or pre-permit entry to the foreign spouse (in practice, no one can obtain pre-permit entry)."
The Istanbul Protestant Church Foundation also issued a press release on June 16, criticizing the practice:
"[I]t is with great sadness that we have to report that since 2019 it has been made more difficult for foreign clergy who serve the Protestant Church community in Turkey to be resident in our country, and that our requests for information concerning this matter have not received a satisfactory reply. We have received information that many foreigners, both clergy and lay members of the Protestant faith, have been required to obtain prior approval before entering the country, on grounds that we cannot understand and for reasons that we have been unable to ascertain. Furthermore, as a result of the imposition of this requirement for prior approval, which acts as a form of entry ban to Turkey, we have learned that foreigners already resident in our country have not had their residence permits renewed, or even have had them cancelled.." (Emphasis in the original)
The requirement for prior approval for entry ("N-82 code" or "permission N") was imposed upon Carlos Madrigal, the Foundation's spiritual leader, who is from Spain. Madrigal has served the Foundation and the churches it represents since 2001 with permission from Turkey's Ministry of Employment and Social Security to work as a "clergyman".
"Last November, I learned at the airport that I had been given an N-82 code," Madrigal told Gatestone.
"Then I refused to travel and decided to stay in the country because those who obtained an N-82 code before and left Turkey were unable to enter the country when they attempted to return.

"Then we asked the authorities about my code and opened a lawsuit. According to the court, Turkey's intelligence agency has a classified file on me that even our lawyer has been unable to review. According to this file, I am considered a threat to public order and security despite the fact that there is no legal complaint or court action against me...

"There appears to be a systematic action taken by some authorities to compel foreign Protestant pastors to leave the country or to prevent their re-entry or their stay in the country."
Hans-Jürgen Louven, a German citizen who lived in Turkey since 1998 and owns property there, told Gatestone that he was forced to leave the country after joining a Christian family conference last year. During his time in Turkey, he built two guesthouses in the city of Mugla, hosted customers from many countries and retired there.
"Before investing more into this field," said Louven, "I received an official letter from the office of the governor in Mugla saying that based on the religious freedom in Turkey they would help me with any kind of difficulty and that they would like us to make more investments".
Things changed, however, in 2019.
"I was forced to leave the country in September 2019. The only reason I know is that we took part in a Christian family conference in January 2019 with my entire family. We were invited to the event by Turkish churches as were other foreigners; I had no duties there and just attended it as a listener. I also heard that other foreigners who took part in that conference were also expelled."
He added that his legal struggles against deportation continue. He attempted to open a court case in Turkey but it was turned down by the courts, first in Mugla and then in Izmir. His lawyer recently took the case to Turkey's Constitutional Court.
Louven keeps trying to reenter Turkey, to no avail.
"I was told that I would need prior permission from authorities in Turkey. Two other German Christians that I know, who also got expelled from Turkey, tried receiving that permission, but got turned down and could not enter the country again. So it seems to be nearly impossible to return to Turkey and it also seems this is becoming a systematic practice especially against Protestant Christians who practice their faith and share it with others in lively communities in Turkey."
The Association of Protestant Churches noted that they are concerned that Turkish citizens who are Protestant Christians could soon be targeted for deportation.
"First foreign nationals and then mixed families are forced to leave Turkey without any concrete reason being given," said the Association.
"Are Turkish citizens who are Protestant Christians next? Continued deportation decisions make us think that they are an unfair and inhumane practice against Protestant Christians. We, Protestant Christians who love and pray for our country, do not deserve these practices."
Uzay Bulut, a Turkish journalist, is a Distinguished Senior Fellow at the Gatestone Institute.