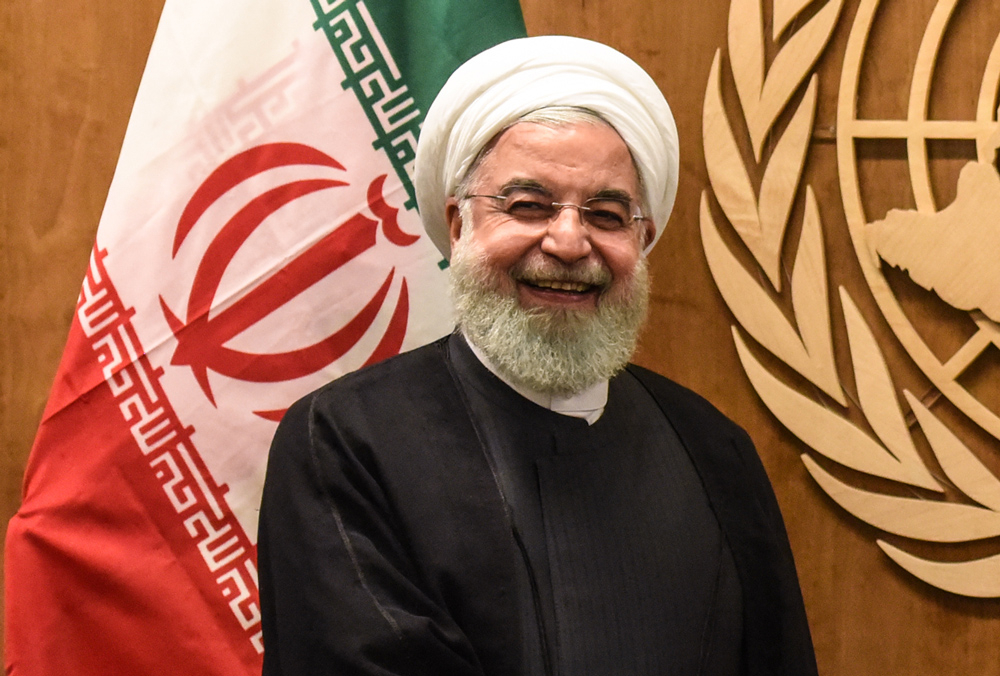 Iran's ruling mullahs are excited. They are convinced that a new US president, like his previous boss, former President Barack Obama, will throw them the lifeline so badly needed for their survival, their hold on power, and their ability to advance their nuclear and other imperialist plans. Pictured: Iran's President Hassan Rouhani. (Photo by Stephanie Keith/Getty Images)
One of the best gifts that the ruling mullahs of Iran can receive is if Joe Biden, former Vice-President, becomes president of the United States.
The regime is currently struggling politically and financially. Tehran's economy is on the verge of collapse. Inflation and unemployment rates are at record high levels, and the regime is finding extremely difficult to pay its employees, let alone its more luxurious obligations. Iran's economic conditions have become so dire that even some officials are warning of possible revolt and the collapse of the Islamic Republic.
The Iranian regime, in short, is in survival mode and -- to maintain its power as its oil exports continue to decline -- in desperate need of cash.
Before the Trump administration re-imposed sanctions on Tehran, Iran was exporting more than two million barrels of oil a day. According to the latest reports, Iran's oil export is now around 70,000 barrels a day. Iran's currency, the rial, has also been rapidly losing its value.
From the perspective of Iran's leadership, however, a significant amount of this pressure can be lifted if Biden wins the 2020 presidential elections. Iran's state-owned newspapers and politicians are, in fact, deliriously optimistic about Biden defeating Trump in the November elections. The headline in the newspaper Mardom Salari on July 20 read, "Biden Getting More Popular at Time of Trump's Decline".
If the former vice president wins the 2020 presidential elections, he can indeed solve many of the mullahs' problems. The Democrat Party's platform has already committed itself to returning to the JCPOA nuclear deal, which enables Iran in a few years to have an unlimited nuclear capability, and which President Donald J. Trump abandoned decisively.
The change in administration in the United States would mean that all sanctions will be lifted and billions of dollars would once again be flowing into the treasury of Iran's regime. It would be capable of deploying the extra revenues once again to fan the embers of unrest in the Middle East. This expansiveness would include funneling some of these new-found revenues into the Islamic Revolutionary Guard Corps (IRGC) to enlarge the regime's influence and military stranglehold across the Middle East and Latin America, especially in Syria, Iraq, Yemen, Lebanon and Venezuela.
A regime change America in would be seen as great news for Iran's beneficiaries as well, especially Syrian President Bashar al-Assad, who is also currently facing significant economic pressure. Assad was saved by the JCPOA nuclear deal -- which, incidentally, Iran never signed. He had been on the verge of bowing out. When Iran ramped up its investment in Syria by spending between $6- $35 billion a year to keep its staunchest regional ally in power, Assad received a welcome dose of adrenaline.
The sanctions have so far imposed enough pressure on the Iranian government that its leaders have been forced to cut funding even to its militias, allies and terror groups. The regime's militants are reportedly not getting their salaries or benefits, making it difficult for them to continue fighting on behalf of Tehran. "The golden days are gone," one Iranian-backed militia fighter in Syria told The New York Times, "and will never return. Iran does not have enough money to give us."
Those "golden days" can come back, all the same, if Biden becomes president. Iran will once again be able to strengthen its Shiite armies and their proxies: the Hezbollah in Lebanon, the Houthis in Yemen, and the conglomerate of roughly 40 Iraqi Shiite groups under the banner of the Popular Mobilization Forces.
It is important to note that without Iran's financial and military assistance, many militia and terror groups could not survive. As Hezbollah's leader, Hassan Nasrallah, admitted:
"We are open about the fact that Hezbollah's budget, its income, its expenses, everything it eats and drinks, its weapons and rockets, are from the Islamic Republic of Iran. As long as Iran has money, we have money... Just as we receive the rockets that we use to threaten Israel, we are receiving our money. No law will prevent us from receiving it."
From the perspective of the ruling clerics of Iran, when Biden becomes president and returns to the nuclear deal, this infusion of cash would enable them to suppress domestic opposition even more powerfully and forcefully. It would also enable them to pay their radical loyalists, to advance the regime's revolutionary ideals and to ensure the hold on power of the Supreme Leader Ayatollah Ali Khamenei.
The ruling mullahs of Iran are excited. They are convinced that a new U.S. president, like his previous boss, former President Barack Obama, will throw them the lifeline so badly needed for their survival, their hold on power, and their ability to advance their nuclear and other imperialist plans -- in Venezuela against the United States, and in the Middle East.
Dr. Majid Rafizadeh is a business strategist and advisor, Harvard-educated scholar, political scientist, board member of Harvard International Review, and president of the International American Council on the Middle East. He has authored several books on Islam and US foreign policy. He can be reached at Dr.Rafizadeh@Post.Harvard.Edu