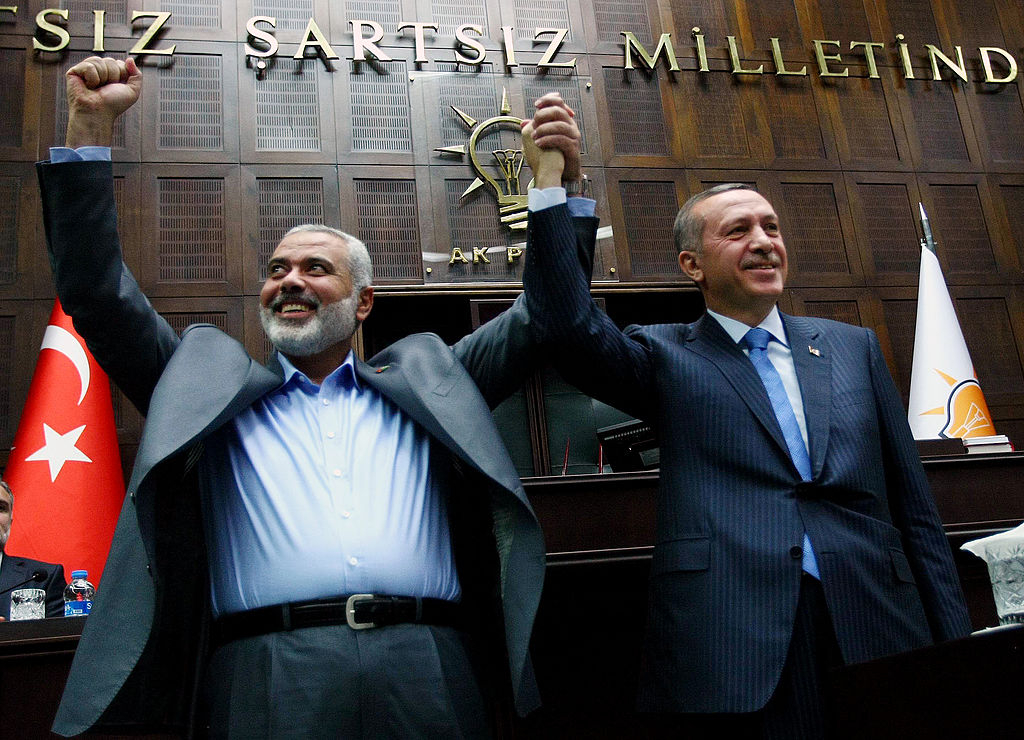 Turkish President Recep Tayyip Erdoğan comes from the ranks of militant Islamism. His love for Hamas and his dedication to the "Palestinian cause" are genuine. Pictured: Erdoğan hosts Hamas leader Ismail Haniyeh (left) at the Turkish Parliament in Ankara on January 3, 2012. (Photo by Adem Altan/AFP via Getty Images)
It is not only ideological and not only pragmatic: it is both: Turkish President Recep Tayyip Erdoğan comes from the ranks of militant Islamism for which the "Palestinian cause" is sacred and "as national as any other national matter." His love for Hamas and his dedication to the "cause" are genuine. So is his pragmatism.
Erdoğan's pro-Hamas (and anti-Israeli) fanaticism is one reason why Islamist Turks vote for him. So far, his fanaticism has come without any cost to him internationally, or any damage to his domestic political survivability. He has every ideological and pragmatic reason to keep up his love affair with Hamas.
On August 22, Erdoğan met in Istanbul with Hamas's senior military leader, Saleh al-Arouri, and senior political leader, Ismail Haniyeh. That was yet another public meeting of the president of a NATO country with specially designated global terrorists. Arouri was responsible for the June 2014 kidnapping and killing of three Israeli teenagers in the West Bank. A few weeks after the incident, Arouri claimed responsibility for the murders at a public event in Istanbul, embarrassingly attended by some senior Turkish officials. It is embarrassing for government officials to witness a man admitting to his terrorist crimes at a venue in their home country.
Judging from recent history, that meeting was in no way surprising. On the contrary, it was as normal as two lovers meeting at a café for drinks. Erdoğan seemingly loves to make such gatherings public to challenge the parts of the world that designate Hamas as a terrorist entity: the EU, Israel and the United States. There is also a message to his Turkish audience: I challenge the world powers, including America, and I remain untouchable.
In 2011, Israel released 10 Hamas terrorists as part of a prisoner-exchange deal. They arrived in Turkey and have remained active on Turkish soil ever since.
In December, The Telegraph reported that Turkey was turning a "blind eye" to Hamas members planning attacks on Israel from the safety of Turkey and claimed that operatives in Istanbul were seeking suicide-bombing recruits by offering to pay their families around $20,000 for carrying out attacks in Jerusalem and the West Bank.
In August, The Telegraph revealed that Ankara had granted citizenship and passports to "senior operatives of a Hamas terrorist cell," including Zacharia Najib, "the senior Hamas operative who oversaw a plot to assassinate the [then] mayor of Jerusalem, as well as other Israeli public figures."
The Telegraph noted:
"Turkey is granting citizenship to senior operatives of a Hamas terrorist cell, the Telegraph has learned, raising fears that the Palestinian group will have greater freedom to plot attacks on Israeli citizens around the world.

"Turkish identity papers seen by the Telegraph show that at least one of 12 senior Hamas members, who are using the country as a base of operations, has received Turkish citizenship and an 11-digit identity number.

"According to a senior source, seven of the 12 operatives have received Turkish citizenship, as well as passports, while the other five are in the process of receiving them. In some cases, the operatives are living under Turkish aliases."
Israeli diplomats confirmed to Fox News that Ankara is in the process of issuing citizenship to at least a dozen members of Hamas. "In overlooking these designations and thousands of its victims, who were injured and murdered by Hamas terrorists, Turkey is actively supporting it both financially and logistically," a spokesperson for the Israeli Embassy in Washington told Fox News. According to Seth J. Frantzman, executive director of the Middle East Center for Reporting and Analysis:
"Ankara's continued support for Hamas, including rolling out a red carpet for two senior Hamas leaders that the US and others view as wanted terrorists, once against shows the unprecedented way in which Turkey's current rulers flagrantly ignore international norms. Ankara treats Hamas as if it is an equal government, hosting it at the highest levels."
Washington made a weak signal in protest of Erdoğan's latest meeting with the terrorists, who even admitted they are terrorists. The U.S. State Department condemned the meeting as one that "only serves to isolate Turkey" on the world stage.
"The United States strongly objects to Turkish President Erdoğan hosting two Hamas leaders in Istanbul," State Department spokesperson Morgan Ortagus said in a statement on August 25.
"President Erdoğan's continued outreach to this terrorist organization only serves to isolate Turkey from the international community, harms the interests of the Palestinian people, and undercuts global efforts to prevent terrorist attacks launched from Gaza."
Ankara quickly rebuffed the U.S. statement. It said that Hamas was a democratically-elected actor in Gaza, which is correct, and represented a significant reality in the region.
A realistic question came from an opposition lawmaker in Turkey. Ünal Çeviköz, a former ambassador and an MP for the main opposition Republican People's Party, filed a question motion in parliament. "How many Hamas members have been granted citizenship under your government's term?" he asked Vice President Fuat Oktay. In a statement, Çeviköz added:
"These developments pose a serious obstacle to the potential of a two-state solution on the Palestine-Israel issue. Such developments, which will further increase regional tension, prevents Turkey from taking an active role for the Palestinian issue."
In reality, it is equally possible that these developments might actually spur a two-state solution, by notifying the Palestinians that, as the Arab saying goes, "The dogs bark but the caravan moves on."
Erdoğan's pro-Hamas ideology is not new. Nor is it an alliance born out of strategic reasons or a temporary geopolitical necessity. It is an inseparable part of his mindset. He will always be programmed to raise the stakes in supporting a terrorist organization, especially if it comes to him with no political cost.
Burak Bekdil, one of Turkey's leading journalists, was recently fired from the country's most noted newspaper after 29 years, for writing in Gatestone what is taking place in Turkey. He is a Fellow at the Middle East Forum.