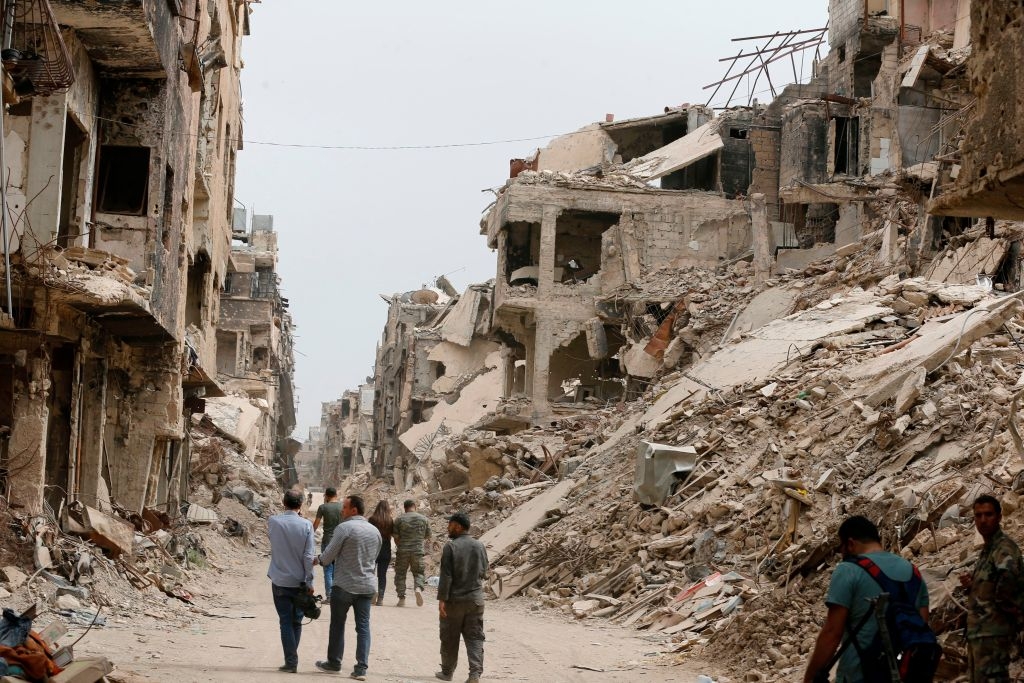 In Syria, since the beginning of the civil war there in 2011, 4,048 Palestinians have been killed and thousands wounded. Tens of thousands of others have fled their homes, some to other areas in Syria and others to neighboring Arab countries and Europe. Pictured: The Yarmouk Palestinian refugee camp, near Damascus, on May 22, 2018, days after Syrian government forces regained control over the camp. (Photo by Louai Beshara/AFP via Getty Images)
Palestinian leaders are so committed to condemning the United Arab Emirates (UAE) for its normalization agreement with Israel that they have no time left to notice the horrific suffering of their people in some Arab countries, particularly Syria and Iraq. Specifically, these leaders seem unperturbed that in some in Arab countries, Palestinians are mysteriously disappearing.
Unlike their leaders, however, Palestinians living in Syria and Iraq do not appear to be worried about the Israel-UAE accord. These Palestinians have more existential concerns -- such as providing shelter for their children and safe drinking water for their families. They are disturbed about the homes they have lost, and they are in a state of anguish about fate of their missing sons.
In the past two weeks, leaders of the Palestinian Authority (PA) and Hamas have focused their attention mainly on the Israel-UAE deal and how to persuade other Arab states from following in the UAE's footsteps.
Peace between Israel and the UAE, nevertheless, seems to be the last thing on the mind of the Palestinians residing in Syria.
In Syria, since the beginning of the civil war there in 2011, 4,048 Palestinians have been killed and thousands wounded. Tens of thousands of others have fled their homes, some to other areas in Syria and others to neighboring Arab countries and Europe.
In addition, 1,797 Palestinians have been detained by the Syrian authorities and are being held in harsh conditions, while another 333 have gone missing and their families know nothing about their fate.
While Palestinians in the West Bank and Gaza Strip, at the behest of their leaders, were burning flags of the UAE and pictures of Crown Prince Mohammed Ben Zayed, hundreds of displaced Palestinian families were reported to be living in "dire humanitarian conditions" in tents in northern Syria.
The Action Group for Palestinians of Syria (AGPS) said that many of the families were forced to flee the tents because of the lack of basic services. "They face the intense summer heat, amid a lack of water," the group said. "Sometimes the camps lack drinking water for many days."
Last week, AGPS said it has documented the cases of 333 Palestinians (including 37 women) missing in Syria since the beginning of the civil war.
"Activists accused the pro-Syrian security agencies groups of carrying out kidnappings and arrests, either on the grounds that the missing person was wanted by the Syrian security forces, or for the sake of bargaining with the kidnapped person's relatives and demanding a ransom for his or her release."
The conditions of Palestinians in neighboring Iraq are also bad, even if not as bad as the unfortunate Palestinians living in Syria. In Iraq, too, Palestinians seem to be disappearing in mysterious circumstances.
Last week, several Palestinian families living in Iraq appealed to Iraqi Prime Minister Mustafa Al-Kadhimi to reveal the fate of their sons who have been detained for many years without anyone knowing their place of detention or the circumstances of their incarceration. Some of the Palestinians have been in detention since 2005.
"We, the families of Palestinian detainees in Iraq who have been detained for many years, do not know anything about our sons' whereabouts," the families wrote in their letter to Kadhimi.
"We have visited many security departments and centers, but have not found any trace of them. We call on you to see the state of their families and the grief of their mothers, some of whom have died from mourning their sons. We ask you to kindly help us in this matter to find out what happened to our sons, and kindly to agree to meet with a number of families of these missing Palestinians to learn about their cause."
The Palestinian families complained that the International Committee of the Red Cross and other international organizations, including the United Nations, have refused to assist them in their search for their beloved ones.
Mohammed Abu Omar, a Palestinian resident of Iraq, said that two members of his family have been missing since they were detained by the Iraqi security forces in 2005. "Two days after the arrest, we were asked to pay a $50,000 ransom," Abu Omar said. "We paid half the amount, so they released one of them and promised to release the second, who has since disappeared."
Palestinian writer Nabil Al-Sahli said that the 4,000 Palestinians who remain in Iraq are facing an "ongoing tragedy." He said that according to some studies, at least 20,000 Palestinians have been displaced from Iraq to 40 countries around the world because of the "massacres" committed against them by sectarian militias.
Al-Sahli said he expected the suffering of the Palestinians in Iraq to increase after the approval of the new Iraqi law that strips Palestinian refugees of their rights and classifies them as foreigners. The new law, enacted in 2018, replaced a 2001 law issued by Saddam Hussein that requires Iraq to treat Palestinians as equals to Iraqis, with all privileges and citizenship rights.
"Considering the popularity of the Palestinian cause, it is somewhat surprising that the plight of Palestinian refugees in Iraq is so severely under-reported," according to a study by The New Arab, a Qatar-funded website.
"After suffering more than a decade and a half of abuses, Palestinians who have been living in Iraq since the creation of Israel in 1948 are now seeking to leave their adoptive home to escape the torments they suffer on a daily basis."
The New Arab report pointed out that Palestinians have effectively been stripped of their identity and travel documents by successive Iraqi governments.
"Having been maligned as being 'Baathist loyalists', 'Saddam's favourites' and simply 'Sunnis', Palestinian refugees were heavily targeted by sectarian Shia militias in the wake of Saddam Hussein's regime. In 2003 alone, 344 Palestinian families were forcibly expelled from their homes by militias."
Palestinian leaders who are now accusing the UAE of "stabbing the Palestinians in the back" because it seeks to make peace with Israel might take note that Arab countries such as Iraq and Syria are not only stabbing the Palestinians in the back, but killing and wounding them, forcing them out of their homes, and making their sons "disappear".
By extreme contrast, the UAE and other Gulf states have long opened their doors to Palestinians and provided them with jobs and high living standards. Puzzlingly, Palestinian leaders have plenty of time to castigate the UAE, but no time at all to comment on the systematic abuse and killing of Palestinians in Syria and Iraq. For the Palestinian Authority and Hamas, the true tragedy is when an Arab expresses willingness to make peace with Israel.
Palestinians in Syria and Iraq will continue to fear for their lives so long as their leaders prefer to derail peace agreements between Israel and the Arab countries rather than to rail against the persecution and killing of Palestinians in Arab states.
Khaled Abu Toameh, an award-winning journalist based in Jerusalem, is a Shillman Journalism Fellow at Gatestone Institute.