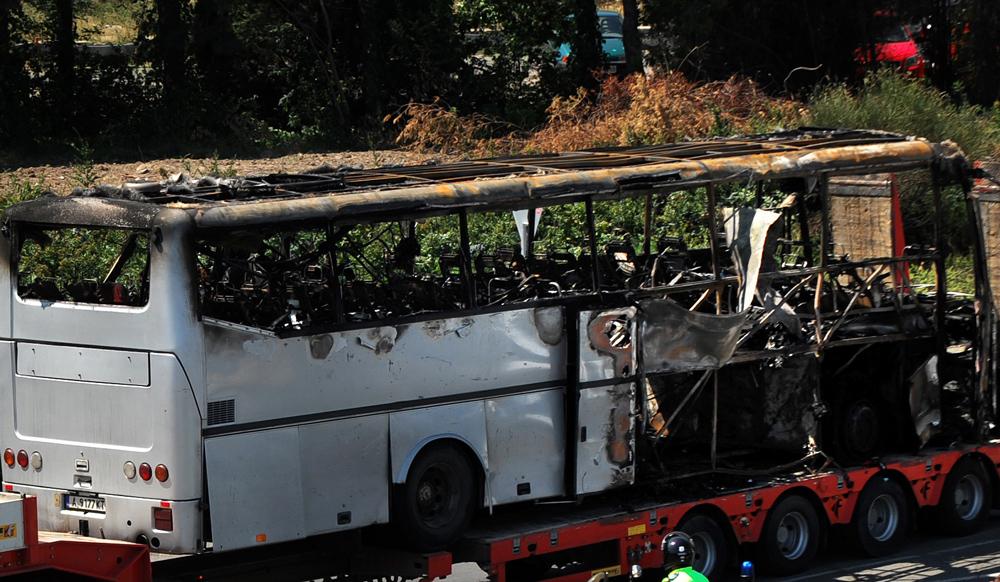 The conviction in absentia of two terrorists with links to the Iranian-backed Hezbollah militia for murdering five Israeli tourists in Bulgaria in 2012 has shed new light on the organisation's expanding terror network in Europe. Pictured: A truck carries the bus damaged in the attack on Israeli tourists at Burgas Airport in Bulgaria, on July 19, 2012, the day after the bombing. (Photo by Nikolay Doychinov/AFP/Getty Images)
The conviction in absentia of two terrorists with links to the Iranian-backed Hezbollah militia for murdering five Israeli tourists in Bulgaria in 2012 has shed new light on the organisation's expanding terror network in Europe.
The convictions, which were announced earlier this week by the Specialised Criminal Court in Sofia, the Bulgarian capital, relate to a suicide bomb attack against a bus carrying Israeli tourists on July 18, 2012.
The attack took place at the airport in the Bulgarian Black Sea resort of Burgas, killing five Israelis, as well as the bus driver.
Bulgarian investigators subsequently identified two prime suspects in the case, Meliad Farah, a Lebanese-Australian, and Hassan El Hajj Hassan, a Lebanese-Canadian, whom they claimed carried out the attack on behalf of Hezbollah.
While Hezbollah has consistently denied any involvement in the murders, the court nevertheless found the two men guilty of the attack, and sentenced them to life imprisonment without parole.
As the whereabouts of the convicted men is unknown, they are unlikely ever to serve their sentences. The evidence uncovered by Bulgarian prosecutors, however, pointing to Hezbollah's involvement in the attack has been sufficient to persuade European Union officials to place the organisation's so-called military wing on its terrorism blacklist.
The convictions, moreover, shed fresh light on Hezbollah's burgeoning terror network in Europe, which US officials believe is part of Iran's attempts to expand its global terror capabilities.
In the early years of Iran's Islamic Revolution, the regime mainly confined its terrorist activities to the Middle East. But since the 1990s, Tehran has gradually been expanding its global terror network, the most infamous example being the 1994 bombing of the Argentine Israelite Mutual Association (AMIA) in Buenos Aires, killing 85 people and injuring hundreds.
This means that today Iran has a global network ranging from Latin America, where Hezbollah has been accused of involvement in lucrative drug-smuggling activities, to Africa and Asia.
Now new evidence has emerged that suggests Hezbollah, with the help of its Iranian backers, is busy expanding its terror network in the heart of Europe.
According to Nathan Sales, the U.S. State Department's counterterrorism coordinator, Hezbollah has been steadily building up its weapons stockpiles in Europe with the aim of preparing for any future acts of terrorism that may be ordered by Tehran.
Speaking during a video appearance at the American Jewish Committee earlier this month, Mr Sales warned that recent American intelligence reports showed that Hezbollah was storing caches of weapons in countries throughout Europe.
This included stockpiles of ammonium nitrate, the same material responsible for the devastating explosion at Beirut's port last month.
Describing Hezbollah's arms build-up in Europe as posing a "clear and present danger to the US" and its allies, Mr Sales said that US intelligence reports showed that Hezbollah had weapons based in Belgium, France, Greece, Italy, Spain and Switzerland, while "significant" ammonium nitrate caches had either been discovered or destroyed in France, Greece and Italy.
"We have reason to believe that this activity is still underway," Mr Sales said. "Why would Hezbollah stockpile ammonium nitrate on European soil? The answer is clear. It can conduct major terror attacks whenever its masters in Tehran deem it necessary."
Further evidence of Hezbollah's expanding terrorist presence in Europe has emerged in Ireland, where ten members of an Irish dissident group known as the New IRA (NIRA) were arrested on terrorism charges last month, following claims they met with Hezbollah officials at Iran's embassy in Dublin.
A joint undercover operation mounted by British and Irish security officials found that the group was attempting to acquire Iranian-made weapons for use against the British security forces.
The ten people charged with a variety of terrorism offences include a Palestinian activist, Dr Issam Hijjawi Bassalat, who travelled to Ireland to give lectures on the Palestinian territories.
Two NIRA supporters who were arrested during the operation are reported to have attended a commemoration event at the Iranian Embassy in Dublin held following the death of Qassem Soleimani, the Iranian terrorist mastermind killed by a US drone strike in January.
At a time when tensions are increasing between Iran and the West over Tehran's controversial nuclear programme, the expansion of Hezbollah's terror operations in Europe should certainly be a major cause for concern. Iran, after all, has a long history of resorting to terrorism to put pressure on its adversaries, and Europe is an obvious target for future Iranian terror attacks.
Con Coughlin is the Telegraph's Defence and Foreign Affairs Editor and a Distinguished Senior Fellow at Gatestone Institute.