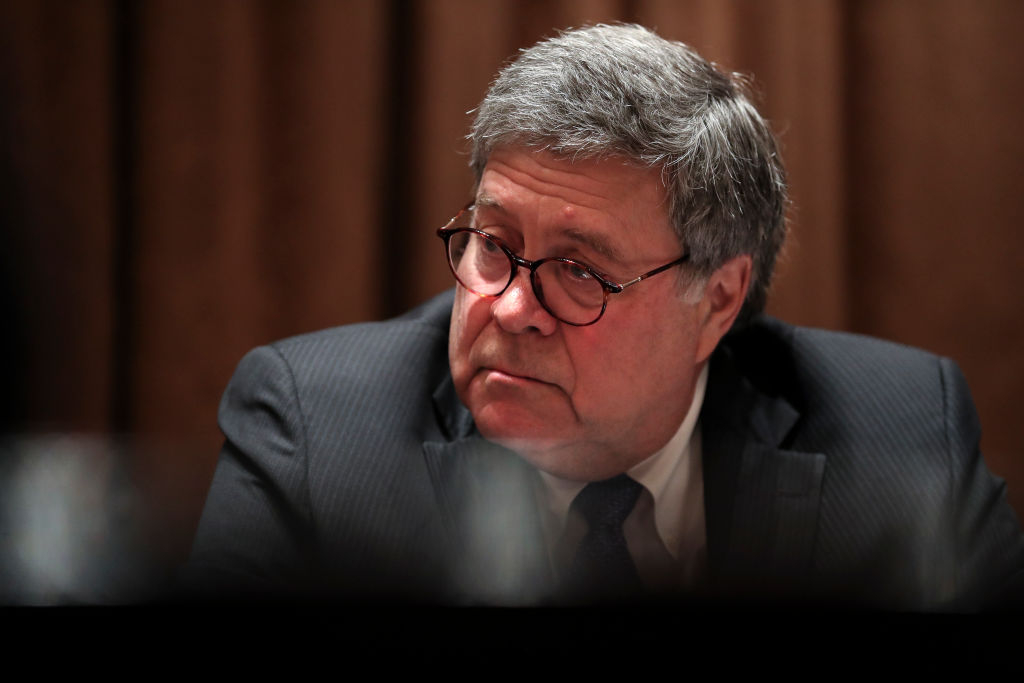 Pictured: U.S. Attorney General William Barr. (Photo by Oliver Contreras-Pool/Getty Images)
In recent weeks I have asked, "Why Does Barr Let Wray Lie and Flout the Law?," and "Will They Really Get Away With It?" Then, just a few days ago, we learned that Attorney General (AG) Barr hid two probes into alleged criminal conduct of Hunter Biden for months. Barr also announced that he could not see any election fraud -- or that he could -- but it wasn't really that bad. Barr told the Associated Press, "To date, we have not seen fraud on a scale that could have effected a different outcome in the election" [Emphasis added]. That's like a mob witness answering, "I have no specific recollection, at this time." It does not engender deep confidence and faith.
Keep in mind that while President Donald Trump was being impeached over the phony "Ukraine!" controversy, Barr and his FBI Director Wray were in the possession of Hunter Biden's laptops (since December 2019) – loaded with who-knows-what Burisma information, etc., and did not utter a syllable. Are we beginning to see a pattern of conduct?
Many have wondered for months what, exactly, Barr was up to. He said some strong things supporting the president, then acted in a contrary manner. He talked a good game but seemed to miss a lot of glaringly obvious prosecution opportunities. Why? It seems we now have our answer.
AG Barr was installed to manage President Trump and put him on a glide-path to defeat in last month's election. President Trump did not select Barr to be his Attorney General -- the choice was made for the President by professional Republican political operatives and then presented to him as the only acceptable and Senate-confirmable solution following the frustration and embarrassment of the Jeff Sessions debacle over the phony "Russia!" coup attempt.
Barr was integral to the destruction of Trump. Barr was "respectable." He was a former attorney general, and essentially "pre-approved" for the job. Barr was not looking for the next job or board membership. He knew what to say and what never to do.
Barr allowed Republicans to look at each other, nod and then smile about "what was coming" -- until it never materialized. No justice for Hillary, or Comey, or Strzok, or Brennan or the remaining 30-odd names in the coup litany.
There was a persistent "yes, but no" quality to Barr's words and deeds. He criticized the Mueller witch hunt as "taking on the look of an entirely political operation to overthrow the president." When Judicial Watch obtained Justice Department records documenting that 27 phones from the Mueller team were mysteriously "wiped clean" -- what did Barr do? Nothing.
Americans got played in the long con -- we are watching the final scene in the Barr Justice Department's version of "The Sting."
All of President Trump's strengths and advantages as an "amateur" politician were his undoing when it came to personnel placement and truly understanding the threat posed by The Swamp's professional political operatives that he had sworn to dislodge. Barr is a perfect example.
As a businessman, President Trump had the naïve non-Washington DC notion that his employees would actually work for him, and that if they failed to produce, he could fire them. How silly! This is Washington DC. Failure is promoted. Misdirection and the ability to consistently miss opportunities are rewarded. That is all the stuff that keeps the DC game churning and churning.
President Trump has been subverted and sabotaged since he announced his candidacy. Frankly, it truly is a miracle that he was elected. Once the miraculous manifested – it became the focal point of every other power in DC, NYC, LA and Silicon Valley to destroy his administration.
We got our answer. Hopefully there is a strong and pointed lesson that will not be soon forgotten. Perhaps another amateur politician will one day be elected to the presidency? Let us all hope that person takes a stronger role on personnel decisions, because ultimately -- that's what drives everything within the executive branch.
Chris Farrell is a former counterintelligence case officer. For the past 20 years, he has served as the Director of Investigations & Research for Judicial Watch. The views expressed are the author's alone, and not necessarily those of Judicial Watch.