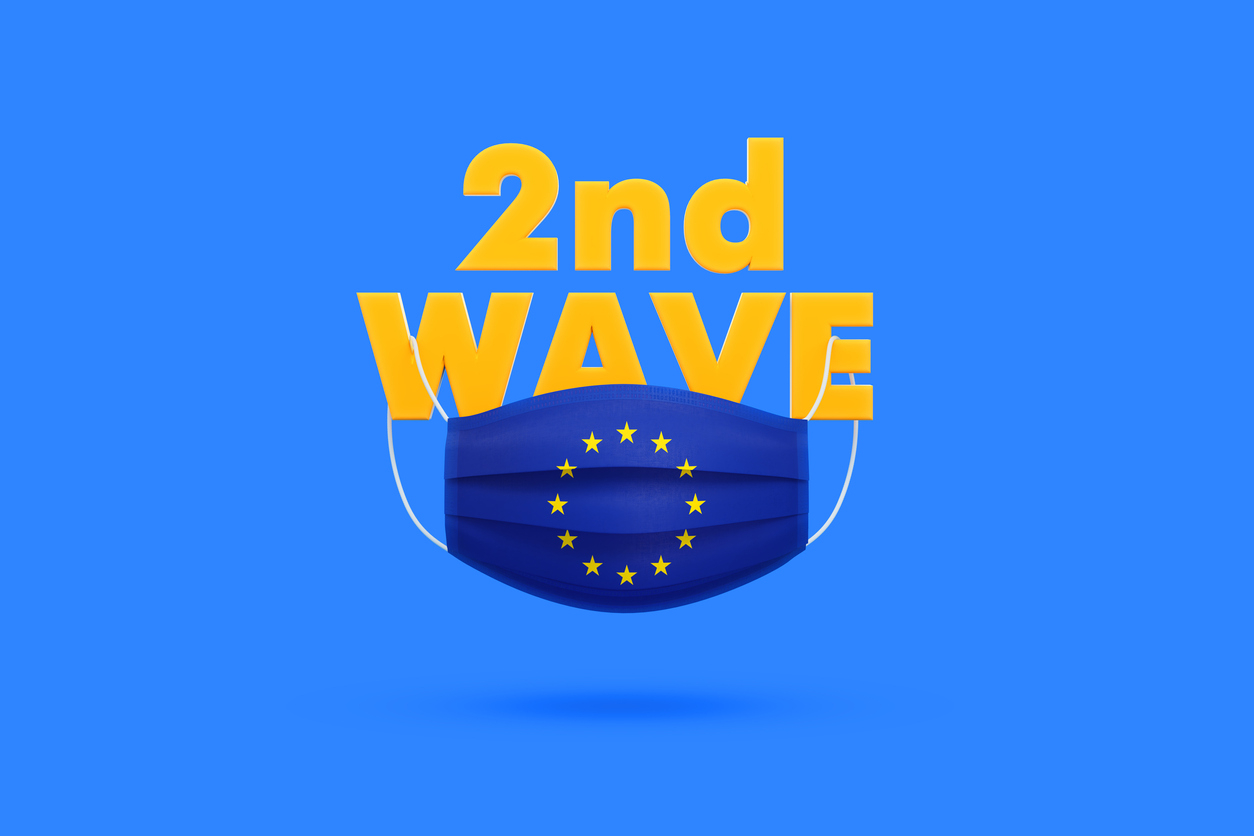 (Image source: iStock)
The German government has reimposed strict lockdown measures in an effort to reverse a spike in Covid-19 infections. Beginning on December 16, all non-essential shops and businesses, as well as all schools and daycare centers, will be closed until at least January 10.
The new restrictions, which were agreed upon after talks between German Chancellor Angela Merkel and the leaders of Germany's 16 federal states, come after less intrusive lockdown measures that began on November 2 failed to significantly bring down the number of infections.
On December 11, Germany recorded 29,875 new coronavirus cases, a one-day record, according to the Robert Koch Institute (RKI) for infectious diseases. Germany's intensive care unit capacity — the most important measure of a health system's ability to deal with the pandemic — is at a critical level, with only 5% to 10% of intensive care beds available in some parts of the country, according to the Association of Critical Care and Emergency Medicine (DIVI).
Economists are warning that the second coronavirus lockdown has increased the risk of another recession in Europe's largest economy. Germany suffered its worst economic contraction since World War II after the first wave of coronavirus infections pushed down gross domestic product by 1.7% in the first quarter and by an unprecedented 9.8% in the second quarter. The economy rebounded by a stronger-than-expected 8.5% in the third quarter due to higher consumer spending and booming exports.
Economy Minister Peter Altmaier said the new lockdown measures were necessary to bring the pandemic under control and to prevent a recession next year. "It is possible, if we act wisely, to protect the economy," he told public broadcaster Deutschlandfunk.
The chief economist of Commerzbank, Joerg Kraemer, said that Altmaier's optimism was misplaced and that the tighter lockdown will almost surely plunge Germany into a second — or double dip — recession. "Germany should brace for a second recession," he told the Reuters news agency.
The new coronavirus restrictions have led to a deterioration of the business climate index in Germany, according to a survey published by the Ifo economic institute on November 24. The drop is due to pessimistic expectations for the next six months and fears that the German economy will shrink in the fourth quarter. "Business uncertainty has risen," Ifo President Clemens Fuest said. "The second wave of the coronavirus has interrupted Germany's economic recovery."
Meanwhile, the coronavirus crisis is threatening the continued existence of 15% of German companies, according to a separate survey published by Ifo on December 1. The threat level is extreme in certain sectors: 86% of travel agencies and tour operators; 76% of hotels; and 62% of restaurants. Nearly 30% of advertising firms see themselves at risk; 18% of retail and 10% of wholesale companies are facing closure; 11% of industrial companies are under threat.
The German blog Tichys Einblick recently warned that the worst is yet to come:
"Actually, life and the economy should have returned to normal by December. But now our country is more locked than unlocked. The Christmas spirit is nowhere to be seen: Christmas markets are forbidden in many places, restaurants are closed, and there is emptiness in the shopping streets. And that's just the beginning: As of January, the Value Added Tax will rise again, energy and electricity will become more expensive, new taxes are looming and promised financial aid will be discontinued. So far Germany has been able to cheat its way through the crisis. Will it be difficult for many self-employed, traders, retirees and employees in winter?

"After the coronavirus crisis, Germany will look different: Now many companies, such as car factories, suppliers, steelworks and mechanical engineering companies will be closed forever. Even if the country is unlocked again, companies that are gone cannot start up again. Consumers and entrepreneurs are unsettled. This is poison for the economy and jobs. The national debt has exploded and continues to rise in the red sky. The desperation of many freelancers, restaurateurs and traders too. The German economy is staggering into crisis. A storm threatens after Christmas."
In France, the second-largest economy in the eurozone, a lockdown that took effect on October 30 was lifted on December 15, amid growing public anger over the restrictions to personal freedom. The lockdown will be replaced with a more lenient curfew between 8 p.m. and 6 a.m.
The transition from lockdown to curfew in France comes amid a spike in the number of people hospitalized for Covid-19: from 35 on December 11 to 2,906 on December 14, according to the Reuters news agency. France has the highest number of Covid-19 cases in Europe — nearly 2.5 million, according to a tally maintained by Johns Hopkins University.
On December 14, the Bank of France estimated that the latest lockdown resulted in an 11% drop in GDP in November. The central bank cut its growth forecasts for this year and next. Bank of France governor François Villeroy de Galhau told France Inter radio that any positive economic effects from Covid-19 vaccines would not be felt until the end of 2021.
An analyst for the Dutch investment bank ING, Charlotte de Montpellier, warned that France, like Germany, is facing a double-dip recession due to the coronavirus restrictions:
"The deterioration in the business climate...in France is mainly due to the very negative economic impact of the flaring up of the pandemic and the new restrictive measures taken gradually over the last few weeks to curb the spread of the coronavirus....

"In particular, the curfew introduced...in a large part of the country (covering 70% of the French population), has a strong impact on the service sector. In particular, due to the curfew, the restaurant and catering sectors, as well as the arts and entertainment sectors, are obliged to close at the time of day when they generate the largest share of their turnover. The complete closure of bars and sports halls in the same cities does not help either.

"Apart from the direct impact on supply, the restrictive measures will also have a negative impact on demand, with households and businesses being more cautious in their consumption and investment behavior due to uncertainty about the future....

"Consequently, the probability of another quarter of negative growth in France is very high and the scenario of a W-shaped recovery becomes more likely."
In Italy, the eurozone's third-largest economy, Prime Minister Giuseppe Conte has tightened travel restrictions during the holidays of Christmas, New Year's and Epiphany. Starting on December 21, and running through January 6, people in Italy will be prohibited from travelling between regions except for work or urgent reasons.
In recent days, Italy has overtaken the United Kingdom as the European country with the highest number of Covid-19 deaths, according to Johns Hopkins University.
On November 30, the Italian government approved a fourth stimulus package to support businesses hit by Covid-related restrictions. The package, worth eight billion euros ($9.7 billion), delayed tax deadlines for companies and expanded cash handouts for workers in some sectors.
Italy, which has one of the world's heaviest debt burdens, has relied on exceptional economic support from the European Central Bank. In November, the Italian Parliament backed the government's request to swell the nation's budget deficit by 8 billion euros to fund the additional relief measures. Conte approved 100 billion euros in stimulus to provide support during the first wave of the pandemic. Any extra spending is set to send debt above 160% of GDP by the end of the year, according to Chiara Albanese of Bloomberg.
The Italian economy is forecast to contract by 10.6% in 2020, the largest decline of any advanced economy except for Spain, according to the International Monetary Fund (IMF).
In Spain, the eurozone's fourth-largest economy, a Covid-related national state of emergency entered into effect on October 25. Prime Minister Pedro Sánchez announced a curfew from 11 p.m. to 6 a.m. that is expected to last for six months — until well after Easter.
Spain's gross domestic product (GDP) is forecast to shrink by almost 13% in 2020, the biggest contraction of any advanced economy, according to the IMF. The country is also facing a record-high deficit and soaring unemployment. The unemployment rate in Spain in 2020 and 2021 is expected to hover around 17%, second only to Greece among advanced and emerging economies. Long lines are building at food banks across Spain.
On December 11, the Bank of Spain warned that new Covid-related restrictions have halted recovery from its worst-ever economic contraction earlier in the year. "The fourth quarter is worse than we expected in September," Oscar Arce, the central bank's chief economist, said. "The intensity of the second Covid-wave surprised us."
The coronavirus pandemic has hit Spain especially hard with over 1.7 million infections and 48,000 deaths, according to Johns Hopkins University.
Like Italy, Spain is depending on financial aid from the European Union to survive the pandemic. Madrid may be eligible to tap up to 140 billion euros ($170 billion) in European funds — half in grants and half in loans, according to Economy Minister Nadia Calviño.
In the Netherlands, the eurozone's fifth-largest economy, a second lockdown took effect on December 15. All schools and shops will be closed until at least January 18. "The Netherlands is closing down," Prime Minister Mark Rutte said in a live television address. "We realize the gravity of our decisions, right before Christmas." The measures include limiting gatherings, even at home, to no more than two people. An exception will be made for three days around Christmas, when three adult visitors will be permitted.
In Britain, the government is under pressure to tighten Covid-related lockdown measures ahead of the Christmas holidays. In Europe, Britain ranks second, just behind Italy, as having the most coronavirus deaths, according to Johns Hopkins University. Britain also ranks second, just behind France, as having the most cases of Covid-19, according to Johns Hopkins.
Elsewhere in Europe, in Belgium, the government is scheduled to meet on December 18 to consider lockdown options amid an increase in new daily coronavirus infections. In Luxembourg, a coronavirus-related curfew has been extended until January 15.
In Switzerland, the government ordered restaurants, bars and shops to close from 7 p.m. across much of the country as of December 12. "The number of cases is rising quickly and strongly," said Swiss President Simonetta Sommaruga.
In Poland, Prime Minister Mateusz Morawiecki said that it was too early to ease coronavirus restrictions: "It is true that in the last few weeks the situation is better, but we can't pretend that we have defeated the virus, that the situation is so good that we can think about changing direction." In Hungary, a curfew will continue until at least January 11. Meanwhile, the Czech Republic will implement a partial coronavirus lockdown beginning on December 18.
In Denmark, the government announced further lockdown measures in parts of the country to curb a spike in coronavirus infections. Restaurants, museums, movie theaters and other cultural institutions closed on December 9 in 38 of 98 municipalities, including Copenhagen, and students in middle schools, high schools and universities were sent home. "We are entering a new phase of the epidemic, it is a phase where we are seeing exponential increases in the infection curves," said Health Minister Magnus Heunicke.
In Norway, Health Minister Bent Høie extended coronavirus restrictions into the second half of January. He said that even though infection rates in Norway have leveled off, the threat of infection from neighboring countries remains. In Finland, the government extended restrictions until January 10.
In Sweden, which has stood out for its "no lockdown" approach to the coronavirus pandemic, Prime Minister Stefan Löfven imposed the toughest restrictions yet after a spike in the number of infected people filling intensive care units. He said that the "unprecedented" response was needed if Sweden is to "curb transmission." Löfven added: "This is a very clear and strong signal to everyone in this country and to the entire society about what the rules are going forward."
Soeren Kern is a Senior Fellow at the New York-based Gatestone Institute.