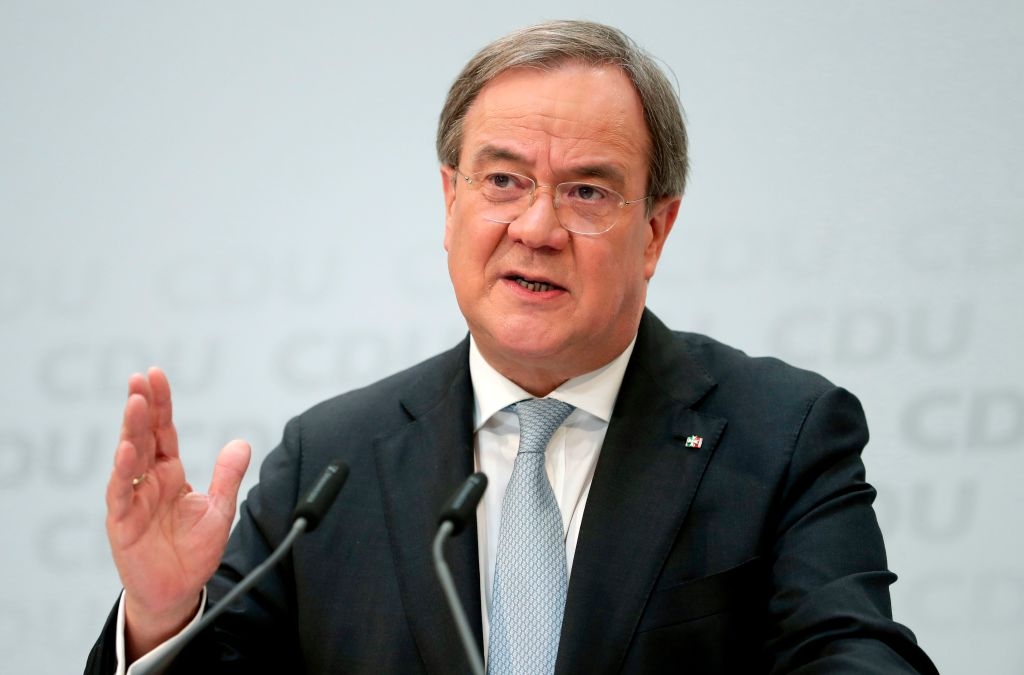 Armin Laschet (pictured), premier of North-Rhine Westphalia, Germany's most populous state, has been chosen as the new leader of the ruling Christian Democratic Union. (Photo by Michael Sohn/Poll/AFP via Getty Images)
Armin Laschet, premier of North-Rhine Westphalia, Germany's most populous state, has been chosen as the new leader of the ruling Christian Democratic Union (CDU). He is now in a position to succeed Angela Merkel as German chancellor after general elections this September.
Laschet, a Merkel loyalist and continuity candidate, narrowly beat conservative Friedrich Merz by 521 to 466 votes in a run-off vote by party delegates on January 16. The CDU had previously chosen Annegret Kramp-Karrenbauer to succeed Merkel, but she stepped down as party leader in January 2020 after a series of regional electoral defeats cast doubt on her ability to retain the chancellorship.
Like Merkel, Laschet is pro-EU, pro-Russia and pro-China. Past statements suggest that he hails from the realist school of international relations, which often prioritizes economic interests over human rights concerns when dealing with authoritarian countries.
Laschet is also a transatlanticist. This implies that Germany will continue to depend on the United States for defense. On the other hand, Laschet is not a climate change fanatic. North Rhine-Westphalia is Germany's biggest coal-producing region and Laschet was instrumental in the recent decision to extend Germany's phase-out of coal-fired power plants until 2038. It therefore seems unlikely that he will take orders from the Biden administration to agree to radical environmental proposals.
Domestically, Laschet supported Merkel's decision in 2015 to allow into the country more than a million migrants from Africa, Asia and the Middle East, and he is likely to continue her open-door migration policies. On the other hand, he has advocated a hardline approach to the crime caused, in large measure, by the immigration policies he supports.
Laschet is expected to continue to pursue Merkel's foreign and domestic policies. As a result, he is unlikely to reverse the CDU's leftward drift — initiated by Merkel — which has resulted in a mass exodus of conservative voters to the populist party, the Alternative for Germany (AfD).
Long Road Ahead to Chancellorship
There is no guarantee that Laschet, a 59-year-old German of Belgian descent, will become the next chancellor, or that he will even be the CDU's chancellor candidate. Germany's political landscape, with six main parties and more than 30 secondary parties, is highly fractured. As a result, it will be difficult for any one party to obtain an absolute majority in parliament.
The Greens are now the second-most popular party in Germany, according to recent polls. Even if the CDU emerges victorious in the national election on September 26, Laschet, in order to retain the chancellorship, almost certainly will be forced to form a coalition government. The Greens are opposed to many of Laschet's positions.
If Laschet were unable to forge a governing coalition with the Greens, they may decide to bypass the CDU altogether and negotiate a three-way coalition with the Social Democrats and the radical Left Party. Such a coalition would bring a swift end the continuity espoused by Merkel and Laschet.
Laschet also faces considerable opposition from within his own party. Conservative supporters of Merz, as well as members the Christian Social Union (CSU), the CDU's Bavarian sister party, want to push the CDU back to the political right in order to lure back voters from the AfD.
CSU leader Markus Söder, who is also the premier of Bavaria, has called for the CDU/CSU alliance to decide on its chancellor candidate only after state elections in Rhineland-Palatinate and Baden-Württemberg on March 14. This would leave open the possibility that Söder, who, according to recent polls, is more popular with the German electorate than Laschet, could end up being the candidate for chancellor.
Russia
Laschet has come under fire, especially from the Greens, for past comments in which he defended Russian President Vladimir Putin.
In March 2014, at the time that Russia annexed Crimea, Laschet criticized what he described as the "marketable anti-Putin populism" (marktgängigen Anti-Putin-Populismus) in Germany. He added: "Forty percent of the gas that we need for our modern gas-fired power plants comes from Russia."
In March 2018, former Russian intelligence agent Sergei Skripal and his daughter were poisoned with the military nerve agent Novichok in England. Western countries responded by deporting Russian diplomats, but Laschet defended Putin.
In January 2021, in an interview with the Frankfurter Allgemeine Zeitung, Laschet said that the Nord Stream 2 gas pipeline between Russia and Germany should proceed as planned, despite the arrest in Russia of Kremlin critic Alexei Navalny. He said: "The question of whether gas should reach us by land or by sea is unrelated to Navalny's detention."
The Nord Stream 2 project is opposed by many European countries, as well as by both Democrats and Republicans in the United States, because it would increase Germany's energy dependency on Russia.
Laschet has been ridiculed as a "Putin understander" (Putin-Versteher), a pejorative term for appeasers of the Russian strongman. Ralf Fücks, a former Green Party politician who is now head of the Center for Liberal Modernity, a think tank, elaborated:
"You get the impression that Armin Laschet still believes in a partnership with Putin's Russia. He ignores the fact that there simultaneously is both a geopolitical and a value conflict with Moscow. This conflict requires a certain degree of severity, a policy of deterrence and also a policy of sanctions. It is wishful thinking that all foreign policy conflicts can be resolved through dialogue and goodwill."
China
Laschet has been a strong proponent of trade relations with China. More than 1,000 Chinese companies have established a physical presence in North Rhine-Westphalia, including 610 in Düsseldorf, the state capital. Trade between North Rhine-Westphalia and China exceeded 12 billion euros in 2019, the last year for which complete statistics are available.
In a September 2020 interview with Politico, Laschet was asked about the link between trade with China and human rights. He responded:
"Trade relations always require a political dialogue on human rights. That's true for every country in the world. It's true for Russia, China, Turkey and all the countries of the Arab world. But one can't only pursue trade relations with countries that follow our societal model."
Israel
Laschet is staunchly pro-Israel and has actively cultivated relations with the Jewish state, which does nearly one billion euros a year in trade with North Rhine-Westphalia. In September 2018, his first major overseas trip as state premier was to Israel. During a subsequent visit to Israel in 2020, he opened a representative office in Tel Aviv. At the time he said:
"Our state's office in Tel Aviv is another milestone in the relations between North Rhine-Westphalia and Israel. In no other country does our state have an office with such a comprehensive mission.

"Our office in Israel will bring the cooperation between our two states to a new level. We want to further strengthen the exchange and the meetings between universities and municipal, cultural and educational institutions and civil service groups. That's a sign of our appreciation to our friends in Israel."
In January 2019, Laschet, during a trip to Poland, visited the former German concentration camp at Auschwitz-Birkenau. He was accompanied by 24 Christian, Jewish, and Muslim teenagers and young adults. He said:
"It is an obligation for all of us to keeping the memory of the Shoah alive. For us in North Rhine-Westphalia, home of the largest Jewish community in Germany, the preservation of the memory of the horror of the Nazi era is a personal concern. The unspeakable crimes of the past must be a reminder and a warning to future generations. The lessons from the Shoah must always be at the core of political and historical education in our schools. All students have to deal with it, no matter where they come from or to what religion they belong."
At the same time, however, Laschet expressed dismay at the Trump administration's withdrawal from the controversial nuclear deal with Iran, which, according to many analysts, would have accelerated and legitimized Tehran's acquisition of a nuclear bomb. Laschet was also reluctant to ban Hezbollah, the Iranian terrorist proxy in Lebanon, before the German parliament, facing massive pressure from the Trump administration, agreed to a partial ban of the group in December 2019.
Select Commentary
Veteran European affairs commentator Wolfgang Münchau wrote about the potential difficulties in reaching a coalition deal between Laschet and the Greens:
"Laschet is the closest you get in German politics — outside the AfD — to being a climate change denier. His successful campaign theme was protection of German industry against ambitious climate-change action. Should the Greens and the CDU/CSU ever end up trying to a form a coalition, I would expect very difficult negotiations to follow. The two parties are at the opposite ends of the most important political debate in Germany this decade — on the trajectory towards internationally agreed emissions targets....

"One of the foreseeable conflicts in the relationship between Germany and the EU will be on fiscal policy. The consensus view among international economists might have changed in favor of higher deficits during economic crises. But the debt brake, Germany's balanced-budget debt rule that is firmly anchored in the constitution, is still in force....

"The CDU's innate fiscal conservatism and Laschet's support for coal mining and coal-generated power are formidable obstacles to a CDU/CSU/Green coalition, which may be the only viable governing option after the September elections. I cannot see the Greens signing up to Laschet's agenda."
Author and commentator John Kampfner echoed those concerns:
"It was the 'Merkel Machine' which helped secure the close victory. After a lackluster campaign, Armin Laschet hobbled over the line for the leadership of Germany's largest party, the CDU, thanks to some last-minute lobbying and arm-twisting from the chancellor and her aides behind the scenes. After 16 years at the helm and at the center of German politics, Angela Merkel was not going to see her party hijacked by a rival dedicated to a harsher variant of conservatism....

"The problem for Laschet is that many in his own party don't want to work with him, and the CDU is in desperate need of energy. The narrow 53% to 47% run-off demonstrates the challenge he faces winning over party members many of whom have been uncomfortable with Merkel's centrist course despite her four election victories.

"The right wing have a big decision to make. Will they bury the hatchet and fall in behind Laschet? If they don't, then Laschet would face considerable pressure to stand aside as the party's candidate for chancellor. That would leave the path open for Markus Söder, the popular leader of Bavaria and head of the Christian Social Union, the CDU's sister party."
The Editorial Board of the Financial Times wrote:
"The party gambled on continuity rather than a shift to the right under closest rival Friedrich Merz. Mr Laschet, the regional premier of North Rhine-Westphalia, represents the kind of open centrism that enabled Ms Merkel to notch up four consecutive election victories. The CDU is riding high in the polls ahead of federal elections on September 26. But it will soon have to do without Ms Merkel, its greatest asset.

"Mr Laschet is now the frontrunner to succeed Ms Merkel as chancellor but that is far from guaranteed. The CDU and its Bavarian sister party, the Christian Social Union, are due to decide in March who will run as their joint candidate. Many doubt whether he has the skills and profile to lead a national campaign. Mr Laschet will need to assert himself quickly to cement his chances. He could still lose out to Bavarian premier Markus Söder who is far more popular.

"Mr Laschet's first priority will be uniting the party. It will not be easy. He beat Mr Merz by 53 to 47 per cent of the vote. There is a large minority in the party who want it to take a clearer conservative direction. When he lost the 2018 leadership contest, Mr Merz retreated. This time, he seems determined to weigh on the party's future."
Oliver Hackel, senior financial strategist for the Liechtenstein-based Kaiser Partner Privatbank, struck a more optimistic note about Laschet:
"Laschet has been more of a 'Merkelist' and more committed to her triangulating centrist style of politics than practically any other high-ranking CDU politician.

"However, whether 59-year-old Laschet will actually get a chance to follow in Merkel's footsteps and stand as the CDU's candidate for chancellor in the Bundestag elections on September 26 won't be decided until March, when the CDU and its Bavarian sister party, the Christian Social Union (CSU), will choose who will run as their joint candidate. CSU head Markus Söder, who enjoys much greater popularity at the moment, could thwart Laschet's ambitions. According to a poll cited by German broadcaster Deutsche Welle, 43% percent of voters would like to see Söder succeed Angela Merkel, whereas only 12% favor Laschet. Yet, if past is prelude, the Bavarian branch of the CDU and Mr. Söder are likely to give in and back down if push comes to shove for the good of both parties. This, at least, is the most probable scenario as things currently stand....

"The new CDU chairman faces a difficult task of maintaining coherence in a party that is struggling to find its identity while simultaneously trying to lure voters from the environmentalist Green Party and the right-wing AfD....

"Germany's Christian Democrats are thus betting on continuity rather than on a lurch to the right under Friedrich Merz. Whereas an election campaign led by Merz would have advocated for distinctly conservative fiscal and monetary policy stances, the supertanker Germany with Laschet at the helm is likely to stay on a course similar to the current one in the tow of Angela Merkel."
The Editorial Board of the Wall Street Journal, espousing a contrarian view, concluded:
"German politics is drifting away from Mrs. Merkel's breed of consensus. Despite winning a leadership election among delegates to the CDU party conference, Mr. Laschet's soft foreign-policy views are increasingly at odds with prominent CDU figures who advocate a sterner approach to Russia and China. The Greens are on the rise as a mainstream center-left party on the back of their foreign-policy hawkishness and hostility to crony capitalism at home.

"All of which highlights the risk to the CDU that 'boring' might run out of steam as a political and policy strategy sooner than expected. The next chancellor will face China's strategic rise, the continuing economic fallout from Covid-19 and Brexit, shifting priorities in Washington, and other crises as yet unknown. More of the Merkel method probably can win an election in October [sic] given the many divisions in Germany's electorate, but it won't be much of a solution to these or other challenges.
Soeren Kern is a Senior Fellow at the New York-based Gatestone Institute.