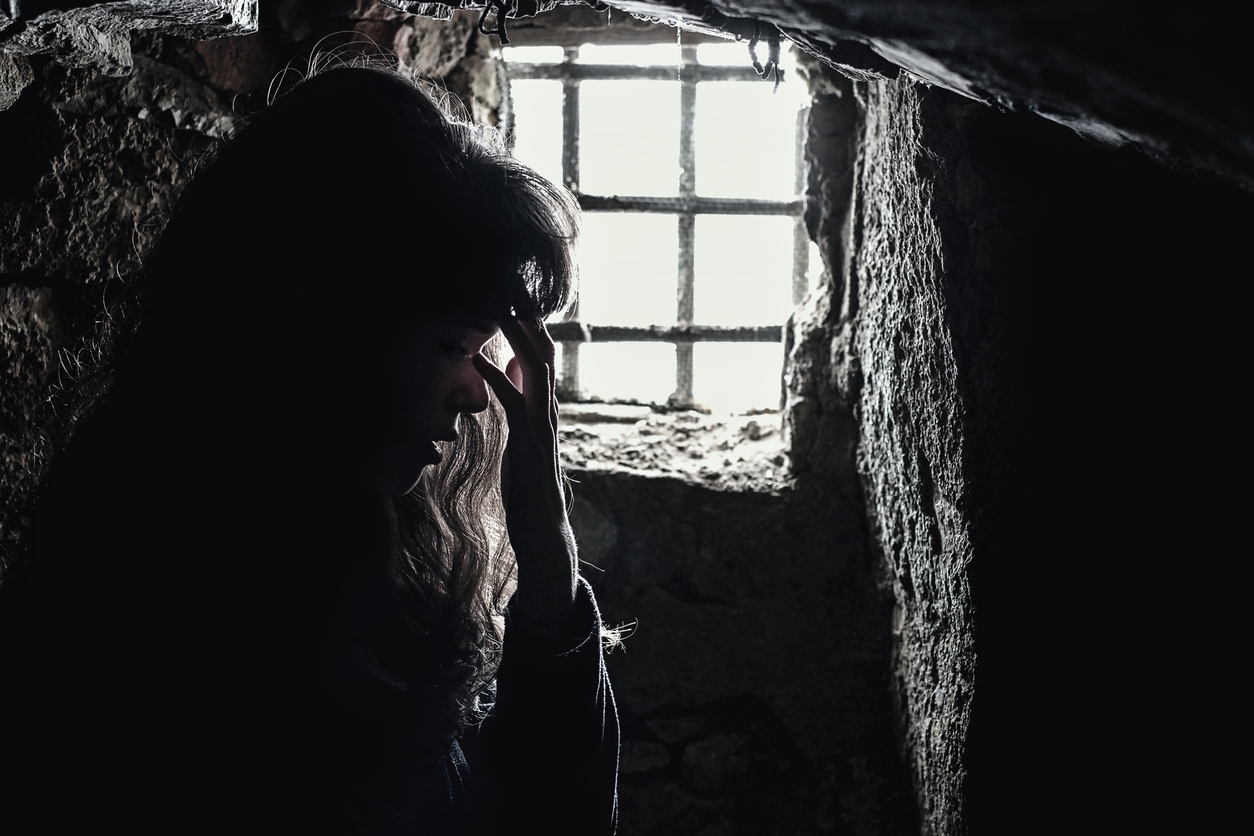 Keeping up with the abuse of Christian girls by Muslims in Pakistan has become exceedingly difficult. Hardly does one story of abduction, enslavement, rape, forced conversion, torture or murder appear, before another follows it. (Image source: iStock)
Keeping up with the abuse of Christian girls by Muslims in Pakistan has become exceedingly difficult. Hardly does one story of abduction, enslavement, rape, forced conversion, torture or murder appear, before another follows it — and another, and another. Although of course, needless to say, not all Muslim men regard non-Muslim girls and women this way, unfortunately many there still seem to. Some recent examples include:
The bloated bodies of two Christian sisters who had long rebuffed the advances of their Muslim employers, were found in a sewer in January 2021. Earlier, on November 26, the sisters, Sajida (28) and Abida (26), who were both married and had children, were reported as missing. The two Muslim men for whom they worked had regularly pressured them to convert to Islam and marry them. Even though the young women "made it clear that they were Christian and married, the men threatened them and kept harassing the sisters."
Forty days after they were reported missing, on January 4, 2021, their decomposed bodies were discovered. Their Muslim supervisors, during their interrogation, "confessed that they had abducted the sisters," said Sadija's husband; "and after keeping them hostage for a few days for satisfying their lust, had slit their throats and thrown their bodies into the drain." The widower described the families' ordeal:
"When police informed us that they had identified the two bodies as those of our loved ones, it seemed that our entire world had come crumbling down.... I still cannot fathom the site [sic] of seeing my wife's decomposed body."
Discussing this case, Nasir Saeed, Director of the Centre for Legal Aid Assistance and Settlement in the UK, said,
"The killing of Abida and Sajida in such a merciless way is not an isolated case, but the killing, rape and forced conversion of Christian girls have become an everyday matter and the government has denied this and therefore is doing nothing to stop the ongoing persecution of Christians. Unfortunately, such cases happen very often in the country, and nobody pays any attention – even the national media – as Christians are considered inferior and their lives worthless."
Indeed, just days after the two sisters went missing, two Muslim men murdered Sonia Bibi, a 24-year-old Christian women: she too had refused to renounce her faith, embrace Islam, and marry one of the men. According to a December 4 report, she was walking to work when the men drove by and killed her with a pistol. During the previous five months, one of the Muslim murderers, Muhammad Shehzad, had been harassing and even threatening Sonia to marry him, but she repeatedly refused, citing the differences in their faith.
"A few days before the incident," her grieving father said, "Sonia was again harassed by Shehzad. Since she was a committed Christian she did not betray Jesus and sacrificed her life for her faith." Her father, who must have been hoping to have justice, added:"We are being harassed and pressurized to withdraw the case against culprits."
In a yet another incident, in early December 2020, a 12-year-old Christian girl — who was kidnapped, "raped multiple times," converted to Islam, and "married" to one of her abductors — was found chained in one of her kidnapper's homes. Five months earlier, on June 25, 2020, three Muslim men in a van had come to young Farah Shaheen's home and abducted her. When her father and brother heard her cries, they rushed to the scene but the van had sped away.
Although her father reported the case to the police and had repeatedly pleaded with the authorities, they did nothing — at least until the father hired a lawyer. He appealed the case to a higher court, which pressured the local police to act. On December 5, police found the girl chained up in a room. According to a police source, "the kidnappers subjected Farah to physical and mental torture.... The dark marks on her ankles show that she was fettered [in a metal chain] for most of her time in captivity [five months]."
All charges have since been dropped against the men who chained her like an animal and raped her. The 12-year-old testified that she "willingly married" one of her abductors, aged 45. Even if true, the man had broken Pakistani law by "marrying" a minor (girls must be at least 16). The court had not even bothered to consider, as her family and other activists point out, that the girl was traumatized and feared retribution. "[She] has told me she was treated like a slave," complained her father. "She was forced to work all day, cleaning filth in a cattle yard. 24-7, she was attached to a chain" — and yet her tormentors were exonerated.
"She was in trauma," according to an activist involved with Farah Shaheen's case, "and couldn't tell about the torture... Her marriage, forceful conversion, and injured feet speak of the horror. Police, judiciary, and weak laws make fun of poor parents."
Similarly, while speaking about the endemic of rape and forced conversion in February 2020, Napoleon Qayyum, executive director of the Pakistan Center of Law of Justice, said:
"[T]he girls are also forced to give false statements in court that they have changed their religion of free will and had married of their own choice.... Girls belonging to minority communities often succumb to pressure and consideration for their family's security, which has further emboldened the men belonging to the majority faith."
A few days after Farah was freed, according to a December 26 report, "Muslims who employed two young Christian women as live-in house cleaners in Lahore, Pakistan have forcibly converted them to Islam and are not permitting Christian relatives to see them...." Nasreen Bibi, their aunt and guardian, said:
"Both Anum [20] and Maham [18] have been forcibly converted [by their separate employers] to turn them into slaves, and the police and court have unfortunately acted as facilitators of this crime.... Muhammad Azmat [the employer of Anum] told me to forget about my nieces, as both of them were Muslims now. He also warned me not to come to his house, threatening that I would rot in jail if I did. I could not believe my ears. Both of my nieces were being held hostage in the name of religion, and there was nothing I could do to rescue them."
After the aunt repeatedly pleaded with police, who were slow to act, on December 15, the two girls and their employers were finally brought to court. "We hoped," the aunt continued, "that the court would consider the circumstances under which these conversion claims were being made, but to our horror the court rejected our pleas and handed the girls back in their Muslim employers' custody."
Even on Christmas Day 2020, Christian girls were being eyed by Muslim men: about 60 Muslim men assaulted a church during Christmas service. According to the report, "They aimed to kidnap and assault the women in attendance," and made derogatory comments about the them, adding that they were "looking dashing today. Let us have all of them in our beds." When one of the Christian defenders angrily rose up, "The Muslims," he said, "warned me never to stop them from doing whatever they wanted to do with Christian girls." The church's security guards and male congregants "fought back with bare hands against the staff-wielding intruders, giving the women time to escape. Many Christian men suffered blunt trauma injuries and fractures in the fight."
The above incidents are all recent, occurring just in the last two months. Some others that took place in 2020 include:
"A Christian 6 year old girl was beaten and raped after being forcibly taken to the home of a Muslim rapist in broad daylight," according to a Sept. 16 report:
"In a sickening twist the local Muslim community are threatening the Christian parents with violence, the rape of their other daughters and financial ruin if they proceed with a legal case against paedophile Muhammad Waqas (18 yrs).... Tabitha [the raped child] had been verbally abused, shouted at, slapped and beaten and forced to do a number of sex acts with Waqas. She had been stripped of her clothes and had described her terror that she would be killed by Waqas..."
On April 26, Maira Shahbaz, a 14-year-old Christian girl, was abducted by a group of armed Muslim men, under the leadership of one Muhammad Naqash (subsequently, her "husband") Although her parents managed to bring the case to the Lahore High Court, it ruled in favor of Naqash. In late August, Maira managed to escape and gave testimony on how she was being "forced into prostitution" and "filmed while by being raped," with threats that the video would be published unless she complied with the demands of her rapist "husband" and his friends. "They threatened to murder my whole family," the 14-year-old girl said. "My life was at stake in the hands of the accused and Naqash repeatedly raped me forcefully."
In August, a married Muslim father of four kidnapped Saneha Kinza, the 15-year-old daughter of a pastor, while she was walking to church for early morning prayers.
According to a July 26 report, a group of 12 Muslim men, led by one Muhammad Irfan, broke into a Christian man's home, "and tried to kidnap his [13-year-old] daughter, Noor, who they planned to rape and forcefully convert to Islam."
On April 11, a Muslim man kidnapped and molested a 7-year-old Christian girl. When her father discovered she was missing on arriving home from work, he and others began a frantic search, and eventually found her in a field, "beaten and sexually assaulted."
On April 9, a group of Muslims attempted to kidnap Ishrat, aged 9. According to the report,
"[The] assault took place while Ishrat was walking in the street in Qutiba. There, a group of Muslim men approached her and asked her to convert to Islam and marry Asim, one of the men in the group. When Ishrat refused, the men beat Ishrat, made derogatory remarks against Ishrat and Christianity, and attempted to kidnap Ishrat [but failed]..."
As if the sexual abuse Christian women experience inside Pakistan were not enough, on December 8, 2020, the United States Ambassador-at-Large for International Religious Freedom, diplomat for religious freedom, Samuel Brownback, said that "religious minorities, Christian and Hindu women" from Pakistan are "being marketed as concubines and... forced as brides into China." This, he added, is because "there's discrimination against religious minorities that make [sic] them more vulnerable" in Muslim Pakistan.
As for why very few authorities do anything -- and some even side with the abductors and rapists -- according to a 2011 report from the Asian Human Rights Commission:
"[P]olice ... always side with the Islamic groups and treat minority groups as lowly life forms. The dark side of the forced conversion to Islam ... involves the criminal elements who are engaged in rape and abduction and then justify their heinous crimes by forcing the victims to convert to Islam. The Muslim fundamentalists are happy to offer these criminals shelter and use the excuse that they are providing a great service to their sacred cause of increasing the population of Muslims."
Back in 2010, as another instance of the endemic abuse of Christian girls in Pakistan, a pedophile told his 9-year-old victim, before mauling and leaving her, "not to worry because he had done the same service to other young Christian girls".
Another human rights activist summarized the situation in Pakistan:
"It is shameful. Such incidents occur frequently. Christian girls are considered goods to be damaged at leisure. Abusing them is a right. According to the community's mentality it is not even a crime. Muslims regard them as spoils of war."
One could also point to the words of the men who rammed their car into three young Christian girls, killing one, after they had rebuffed the men's sexual advances: "Why are you running away from us? Christian girls are only meant for the pleasure of Muslim men."
As Wilson Chowdhry, Chairman of the British Pakistani Christian Association, said:
"In any other nation the perpetrators would be arrested, convicted for murder and sentenced for a long term. In Pakistan however the poor go to prison and the wealthy commit whatever crime they wish with impunity. Violence against Christians is rarely investigated and highly unlikely to be met with justice. The usual pattern in these cases is for Christians to pay a bribe to encourage police to complete their duty of registering an investigation, and for the criminals to pay further bribes for the police to spoil the investigation."
He added:
"Women have a low status in Pakistan, but none more so than Christian women who fidn [sic] themselves under the grip or terror, especially after this attack. Muslim NGO 'Movement of Solidarity and Peace' state that around 700 Christian women in Pakistan are abducted, raped and forced into Islamic marriage every year - that figure is almost two a day and the world does nothing. Evidence exists that some rogue imams declare that such acts of conversion through violence are rewarded in heaven, what a terrifying thought."
Raymond Ibrahim, author of Crucified Again and Sword and Scimitar, is a Distinguished Senior Fellow at the Gatestone Institute, a Shillman Fellow at the David Horowitz Freedom Center, and a Judith Rosen Friedman Fellow at the Middle East Forum.