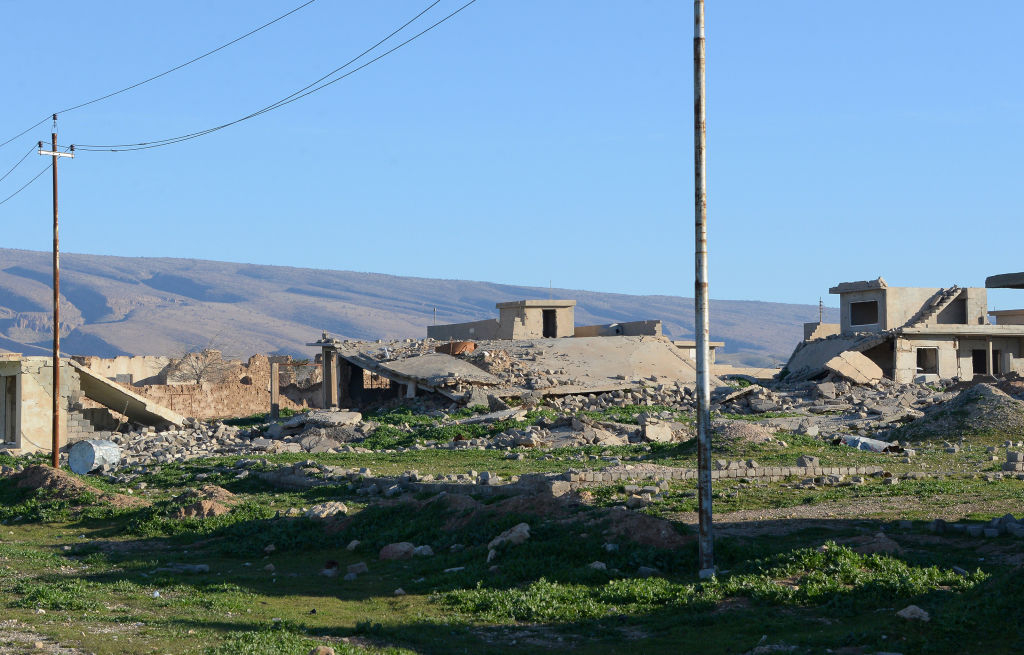 Judging from statements by Turkish officials, Turkey intends to expand its military offensives in Iraq and Syria. Yazidis fear that Turkey will once again target Sinjar, their ancient homeland in Iraq. The Turkish Air Force has bombed Sinjar on numerous occasions in the past few years. Pictured: Bomb-damaged buildings in the town of Sinjar, Iraq, photographed on February 5, 2019. (Photo by Zaid Al-Obeidi/AFP via Getty Images)
Turkey's armed forces launched a military operation called "Operation Claw-Eagle 2" against the Kurdistan Workers' Party (PKK) in northern Iraq on February 10. The assault resulted in the deaths of 13 Turkish hostages, including military and police personnel who were being held by the PKK in a cave complex in the mountainous Gara region.
Turkey's military operation, in the form of airstrikes, was completed on February 14. Turkish Defense Minister Hulusi Akar announced that 48 PKK members had been "neutralized" in the operation, adding that the PKK had shot the hostages dead -- one in the shoulder, and the rest in their heads.
The PKK, however, said that the deaths of the hostages had been caused by the "Turkish army's heavy bombardments and intense fighting outside and inside the [PKK] camp."
According to a Turkish governor, the hostages had been abducted by the PKK in 2015 and 2016. One senior Turkish security source told Reuters that Turkish intelligence personnel were among the dead. On February 15, Turkish President Recep Tayyip Erdogan said:
"After the massacre in Gara [in Iraq], no country, organization, structure or person can question Turkey's military operations in Iraq and Syria."
In short, Turkey intends to expand its military offensives in Iraq and Syria.
After these developments, Yazidis fear that Turkey will once again target Sinjar, their ancient homeland in Iraq.
The Turkish government-funded TRT news channel reported on January 20:
"Turkey is closely following developments in Iraq's Sinjar district, the Turkish defense minister has said, stressing that Ankara is ready to support clearing the region of terrorists.

"'Turkey is ready to provide support for eliminating terrorists in Iraq's Sinjar region if needed,' Hulusi Akar said following his official visit to Iraq.

"'We can say that we are determined to end the terrorists as a result of our cooperation with both the regional administration and Baghdad,' he added."
Yazidis are an indigenous non-Muslim minority in Iraq, Syria and Turkey, who for centuries have faced persecution because of their religion and ethnicity.
The airstrikes would further devastate and traumatize Iraq's Yazidis, who are still trying to heal the wounds of the genocide they were exposed to at the hands of the Islamic State (ISIS) seven years ago.
Yazda, a global Yazidi rights advocacy organization, describes what happened at that time:
"The 3rd of August 2014 is a dark day in the history of the Yazidis. On this day, at 1 am, ISIS first attacked the southern side of Mount Sinjar. At the beginning of the attacks, in the villages of Tel-Azir, Sibai and Ger Zarek, the people resisted and fought fiercely to defend their lives, properties and temples. However, what ensued for the Yazidis was disaster. Men were killed, women and girls were enslaved, while children died from thirst and hunger on the slopes of Mount Sinjar. "

"The damage inflicted by ISIS did not end, but continued much further. They blew up our shrines, temples and everything sacred to the Yazidis. They did all this, thinking that Sinjar would become theirs. They even told the boys and women that they had exterminated all Yazidis."
On February 6, Yazidis re-buried in Sinjar the remains of more than 100 victims murdered by ISIS in the summer of 2014. A memorial service for the victims was first held in Baghdad and attended by senior Iraqi officials. The remains were then transferred to the village of Kocho in Sinjar, where a burial site is located.
If Turkey targets Sinjar, it will not be the first Turkish military assault against the region. In 2017, Turkish warplanes dropped bombs on Sinjar, hitting a civilian clinic, said Yakhi Hamza, country director of the 1st New Allied Expeditionary Force, a humanitarian nonprofit delivering medical help to Yazidis. The airstrikes killed at least five people and severely wounded several more.
Turkey appears to have turned bombing Sinjar and other areas in Iraq into a habit. In August 2018, November 2019, January 2020 and June 2020, among others, Turkey also carried out airstrikes on Sinjar.
The United States Commission on International Religious Freedom (USCIRF) reported on February 18:
"In June 2020, Turkey escalated their attacks in the region, announcing military operations Claw-Eagle and Claw-Tiger that included airstrikes near Sinjar. These attacks have been particularly damaging to the traumatized Yazidi community, who are victims of genocide by the Islamic State of Iraq and Syria. Reports indicate that Turkey is planning military operations in Sinjar, instilling fear in the already vulnerable Yazidi community."
Turkey's pretext for these airstrikes is that the PKK is active in the region. Pari Ibrahim, the Executive Director of the Free Yezidi Foundation, disagrees. In an interview with Gatestone on February 3, she said:
"The Free Yezidi Foundation stands in firm defense of any and all Yezidis who joined military units to defend Sinjar and defeat ISIS. Some Yezidis joined different groups, whether it is YBS [Sinjar Resistance Units], PMF [Popular Mobilization Forces], Peshmerga [the military forces of the autonomous Kurdistan Region of Iraq], or any other group. But analysts should understand that the fundamental reason that Yezidis join military units is to defend the land from a genocidal invasion. Now, there are many competing forces in the area, and they all have their own political reasons for why they are there. But Yezidis, whether civilians or the military units, are there to defend the land against aggression. Many different actors may criticize some of these military units for different reasons, and we can understand that. But no one, including Turkey, has the right to expel Yezidis from their homeland under the pretext of the conflict with PKK."
Murad Ismael, a Yazidi activist and former executive director of Yazda, told Gatestone on February 12:
"A Turkish military operation in Sinjar would be devastating and counterproductive. If Iraq allows such an operation, it will bring about an end to its physical borders and sovereignty, and initiate a geopolitical circus that will end up with Iraq being another Yemen and Libya. A deeper infiltration of Turkish forces in Iraq would harm Baghdad and Erbil equally.

"We want Sinjar to be under the control of formal Iraqi security forces. All the armed groups in Sinjar and across Iraq should be united under the Iraqi ministry of defense and ministry of the interior according to the rule of law. We do not want Turkey to come to Sinjar. It is not their homeland. But Turkey wants much more than Sinjar. Turkey wants to use various excuses to expand its military presence in Iraq and Syria. The whole PKK claim is just an excuse for Turkey's expansionism in the region.

"As for the PKK, we, Yazidis, do not and will not allow Sinjar to become another Qandil, the PKK headquarters. The PKK helped liberate Sinjar from ISIS in 2014, and we appreciate any help given to save our people, but we will not allow the PKK to capitalize on the situation and turn our homeland into a battlefield and our people into a recruitment base. After suffering a genocide, we cannot throw the Yazidis into a regional fire much bigger than them. We need to help heal our community and rebuild our homeland.

"The Yazidis who joined the YBS (Sinjar Resistance Units) are local Yazidis who aim to protect the Yazidis and the region from ISIS and other aggressors. They didn't join to become PKK affiliates. There are currently about 5,000 Yazidi families tied to YBS, and a military operation targeting them will be seen as targeting Yazidis. I don't think the world is ready to see a war against Yazidis when smokes of their genocide are still in the sky."
Since Sinjar was largely destroyed by ISIS during the 2014 genocide, tens of thousands of Yazidis fled their homes and become refugees or internally displaced people (IDPs). Many are still living in IDP camps in northern Iraq. The news website Rudaw reported on January 18 that suicides have recently spiked at Duhok's camps for Yazidis:
"Psychologists say the trauma that comes not just from our personal tragedies, but from our ancestors can be of serious detriment to mental health. The ISIS genocide has 'resurfaced memories' of previous massacres, leaving today's community suffering from 'multiple traumatisations,' according to an academic study by psychotherapist Michael Noll-Hussong and Yazidi psychiatrist Jan Kizilhan. In a statement Kizilhan sent to Rudaw English, he added that trauma is not the only factor driving people to end their lives. Camp living conditions, 'sexual and familial violence, financial loss, and the loss of family member' to name but a few, are also contributing factors."
Pari Ibrahim told Gatestone that another attack by Turkey against Sinjar would have destructive consequences for Yazidis and the wider region.
"The top needs for Yezidis, in our view, are trauma treatment, education, and job skills. Some believe reconstruction of Sinjar is the most pressing need. But we believe that the best way to provide aid to Yezidis is to help with trauma treatment of those who are affected, severely affected, and have trouble doing anything. We also believe that providing skills, training, and the prospect for a better future through education will help refocus the thought process of Yezidis away from the past and to a brighter future. Of course, we also hope to see the reconstruction of Sinjar and better services and infrastructure in the destroyed city and villages. But first and foremost, we want to see better care and opportunities for our people wherever they are today.

"However, the prospect of a further Turkish military assault on Sinjar, in addition to the many bombings they have already undertaken in Sinjar, would be a violation of international law. Yezidis literally suffered a genocide at the hands of ISIS, a group that incidentally grew in strength partly because of the steady stream of resources and foreign fighters that arrived to their territory through Turkey. Turkey did not take any steps whatsoever to combat ISIS before, during, or after the ISIS atrocities. But now, when Yezidis have been left homeless and are striving to rebuild our land, Turkey warns that it may unilaterally and illegally attack Sinjar. We understand the conflict between Turkey and the PKK. But this is our homeland. It is not a battleground for other forces to use as they see fit. The people of this land are homeless, their lives destroyed, their houses decimated. Surely the inhabitants of Sinjar have the right to return, not foreign actors like Turkey."
Uzay Bulut, a Turkish journalist, is a Distinguished Senior Fellow at the Gatestone Institute.