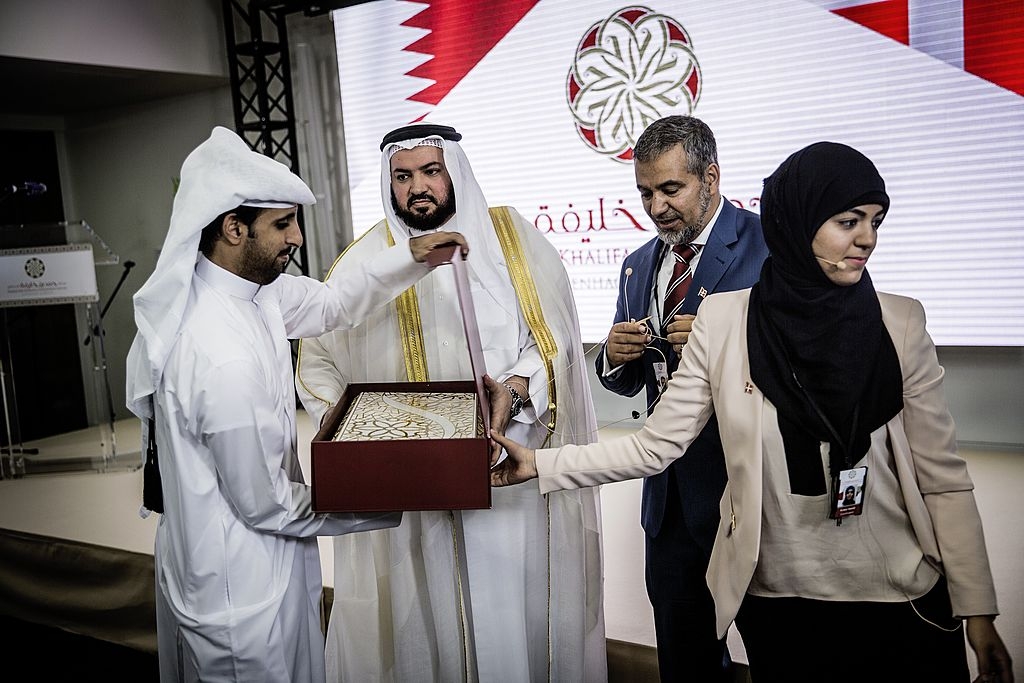 Denmark's first purpose-built mosque — the Grand Mosque of Copenhagen, officially known as the Hamad Bin Khalifa Civilization Center — opened in June 2014 after receiving a donation of 227 million Danish kroner (€30 million; $36 million) from Hamad bin Khalifa al Thani, the former emir of Qatar. Pictured: Qatar's Minister of Religious Affairs Ghaith bin Mubarak Ali Omran Al-Kuwari (second from left) takes part in the official opening ceremony of the Grand Mosque of Copenhagen, on June 19, 2014. (Photo by Thomas Lekfeldt/AFP via Getty Images)
The Danish Parliament has approved a new law that bans foreign governments from financing mosques in Denmark. The measure is aimed at preventing Muslim countries, particularly Qatar, Saudi Arabia and Turkey, from promoting Islamic extremism in Danish mosques and prayer facilities.
Denmark joins a growing list of European countries — including Austria, Belgium, France, Germany, Italy, the Netherlands and Switzerland — which have taken varying degrees of action to prevent foreign governments from financing the construction and upkeep of mosques on their territories.
In recent years, Algeria, Kuwait, Libya, Morocco, Saudi Arabia, Turkey, Qatar and the United Arab Emirates, among others, have distributed hundreds of millions of euros to finance the spread of Islam in Europe.
On March 9, the Danish Parliament voted 79 to 7 to approve Act 81, "Proposal for a Law Prohibiting the Receipt of Donations from Certain Natural and Legal Persons." The law, which does not mention Islam or Islamism by name, states:
"The purpose of the Act is to prevent natural and legal persons, including foreign state authorities and state-run organizations and companies, from working against or undermining democracy and fundamental freedoms and human rights by making donations.

"The Minister of Immigration and Integration Affairs may ... make a decision on whether natural and legal persons, including foreign state authorities and state-run organizations and companies that oppose or undermine democracy and fundamental freedoms and human rights, be placed on a public ban list....

"Anyone who receives one or more donations that individually or together exceed DKK 10,000 (€1,350; $1,600) within 12 consecutive calendar months, from a natural or legal person who is included on the public ban list ... is punishable by a fine.

"Anyone who ... has received one or more donations that individually or together exceed DKK 10,000 within 12 consecutive calendar months ... must return the donation to the donor within 14 days from the time when the person in question became or should have become aware of this...."
The legislation was sponsored by the Ministry of Foreign Affairs and Integration and enters into force on March 15, 2021. Foreign Minister Mattias Tesfaye said:
"Today there are extreme forces abroad that are trying to turn our Muslim citizens against Denmark and thus divide our society. Several times in recent years, the media have reported on Danish mosques receiving millions from the Middle East, among others. The government will oppose this.

"This bill is an important step towards fighting attempts by Islamic extremists to gain ground in Denmark. With this, we can take a targeted approach to the donations that undermine the values ​​on which Danish society is based.

"The bill will not solve all the problems that extreme Islamists and anti-democratic forces can give rise to. But it is a good step on the road, and it will be a benefit to society every time we can stop an anti-democratic donation in Denmark."
Tesfaye took action after the Danish newspaper Berlingske reported in January 2020 that Saudi Arabia had donated 4.9 million Danish kroner (€660,000; $780,000) to fund the Taiba Mosque, located in the "multicultural" Nørrebro district, also known as "little Arabia." The donation was made by means of the Embassy of Saudi Arabia in Denmark.
The Taiba Mosque, one of the most conservative in Denmark, has been the base for a number of Islamists convicted of terrorism offenses.
The donation, included in the Taiba Mosque's annual report, was the first documented proof that Saudi Arabia was donating money to Danish mosques. Berlingske subsequently reported that Saudi Arabia was financing other mosques in Denmark.
Denmark's first purpose-built mosque — the Grand Mosque of Copenhagen, officially known as the Hamad Bin Khalifa Civilization Center — opened in June 2014 after receiving a donation of 227 million Danish kroner (€30 million; $36 million) from Hamad bin Khalifa al Thani, the former emir of Qatar.
Critics of the mega-mosque, which has a capacity to host 3,000 worshippers indoors and another 1,500 in an inner courtyard, said that the organization behind the facility, the Danish Islamic Council (Dansk Islamisk Råd, DIR), was promoting a highly conservative interpretation of Islam.
In September 2013, when the mosque was still under construction, the Copenhagen Post reported that the facility was planning to rebroadcast Al-Aqsa TV, a television broadcaster controlled by the Palestinian terrorist group Hamas. At the time, city councilman Lars Aslan Rasmussen, himself of Turkish background, said:
"A few weeks ago, Dansk Islamisk Råd said that there would be no connection to Qatar and we can now see that is a lie. The mosque is a gift from Qatar but it's not free. I have always said that they will expect something in return, and this shows that they are making some claims for their money. This will not be a moderate mosque and it will present integration problems."
Meanwhile, Turkey has bankrolled the construction of 27 mosques in Denmark, including in the cities of Aarhus, Ringsted and Roskilde and in the towns of Fredericia, Hedehusene and Holbæk.
In September 2020, Berlingske reported that Abu Bashar, a notorious imam in Odense, forced a woman to sign a document that she would lose custody of her children if she filed for a divorce from her husband. He said that such a divorce would violate the family's honor.
The document, which contravened Danish law, caused alarm among Danish officials. Prime Minister Mette Frederiksen wrote:
"Sharia does not belong in Denmark. Yesterday and today, we have read about divorce contracts based on Sharia. On Funen [the third-largest island in Denmark]. In Denmark. It is wrong. It is oppressive of women. It is not Danish. And it must never, ever become Danish.

"In government, we will do everything in our power to stop this. An imam should not interfere in divorce at all. It is only a choice to be made by the two persons who entered into the marriage. Nobody else. This confirms our fearful suspicions about the undemocratic tendencies that exist in parts of Denmark.

"We will do everything we can to stop it."
Officials from nearly all of Denmark's main political parties have expressed their support for the bill to ban foreign funding of mosques. Foreign Affairs Minister Mattias Tesfaye said:
"I take a deep distance from the extreme forces in Danish mosques. It is a real problem if donations are made from organizations that want to undermine fundamental democratic values. That is why I am glad that there is broad political agreement on the main ideas in the forthcoming bill. The bill may not necessarily solve all problems, but it is an important step in the right direction."
Liberal Party rapporteur Mads Fuglede added:
"We must and must never find ourselves in the hands of anti-democratic forces trying to assert their influence in Denmark. And that is why we in the Liberal Party are very satisfied that there is now broad support for implementing the work that we started during our time in government. We have a political responsibility to take care of Denmark. And we do it best by preventing donations from dark forces that want to undermine our democracy."
Pia Kjærsgaard, co-founder of the Danish People's Party, said:
"Obviously, Middle Eastern regimes must not be able to send money to mosques or Koranic schools in Denmark to undermine Danish values. We therefore welcome this intervention and look forward to curbing the attacks on democracy that emanate from, among other things, radicalized mosques. Of course, we must never accept attacks on our peaceful society and democracy, and I am therefore pleased that the government has chosen to implement this agreement from before the election and look forward to it having an effect."
Conservative Party spokesman Marcus Knuth, said:
"We support restrictions on foreign donations to religious communities that oppose our Danish values. We hope that the work can lead to a more comprehensive effort against the extremist mosques and Islamist denominations in Denmark."
Henrik Dahl of the Liberal Alliance stated:
"We want to ensure that in Denmark no financial support is provided from anti-democratic organizations and individuals. We do not want outsiders to undermine democracy, freedom and fundamental human rights, or to have any kind of influence in Denmark. That is what this bill helps to prevent."
Prime Minister Frederiksen recently announced that her government intends significantly to limit the number of people seeking asylum in Denmark. The aim, she said, is to preserve "social cohesion" in the country.
Denmark, which has a population of 5.8 million, received approximately 40,000 asylum applications during the past five years, according to data compiled by Statista. Most of the applications received by Denmark, a predominately Lutheran country, were from migrants from Muslim countries in Africa, Asia and the Middle East.
In recent years, Denmark has also permitted significant non-asylum immigration, especially from non-Western countries. Denmark is now home to sizeable immigrant communities from Syria (35,536); Turkey (33,111); Iraq (21,840); Iran (17,195); Pakistan (14,471); Afghanistan (13,864); Lebanon (12,990) and Somalia (11,282), according to Statista.
Muslims currently comprise approximately 5.5% of the Danish population, according to the Pew Research Center. Under a "zero migration scenario," the Muslim population is projected to reach 7.6% by 2050; with a "medium migration scenario," it is forecast to hit 11.9% by 2050; and under a "high migration scenario," Muslims are expected to comprise 16% of the Danish population by 2050, according to Pew.
As in other European countries, mass migration has resulted in increased crime and social tension. Danish cities have been plagued by shootings, car burnings and gang violence.
On January 22, during a parliamentary hearing on Danish immigration policy, Frederiksen, a Social Democrat, said that she was determined to reduce the number of asylum approvals:
"Our goal is zero asylum seekers. We cannot promise zero asylum seekers, but we can establish the vision for a new asylum system, and then do what we can to implement it. We must be careful that not too many people come to our country, otherwise our social cohesion cannot exist. It is already being challenged."
Frederiksen, who has been prime minister since June 2019, also said that "politicians of the past" were "thoroughly wrong" for failing to insist that migrants must integrate into Danish society.
Soeren Kern is a Senior Fellow at the New York-based Gatestone Institute.