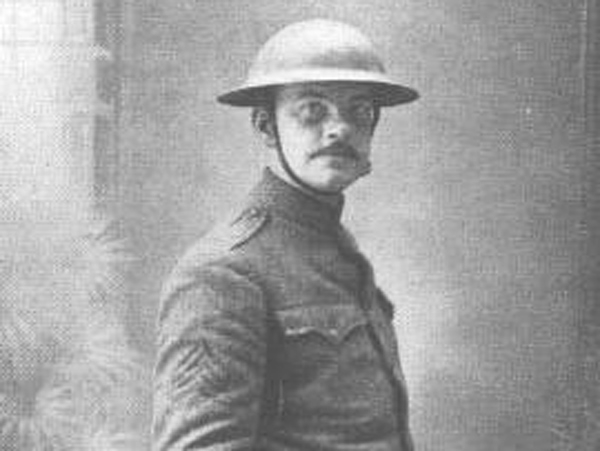 Alfred Joyce Kilmer in 1918. (Image source: Wikimedia Commons)
He was an American doughboy killed by a German sniper in the closing months of World War I, defending freedom, literally on the front lines.
Sergeant Alfred Joyce Kilmer left behind a wife and five children. He also left behind a library of poetry that still speaks to us at a time of political turmoil and deep division within a country; a nation that remains the world's last best hope for a cause that Kilmer courageously died for.
One wonders if the poet foresaw the future of Washington's 21st Century political landscape when he penned the poem "The House With Nobody In It." He created a stark picture when he wrote:
"I go by a poor old farmhouse with its shingles broken and black.
I suppose I've passed it a hundred times, but I always stop for a minute
And look at the house, the tragic house, the house with nobody in it."
Could today's reader contemplate the most famous house in America at 1600 Pennsylvania Avenue and consider Kilmer's words as a metaphor? Consider:
"It needs new paint and shingles, and the vines should be trimmed and tied;
But what it needs the most of all is some people living inside."
National leadership is meant to reside in the White House, capable of providing America with a shared vision that allows democracy and its citizens to thrive and flourish. And yet this White House may mirror the darkness that Kilmer mourns.
"For the lack of something within it that it has never known.
But a house that has done what a house should do, a house that has sheltered life,
That has put its loving wooden arms around a man and his wife,
A house that has echoed a baby's laugh and held up his stumbling feet,
Is the saddest sight, when it's left alone, that ever your eyes could meet."
Kilmer knew what he was fighting for. He insisted on leading multiple patrols that put him in harm's way. He wore the uniform of the "Fighting 69th" because he was a patriot who embraced American exceptionalism before the world even knew that a world power founded on freedom had been born.
The current White House occupant would be wise to read Kilmer's heart-rending poem because, far more than just a house, it speaks to the soul of our national spirit.
"Yet it hurts me to look at the crumbling roof and the shutters fallen apart,
For I can't help thinking the poor old house is a house with a broken heart."