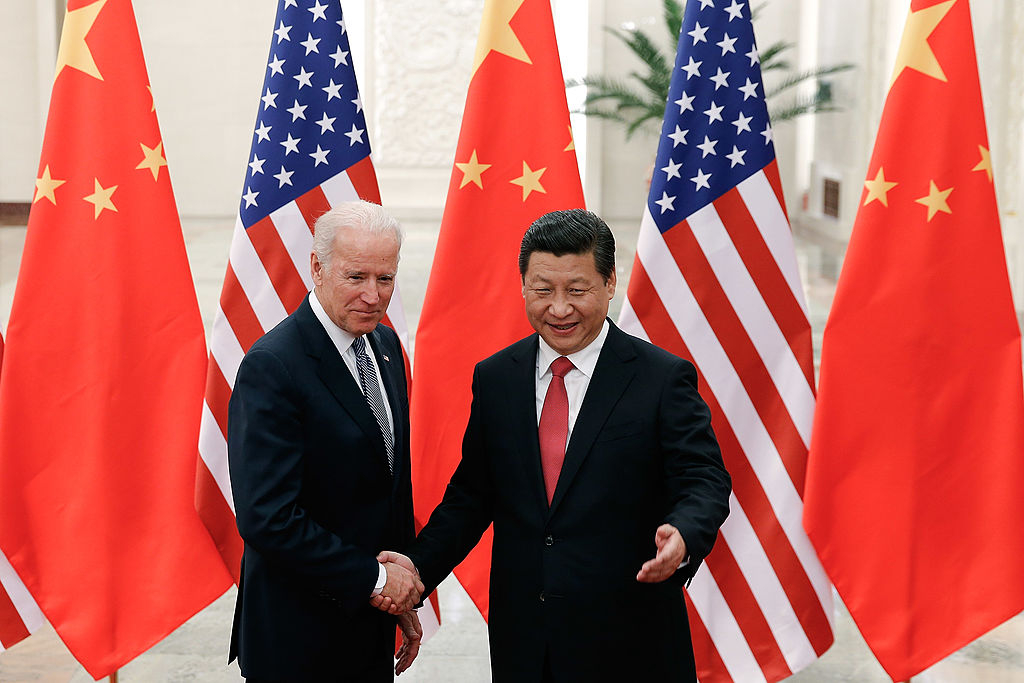 To date, Communist China has not been held accountable for any of its damage or duplicity, or for obstructing all investigations into the origins of the Wuhan virus, or for enslaving and torturing more than a million Uyghurs, or for destroying Tibet and Hong Kong. Instead, China is being rewarded for unspeakable behavior by being allowed to host the 2022 Winter Olympics. Pictured: Then U.S. Vice President Joe Biden meets with Chinese President Xi Jinping on December 4, 2013 in Beijing, China. (Photo by Lintao Zhang/Getty Images)
China has tested the mettle of all recent US presidents, usually early in their terms of office, and China's Communist Party (CCP) has already certainly been testing President Joe Biden. Just four days into the Biden presidency, the Chinese People's Liberation Army (PLA) fighter aircraft violated Taiwan's Air Defense Zone. The provocation was a clear message to remind the new president of China's "Red Line": not to build upon the Trump administration's increased military cooperation with Taiwan.
Beijing's harsh rhetoric, accusing the US of hypocrisy on human rights at the March 2021 meeting in Alaska with Secretary of State Antony Blinken and National Security Advisor Jake Sullivan, was probably an indication that China is still calculating to what degree it can intimidate the Biden administration into settling for policies more accommodating to Chinese military, political, security and commercial interests.
Brief summations of previous Chinese tests of US presidents could offer some "lessons learned" to current policy makers. President George H.W. Bush ("41") failed miserably in his administration's response to the Chinese Communist Party's massacre of its own citizens in Tiananmen Square on June 4, 1989. Bush's tepid response to the PLA's brutal suppression of the protestors was temporarily to cut-off arms sales to China and publicly oppose China's aspiration to join the World Trade Organization (WTO). Within days, however, Bush backpedaled by conveying to the CCP leadership that he wished to maintain normalcy in bilateral relations: "Now is the time to look beyond the moment to important and enduring aspects of this relationship, vital to the United States."
Bush further undermined his already weak response by dispatching National Security Advisor Brent Scowcroft to Beijing to reassure Communist Party officials that diplomatic ties would soon return to business as usual. Thus reassured, CCP leaders continued to apply for and receive loans from the World Bank with tacit US support, until the Trump administration's Secretary of the Treasury Steve Mnuchin formally objected to the practice.
Ironically, it was Bill Clinton who succeeded in denying Bush a second term, in part, because of his criticism of President Bush's alleged "soft on China" policies. Clinton, throughout his election campaign, was also a forceful advocate for China joining the World Trade Organization.
President Clinton's "Executive Order" in the spring of his first year in office seems to have convinced Chinese leaders that no reassessment was necessary. The US president had announced that if Beijing improved its human rights record, the US would renew China's bilateral trade status as a "Most Favored Nation" (MFN). Clinton, prior to the issuance of this "Executive Order", had convinced his own Democratic Party leaders in Congress to cede him the personal authority to handle relations with China. Consequently, when China ignored conditions laid down by Clinton, he nevertheless renewed China's MFN status, granting China easier access to the US market. It appears to have been "business as usual."[1]
China therefore seemed to proceed without fearing any serious US reprisals if it continued "business as usual." Barely two months into President Clinton's second term (1996-2000), in March 1996, the Chinese surprised the US by launching several missiles traversing the entire length of the island of Taiwan. Congressional leaders and in both parties, as well as his own national security advisors, pressured Clinton to respond by dispatching two aircraft carrier fighter groups into waters off Taiwan. China's Communist leadership seemed to have miscalculated, underestimating US support for Taiwan despite Clinton's seeming posture of appeasement
Unfortunately, following the US display of resolve on Taiwan, President Clinton returned to his "go along to get along" policy with China. He full-throatily opposed congressional criticism of his administration's policy of permitting China to launch US satellites into orbit. Clinton believed -- wrongly it seems, with the benefit of 20:20 hindsight -- that the benefits of space cooperation outweighed the risks of the transfer of critical technology to China. Many in Congress disagreed with Clinton's assessment, worrying that the president's relaxation of export controls, highlighted by his transfer of licensing authority from the State Department to the Department of Commerce, enabled the Chinese to acquire critical technology that helped improve their ballistic missile targeting capability. Clinton also claimed that China's pledge to discontinue nuclear cooperation with North Korea, Iran and Pakistan served US national security interests -- a pledge that China, unsurprisingly, failed to keep.
In 2000, during still another presidential campaign, rival candidates, Texas Governor George W. Bush and Arizona Senator John McCain, criticized the Clinton presidency for not halting the transfer military technology to China.[2] The presidency of George W. Bush ("45") was immediately confronted with a test by Communist China: a midair collision between a Chinese fighter aircraft and a US spy plane that forced the American aircraft to make an emergency landing on the Chinese island of Hainan.
China detained the American aircraft's 24-member crew for 11 days. Although apparently it was the reckless actions of the Chinese pilot that caused the accident, China relented only after the Bush "45" administration had issued an official "apology," first for the death of the Chinese fighter pilot and secondly for "invading" Chinese air space without permission. Immediately, Chinese Communist Party propaganda organs seized upon the U.S. statement as "The Letter of the Two Sorries." Despite anti-China tough talk before Bush's election, another new president had clearly failed the Chinese Communist Party test.
President Barack Obama, after his initial meeting with Chinese President and CCP Chairman Xi Jinping at the White House in September 2015, trumpeted his alleged elicitation of a pledge from the Chinese leader not to militarize artificially created islands in the South China Sea. China, however, lost no time in breaking this pledge. In April 2012, the PLA quickly constructed military airfields and established anti-aircraft sites and a naval port in the Scarborough Shoals, in spite of disputed claims to the islands by the Philippines. Chinese fishermen in Philippine waters were about to be arrested by the Philippine Coast Guard when two Chinese marine surveillance craft arrived on the scene. The standoff prevented the Philippine Coast Guard units from arresting the fishermen or driving the fishing boats out of Scarborough Shoal waters.
The Obama administration's effort to play "the honest broker" ended in a humiliating diplomatic defeat for a US ally. The Philippine boats withdrew, the Chinese fishing boats remained. Later, China proceeded to seize the Scarborough Shoals area, and soon Chinese maritime engineer units were building military installations on those islets -- bases only be about 140 miles from the Philippine main island of Luzon.
The Trump administration's appointment of "China Hawk" policymakers seems to have given the Communist Chinese leadership pause regarding its aggressive regional policies. "America First" rhetoric appeared at first to have confused the CCP in calculating President Trump's true Asia-Pacific policy priorities.
Despite his public pronouncements of having developed a friendly relationship with Xi, Trump's resolve to continue Freedom of Navigation (FON) missions in the South China Sea disabused the CCP of any thought that the US would abandon historic military commitments to defend its allies in Asia. When the Chinese naval destroyer Lanzhou came within 45 yards of colliding with the US destroyer USS Decatur on September 30, 2018, near the Chinese-occupied Spratly Islands, Trump cancelled Secretary of Defense Mathis's planned visit to Beijing.
Trump's adoption of a realistic relationship with China successfully slowed any CCP plans for military expansion in the South and East China Seas. What ended any possibility of a warming trend in US-China diplomatic ties was Beijing's repeated lies that there was no human-to-human transmissibility of its Wuhan virus. Soon, Chinese propaganda organs were labeling America racist for closing US airports to flights from China, even as the CCP itself had already stopped all domestic flights out of Wuhan.
China's deceit, and its continued refusal to help investigate the cause of the release of the Wuhan virus, not only killed more than 4.3 million people worldwide, but shattered countless economies. To date, there have been no reprisals and no accountability.
To date, Communist China has not been held accountable for any of its damage or duplicity, or for obstructing all investigations into the origins of the Wuhan virus, or for enslaving and torturing more than a million Uyghurs, or for destroying Tibet and Hong Kong. Instead, China is being rewarded for unspeakable behavior by being allowed to host the 2022 Winter Olympics.
The event presents Biden with an opportunity: there is still time to move the Olympics to a country more deserving -- one that will not potentially use the DNA of the world's greatest athletes to genetically-engineer its future newborns. Will the US finally stand up to Communist China's provocations, let alone future ones – whether to Australia, Taiwan, Japan, India, Malaysia, Bangladesh, the Philippines, Jamaica or the Bahamas -- that are already on the way?
Dr. Lawrence A. Franklin was the Iran Desk Officer for Secretary of Defense Rumsfeld. He also served on active duty with the U.S. Army and as a Colonel in the Air Force Reserve.
---
[1] "The Coming Conflict with China" by Richard Bernstein and Ross Munro. Alfred A. Knopf: New York 1997. P.27.
[2] "China, The Gathering Threat" by Constantine Menges. Nelson Current:2005. P.162.