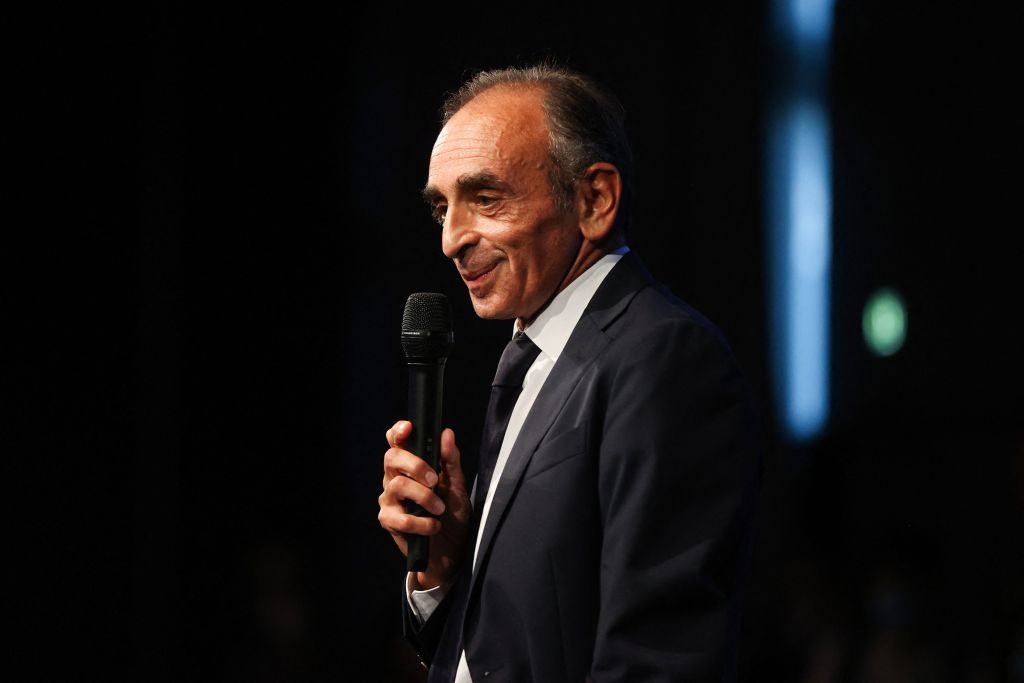 Like French President Emmanuel Macron five years ago, Éric Zemmour (pictured) is seen as the outsider opposed to incompetent and corrupt insiders. (Photo by Valery Hache/AFP via Getty Images)
Although the next French presidential election is months away, the way the media in Paris along with French chattering classes are behaving, one might think that we are on the eve of polling day.
Turn on any TV channel and open any newspaper and you are likely to run into oodles of speculation about the journey to the Élysée Palace.
One reason may be even the main one, for this premature interest is a 63-year old journalist who has cast himself as a modern version of the Prophet Jeremiah to depict gloom and forecasting doom for French democracy.
The man in question is Éric Zemmour, who has been lurking on the margins of French journalism, always in minor roles for almost three decades and, yet, is now entering as the rising star of French politics on the right or, as his enemies claim, the far right.
Two months ago, opinion polls credited him with around 3 percent of voter support. At the time of this writing, however, he is hovering above 20 percent and slated to be present in the second round of voting against incumbent President Emmanuel Macron. Such an outcome, of course, would mean total bankruptcy not only for the traditional parties of the right and left, the Republicans and the Socialists, but also for the far-right National Rally of Marine Le Pen and the far left Unbowed France of Jean-Luc Mélanchon.
But what is it that makes Zemmour attractive to so many Frenchmen?
To start with, he is seen as a new face at a time that the political elites are deeply unpopular. Like Macron five years ago, Zemmour is seen as the outsider opposed to incompetent and corrupt insiders.
Despite obvious differences, Zemmour benefits from the same novelty effect that Donald Trump did in the United States five years ago. Also like Trump, Zemmour has pared down his message to a number of simple ideas that resonate with large sections of a society struck by insecurity and doubts about the future.
Zemmour says France is on the decline, even facing death in its present form, for a number of reasons, among them continuous mass immigration especially by Muslim Arabs and Africans, and the offshoring of industrial jobs to China and other cheap-labor economies. He warns of what he calls "the Great Replacement," in which a fast-growing Muslim population will gradually replace the native French population, end the secular system of government and, as novelist Michel Houellebecq wrote a decade ago, turn France into an Islamic Republic. Zemmour's entourage insist that some 700 neighborhoods in France are already under Islamist control and turned to no-go areas for the "authentic" French.
The theme of "decline" isn't new in France or, indeed, in Western democracies as a whole. Schopenhauer warned of it over a century ago, and people like Noam Chomsky in the United States and Ayatollah Ali Khamenei in Iran have been harping on it for decades. What makes Zemmour a more convincing prophet of "declinism" is that, unlike Schopenhauer who philosophized but offered no defense against decline, and unlike Chomsky and Khamenei who are gleeful about it, he appears to be deeply hurt but determined to fight back and prevent "France's suicide". In fact, Zemmour's new book, a best-seller, is titled "France Has Not Said Its Last Word."
Zemmour also sounds convincing because he himself is an example of Frenchification, to coin a word. Born to a family of Algerian Jews, Zemmour witnessed how his grandparents and then parents submitted to the process of assimilation to become "authentic" French. His grandparents dropped their Algerian-Jewish names Liaou and Messouka for Justin and Rachel and gave "proper French names" to their children. Because a notorious gang named Zemour, with one M, had hit the headlines at the time, they also added a second M to their family name to avoid any confusion.
Zemmour's life story is built around a struggle against multiculturalism with French nationalism as its bedrock. Zemmour attended the then much coveted Paris Institute of Political Studies and, keen to join the elite, tried to enter the National School of Administration but was not admitted. His next disappointments came when he was refused a job with the Farming Syndicates Union because, born in a downmarket suburb, he lacked the rural roots that "authentic French" boast about.
An even worse disappointment came when his application to join the Cercle de l'Union interalliée, an exclusive elite club, was turned down.
In his role as the latest tribune of French nationalism, Zemmour revives the theme of "French specificity" and demands priority in giving jobs to the French rather than immigrants and other foreigners. In this he echoes the position taken by Charles Maurras, a monarchist writer and anti-Semite, and Pierre Laval, the politician who led the collaborators under German occupation, and pro-Pétain journalist Lucien Rebatet. The theme of "French priority", however, was also used by the Popular Front leaders in the 1930s and the French Communist Party under Maurice Thorez and Waldeck Rochet.
Zemmour makes much of secularism, or laïcité in French, as a guarantor of democracy in general.
He seems unaware of the difference between American "secularism," in which the state sees itself as protector of all religions, and the French laïcité in which the state regards all religions as potential or actual threats. The confusion is apparent when Zemmour says he wants to preserve the Judeo-Christian character of France while promoting laïcité as a means of countering the Islamic threat against France.
For a politician who has made combating Islam his principal goal, Zemmour appears ill informed about Islam in France, a religion without a church-like organization and hierarchy and divided into over 400 groups and sects. The formal, recognizable Islam in France is dominated by what one might call "consular Islam": mosques and lobbies created, financed and controlled by Muslim countries notably Turkey, Algeria and Morocco. Next to this "consular Islam," there is the primarily political networks masquerading as religious communities, chief among them the Muslim Brotherhood and mostly Lebanese Shiite circles controlled by Iran.
Taken together, these two forms of Islam represent no more than one or two percent of France's estimated 6.5 million nominally Muslim citizens. The problem that France faces comes from political groups such as the Muslim Brotherhood, the Salafist groups, Khomeinist circles and home-grown militants radicalized through the Internet. To pretend that these tiny but deadly groups represent a much larger reality could be self-defeating even from Zemmour's nationalistic point of view.
It is no accident that wherever Zemmour appears, militants, usually from the Muslim Brotherhood or Khomeinist outfits, often Muslim "sisters," turn up to portray him as an enemy of all Muslims.
Zemmour echoes the fears and doubts of many Frenchmen and opens the debate on some key social and cultural issues. So far, however, there is no sign that he has a clear idea of how to shape the right questions let alone provide the needed answers.
Amir Taheri was the executive editor-in-chief of the daily Kayhan in Iran from 1972 to 1979. He has worked at or written for innumerable publications, published eleven books, and has been a columnist for Asharq Al-Awsat since 1987.

This article was originally published by Asharq al-Awsat and is reprinted by kind permission of the author.