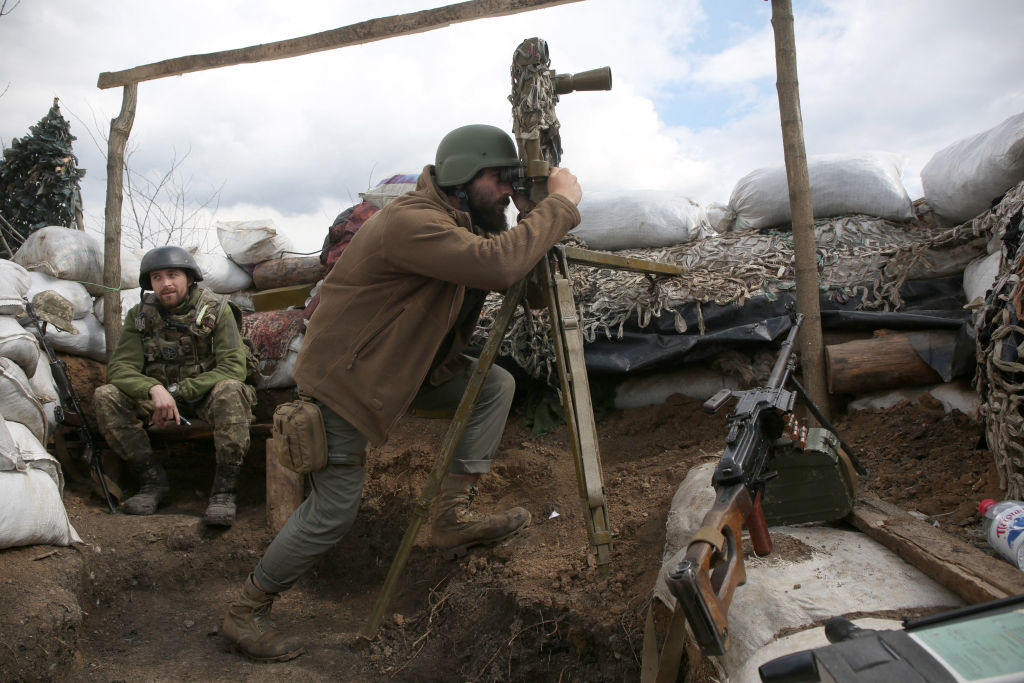 Tensions continue to mount in Europe over Russia's continued build-up of troops on the border with Ukraine. What is at stake is much more than Ukraine itself or Russia's geopolitical ambitions; it is ultimately about the lessons that China and Iran will take away on what to expect in the future from the US and its NATO allies over Taiwan, the South China Sea, or in the Middle East. Pictured: A Ukrainian soldier observes Russia-backed separatists through a periscope at a position near Donetsk, on April 22, 2021. (Photo by Anatolii Stepanov/AFP via Getty Images)
Tensions continue to mount in Europe over Russia's continued build-up of troops on the border with Ukraine. Russia, according to the latest assessment of the Ukrainian Defense Ministry, now has more than 127,000 troops in the region. That is in addition to the estimated 35,000 Russia-backed separatists in Ukraine's eastern region of Donbass. Additionally, Russian troops have begun to arrive in Belarus for joint military drills and war games, named Allied Resolve, intended to rehearse "repelling external aggression" according to Russian Deputy Defense Minister Alexander Fomin.
Parallel to the buildup of troops on the Ukraine border, Russia has extended far-reaching ultimatums to NATO, demanding that the transatlantic security organization halt its eastward expansion, thereby preventing Ukraine and other former republics of the Soviet Union from joining NATO, ever. Russia has also demanded that NATO curtail its military deployments on NATO's eastern flank, meaning a rolling back of NATO's engagement in Central and Eastern Europe and the Baltic states.
Above all, Russia's attempt to transform the existing security settlement in Europe to one that extends its own sphere of influence across already settled NATO countries and beyond is the ultimate test of the willpower and ability of the US and Europe. It is a test that matters not only for the countries directly involved -- Ukraine, Poland, the Baltics and beyond -- but also for China and Iran, who are closely watching events to gauge the strength of US global power and the resolve and cohesiveness of the NATO alliance.
What is at stake, therefore, is much more than Ukraine itself or Russia's geopolitical ambitions; it is ultimately about the lessons that China and Iran will take away on what to expect in the future from the US and its NATO allies over Taiwan, the South China Sea, or in the Middle East.
The European Union's predominant and perhaps only strength regarding Russia lies in its combined economic impact and influence. Nevertheless, the EU is as divided as ever, seemingly incapable of taking any kind of decisive action.
The US has repeatedly put pressure on the EU to prepare a package of sanctions against Russia, especially on its banks and energy companies, that can be implemented if or when Russia will attack Ukraine, but the EU has not finalized such a package and there appears to be much disagreement on which sanctions even to apply. German government sources, for instance, have reportedly said that excluding Russia from the SWIFT (Society for Worldwide Interbank Financial Telecommunications) payments system — a global network used by almost all financial institutions to wire sums of money to each other is "off the table". According to the German newspaper Handelsblatt, talks are now focused on sanctions against major Russian banks, but "Germany is insisting on exceptions so that the payment of gas and oil imports from Russia remains possible."
As the Telegraph writes, Germany is reportedly pressing for an exception to any sanctions to enable it to continue paying for Russian gas and oil imports in the middle of winter.
Germany, the wealthiest and most powerful economy in the EU, holds a large part of the blame for the situation, mainly because of its cooperation with Russia on the Nord Stream 2 pipeline, which will transport Russian gas to Western Europe via Germany. Nord Stream 2, which is owned by Gazprom, Russia's state-owned energy company, has been completed but is apparently waiting for the final German regulatory approvals. It will transfer up to 55 billion cubic meters of Russian gas to Europe each year. Europe now is substantially dependent on Russian gas: around 43% of Europe's total gas imports come from Russia.
If the pipeline project were used as leverage in the Ukraine crisis, Russia would lose tens of billions of dollars. "I think the pipeline represents a major item of leverage for us, if we handle it smartly," said Wolfgang Ischinger, former German ambassador to the US and chairman of the Munich Security Conference. "If we have to shut down this pipeline project, Russia will definitely lose, you know, tens of billions of dollars or euros going forward. That cannot be in the interest of Russia at all."
Germany, however, is dragging its feet on using Nord Stream 2 as leverage against Russia to resolve the tension, because Nord Stream 2 secures access to Russian gas at a time, when Germany lacks energy security. "Next year, Germany will switch off its last nuclear reactor and it plans to ban coal-fired electricity production by 2038. Though the share of renewable energy in Germany's electricity mix is growing, it is still less than 50 percent of the total," Politico wrote in July. "That means the country has a big electricity hole to fill... With the nuclear phase-out nearly complete and coal increasingly unattractive due to a surge in carbon pricing, electricity costs for industry in Germany (already among the most expensive in the world) are at their highest in a decade."
"We should not drag (Nord Stream 2) into this conflict," German Defense Minister Christine Lambrecht said. "We need to solve this conflict, and we need to solve it in talks - that's the opportunity that we have at the moment, and we should use it rather than draw a link to projects that have no connection to this conflict."
"We need a secure supply of gas security, despite all of the clear political differences with Russia," stated Siegfried Russwurm, president of the Federation of German Industries.
Moreover, while the US, the UK, Lithuania and France have pledged to export defensive weapons to Ukraine, including Javelin anti-tank missiles, Stinger missiles, small arms, and boats, Germany continues to block weapon sales to Ukraine in NATO's Support and Procurement Agency (NSPA). In December, Germany blocked the delivery of anti-drone jamming guns, although Ukraine had already paid for them. The reason reportedly given was, "Such weapons could potentially provoke further military escalation on the demarcation line (between Russian and Ukrainian forces) and lead to larger clashes." Such arguments have reportedly been used by Germany for years with regard to weapons sales to Ukraine, which also sought, in vain, to convince former Chancellor Angela Merkel to change Germany's policy on the issue.
German foreign minister Annalena Baerbock recently said that the government's restrictive arms export policy is "rooted in our history" and that "diplomacy is the only way."
Germany's "history," however, did not stop its arms exports from reaching record levels in 2021 with exports worth 9.35 billion euros ($10.65 billion) last year, an increase of 61% compared to 2020.
The degree to which the largest EU states have any resolve left to take responsibility for their own security environment in the face of one of the most dangerous security crises on European soil so far this century is one thing that this crisis continues to reveal. Thus far, Europe appears, once again, to be failing spectacularly.
John Richardson is a researcher based in the United States.