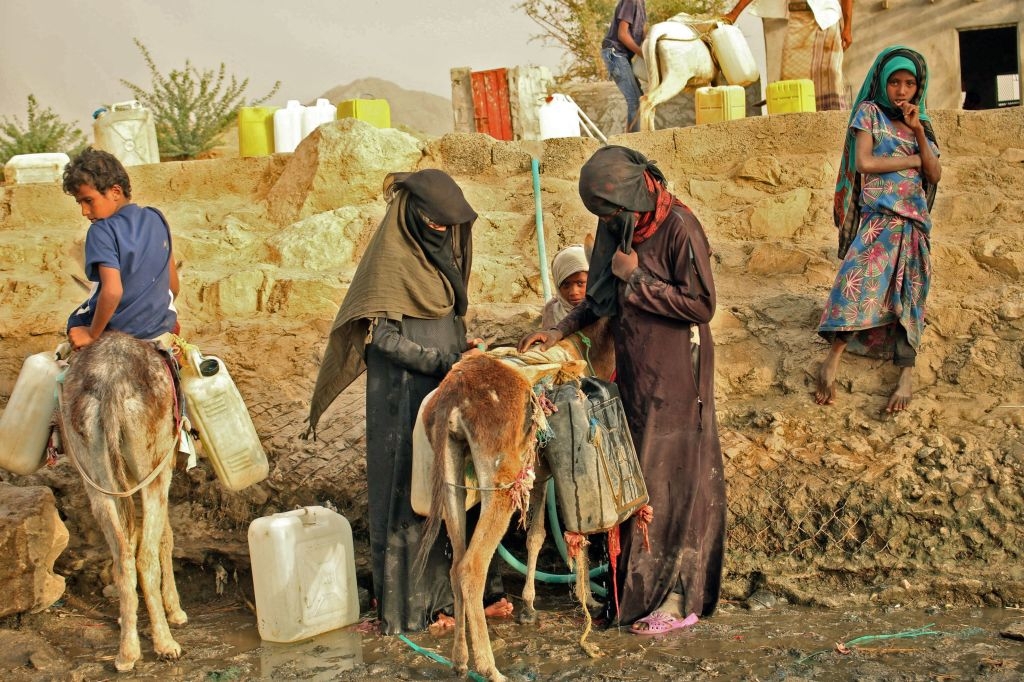 Attempts to deliver humanitarian aid to the poverty-stricken people of Yemen appear to have been blocked by the Houthis themselves, as well as by the U.S., which has withdrawn support for Saudi Arabia, while giving the Iran-backed Houthi militia group a free pass. The strategy of the Houthis, it appears, is to use the dire living situation of the civilians under its control as a shield to get what it wants. Pictured: Displaced persons fill water containers at a makeshift camp in a village in Hajjah province, Yemen, on May 9, 2019. (Photo by Essa Ahmed/AFP via Getty Images)
This morning, Abu Dhabi, in the United Arab Emirates, intercepted two ballistic missiles, launched courtesy of the Houthis.
The problem began almost a year ago, courtesy of the Biden administration. After less than a month in office, the Biden administration reversed yet another policy of the former administration. On February 12, 2021, Secretary of State Antony Blinken officially revoked the designation of the Houthis, an Iran-backed militia group, also known as Ansar Allah ("Partisans of Allah"), as a Foreign Terrorist Organization. According to the U.S. State Department press release:
"This decision is a recognition of the dire humanitarian situation in Yemen.... on Yemenis' access to basic commodities like food and fuel. The revocations are intended to ensure that relevant U.S. policies do not impede assistance to those already suffering what has been called the world's worst humanitarian crisis."
Just two days after removing the Houthis from the list of Foreign Terrorist Organizations, the State Department had to call on the Houthis to "immediately cease attacks impacting civilian areas inside Saudi Arabia and to halt any new military offensives inside Yemen." The Houthis, it turned out, had launched four drones into Saudi Arabia, which the Saudis had "intercepted and destroyed."
In February alone, in fact, the Houthi forces, fired more than 40 drones and missiles at Saudi Arabia. Even Western officials had to acknowledge the escalation. As a senior U.S. defense official told NBC News on a condition of anonymity:
"We're certainly aware of a troubling increase in Houthi cross-border attacks from a variety of systems, including cruise missiles, ballistic missiles and UAVs (unmanned aerial vehicles)".
France, Germany, Italy and Great Britain also condemned the Houthi offensive and characterized it as a "major escalation of attacks the Houthis have conducted and claimed against Saudi Arabia."
The Houthis, based in Yemen at the southern tip of the Arabian Peninsula, had, in May 2021, launched a drone at the King Khalid military airbase in the southern Saudi city of Khamis Mushait, and had also claimed responsibility for the 2019 attacks on two Aramco plants at the heart of the Saudi Arabia's oil industry — the world's biggest oil processing facility at Abqaiq near Dammam and the country's second-largest oilfield at Khurais.
Last week, on January 17, 2022, the Houthis launched a military attack on the United Arab Emirates; it blew up three oil tanker trucks in Abu Dhabi, and killed three people.
The group, which, according to a Yemeni government intelligence report, "works closely" with Al Qaeda and ISIS, in addition, it seems, commits crimes against humanity. It has reportedly, since 2015, killed and injured more than 17,500 civilians -- and it recruits, injures and kills children. According to Human Rights Watch's World Report 2020:
"Since September 2014, all parties to the conflict have used child soldiers under 18, including some under the age of 15, according to a 2019 UN Group of Eminent International and Regional Experts on Yemen report in 2019. According to the secretary general, out of 3,034 children recruited throughout the war in Yemen, 1,940—64 percent—were recruited by the Houthis."
The Houthis, by the same token, use landmines. According to Human Rights Watch:
"Houthi-planted landmines across Yemen continue to harm civilians and their livelihoods.... Since January 2018, at least 140 civilians, including 19 children, have been killed by landmines in just the Hodeidah and Taizz governorates."
The Houthi militia group also, it seems, routinely resorts to various methods of torture. According to Human Rights Watch:
"Former detainees described Houthi officers beating them with iron rods and rifles and being hung from walls with their arms shackled behind them.... The association [Mothers of Abductees Association] reported that there are 3,478 disappearance cases, at least 128 of those kidnapped have been killed."
After the Houthi's recent deadly attack on the United Arab Emirates and after the UAE urged the US administration to reinstate the Houthi's terrorist designation, the Biden administration said that it is mulling relisting the Houthis as a foreign terrorist group. The reluctance to do so, it appears, is linked to the argument that such a move will hamper the delivery to Yemen of humanitarian aid, which seems under Houthi control.
This issue, however, can be resolved by following the case of Iran: Although Iran's Islamic Revolutionary Guard Corps is listed as a foreign terrorist organization, and the US State Department currently lists Iran's regime as a "state sponsor of terrorism," delivering humanitarian aid is still permitted, and institutions will not be punished for exporting humanitarian goods to Iran. Similarly, the Biden administration can list the Houthis as a terrorist group and at the same time issue a waiver enabling the delivery of humanitarian aid.
Attempts to deliver humanitarian aid to the poverty-stricken people of Yemen appear to have been blocked by the Houthis themselves, as well as by the United States, which has withdrawn support for Saudi Arabia, while giving the Houthis a free pass.
The Houthi strategy, it appears, is to use the dire living situation of the civilians under its control as a shield to get what it wants, such as being removed from the terrorist list and continuing its terror activities without facing any consequences.
If the Biden administration surrenders to this strategy, not only will the terror group feel it has won, it will also feel empowered to ratchet up its violence, crimes, and drone and missile attacks.
A surrender to this form of extortion will also set precedent for other terrorist groups or countries to deprive their populations of humanitarian aid, and hold them as hostages while they blackmail the US and international community into handing them as a ransom whatever they dream up -- in addition to continuing their terrorist activities without any consequences.
The Biden administration needs immediately to re-designate the Iranian-backed Houthi group as a Foreign Terrorist Organization both for their crimes against humanity and their military aggression against other nations. The United States can, as it is doing with Iran, re-list the Houthis as a Foreign Terrorist Organization and allow the export of humanitarian goods to Yemen -- if the Houthis even permit. If they do not, it is all the more reason to hold them accountable even more harshly rather than reward them.
Dr. Majid Rafizadeh is a business strategist and advisor, Harvard-educated scholar, political scientist, board member of Harvard International Review, and president of the International American Council on the Middle East. He has authored several books on Islam and US foreign policy. He can be reached at Dr.Rafizadeh@Post.Harvard.Edu