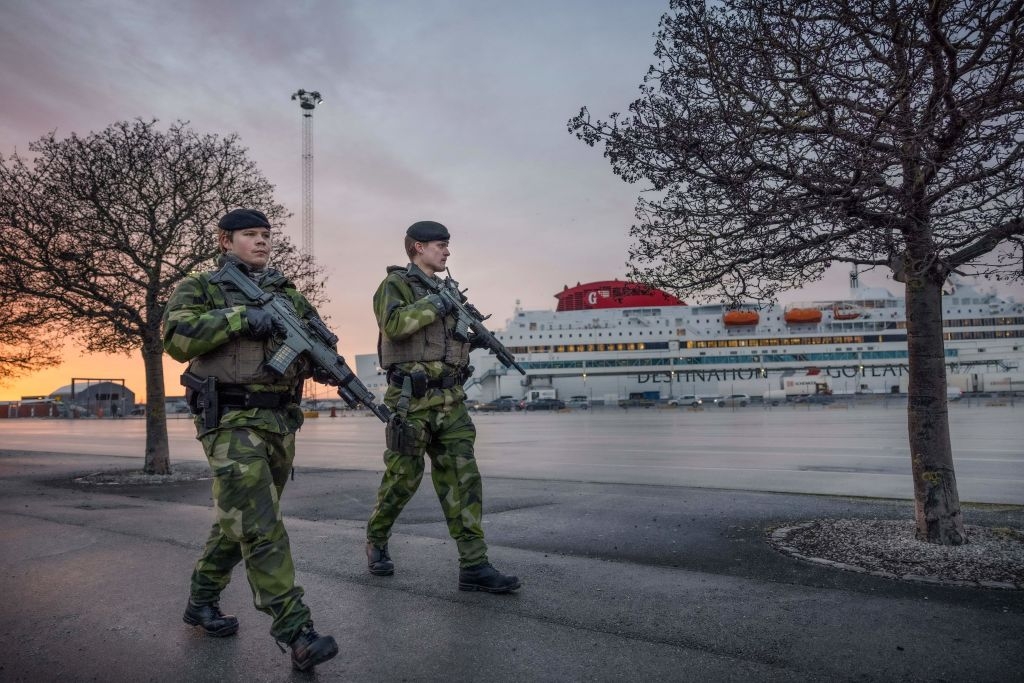 In response to the mounting tension with Russia, Sweden has been boosting its military preparedness and has sent soldiers and heavy military equipment to its largest island, Gotland, strategically located in the Baltic Sea, just 330 kilometers from Kaliningrad, the headquarters of Russia's Baltic Fleet. Pictured: Swedish Soldiers patrol in Visby harbor, in Gotland on January 13, 2022. (Photo by Karl Melander/TT News Agency/AFP via Getty Images)
Russia's military buildup on the borders of Ukraine and its sweeping ultimatums to NATO on halting further expansion and rolling back its engagement on NATO's eastern flank is also causing tension in northern Europe. Russia has threatened that if Finland and Sweden -- which are not members of NATO but enjoy close ties with the transatlantic organization -- join the alliance, it "would have serious military and political consequences that would require an adequate response from the Russian side."
In response to the mounting tension with Russia, Sweden has been boosting its military preparedness and has sent soldiers and heavy military equipment to its largest island, Gotland, strategically located in the Baltic Sea, just 330 kilometers from Kaliningrad, the headquarters of Russia's Baltic Fleet. Swedish troops are now patrolling the streets of Visby, including its harbor and airport. Sweden has been observing a deteriorating security environment in recent years with repeated Russian incursions into Swedish airspace and territorial waters.
Most recently, Sweden has been experiencing an influx of large military-style drones hovering over its nuclear and power plants, royal castles and military areas. According to the Swedish Security Service (Säpo), the drones were suspected of "grave unauthorised dealing with secret information." Drones have also been observed around the parliament and government buildings, as well as the royal palace in Stockholm, and near the Kiruna and Luleå airports in the north of the country. On January 30, authorities arrested a Russian man who was flying a drone near one of the Swedish royal family's castles. The man claimed he was a tourist.
In 2019, Sweden, after realizing that it lacked crucial military capabilities and would be unable to defend itself against a Russian offensive, decided to increase its military spending by around 40%, with an increase in the military budget of 27.5 billion Swedish crowns ($3.10 billion) by 2025.
"Nothing can be ruled out in this situation. It may end in a total invasion with the risks of invading one of Europe's largest countries, but I think it is out of the question that nothing will happen," head of the Swedish Defence Forces, Micael Bydén, said. "The only question is what happens."
Lieutenant General Michael Claesson, Chief of Joint Operations of the Swedish Army, told Reuters that the army had recently noted an expansion of foreign offensive capability near Sweden. "... Russian landing ships are an example of such offensive capability," Claesson said. "They have passed through (Denmark's) Great Belt strait and continued into the Baltic Sea."
Unlike Sweden, Finland, which shares a long land border with Russia, never stopped investing in its defense capabilities. It recently ordered 64 F-35 fighters, at a value of $9.5 billion, to replace its existing and ageing combat jets. According to Finland's former Foreign Minister Erkki Tuomioja, Finland "can mobilize a reserve of 280,000 trained soldiers, which no other country in Europe can do."
In a meeting with Sweden and Finland on January 24 about the worsening security situation in Europe, NATO Secretary General Jens Stoltenberg invited the two countries to join NATO, stressing that each country has the right to choose its own military alliances:
"NATO's door remains open. While NATO cooperates closely with Finland and Sweden, we fully respect your strong and independent security policies. It is for Finland and Sweden alone to decide on your path. Not Russia. Not anyone else. Sovereign nations have the right to self-determination."
Finland has made it very clear that it reserves the option to join NATO. Finnish President Sauli Niinisto reacted forcefully to Russia's threats by saying:
"Finland's room to maneuver and freedom of choice also include the possibility of military alignment and of applying for NATO membership should we ourselves so decide."
Finland's Prime Minister Sanna Marin shares Niinisto's sentiment, but has also said that she does not foresee a NATO application from Finland during her term, which ends in April 2023.
Russia, ironically, could end up pushing both Finland and Sweden towards NATO membership in the longer term. The Russian threats are forcing the countries to rethink their neutrality and spurring new debates about membership. One Finnish MP said that the country was now "closer than it has ever been" to applying for NATO membership and, for the first time, opposition to NATO membership has dropped to a record low. More than a quarter of Finns (28%) are now for NATO membership with 42% against, according to a recent survey, and the share of those who are uncertain at 30%. In the past, opposition to membership of NATO has been as high as 68% among Finns. Respondents were also asked on their position if Sweden were to join NATO, which caused respondents in favor of membership to rise to 38% and opposition to fall to 39%.
"We have been forming ever-closer cooperation agreements not only with NATO, but also the United Kingdom and the United States," said Elina Valtonen, vice-chair of Finland's opposition National Coalition Party, adding that joining NATO was "a natural step."
In Sweden, opposition to joining NATO is also at an all-time low, with 37% of respondents in favor of NATO membership and 35% against, according to a recent survey. In 2017, by contrast, 32% said yes to NATO, while 43% opposed it. Furthermore, Sweden, until now, has not had a NATO "option" as part of its declared foreign policy, but there is now a majority of parties in the Swedish parliament that want, as part of Sweden's foreign policy, to declare a "NATO option", similar to that of Finland. It is a marked departure from the past, when neutrality was paramount.
Not only are Sweden and Finland perceiving Russia to be the biggest threat in northern Europe. The Danish Defense Intelligence Service, in its most recent security assessment, concluded that Russia is one of the biggest threats to Denmark's security, especially Russian offensive intelligence operations and cyber espionage activities. Denmark, unlike Sweden and Finland, is a member of NATO.
"Russia is very concerned about Denmark by virtue of our geographical location and our membership in NATO. It is clear that the situation in the Baltic Sea, where there is a high level of military exercises, of course, raises concerns," said intelligence chief Anja Dalgaard-Nielsen. Denmark is deploying four air force fighter jets to the Baltic states and a Danish Navy frigate will most likely be patrolling the Baltic Sea, as a contribution to NATO's patrolling in the region. This is "a very clear signal to Russia," Danish Defense Minister Trine Bramsen said.
John Richardson is a researcher based in the United States.