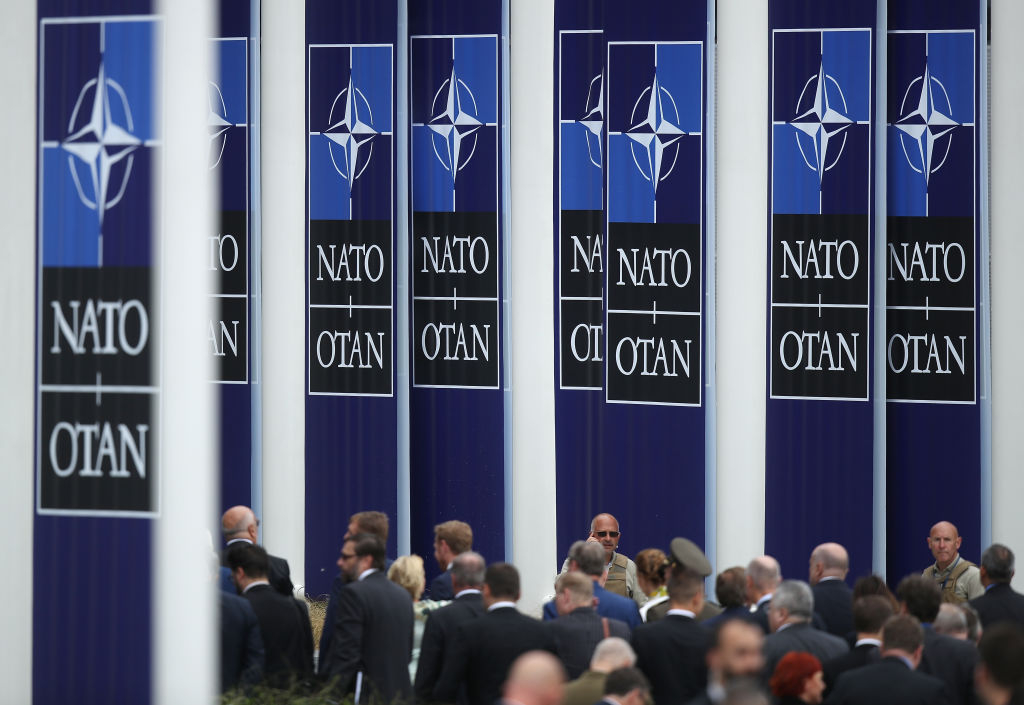 Finland, which is expected soon to join NATO, would be the most militarily valuable member-state to join the alliance since it was formed in 1949, and the only NATO member to have successfully engaged the Russian military in combat. Pictured: NATO headquarters in Brussels, Belgium, after the opening ceremony at the 2018 NATO Summit. (Photo by Sean Gallup/Getty Images)
Finland, which is expected soon to join NATO, would be the most militarily valuable member-state to join the alliance since it was formed in 1949, and the only NATO member to have successfully engaged the Russian military in combat. Finland has fought two wars with the former Red Army. The first, the "Winter War", commenced with a Russian invasion in November 1939, with the Finns, despite overwhelming odds, performing remarkably well. The second Finno-Russian War ("Continuation War") began when Soviet planes bombed Finnish cities in June 1941.
Finland, which invests more than NATO required 2% of GDP in its military, will bring to the alliance a wealth of experience in intelligence and Arctic warfare to the Western alliance. Part of Finland's 830-mile border with Russia runs within 20 miles of Russia's second city, St. Petersburg. The Finns have the largest military reserve force in Europe -- capable of quickly mobilizing about 280,000 troops in a crisis. One estimate suggests that Finland has the ability to place one million troops in the field in a war -- nearly 20% of the country's 5.5 million population. The Finnish constitution obligates universal male conscription. All males from 18 to 60 are liable to a call-up in a national emergency, and the idea of female mobilization has been floated in Finnish political circles. Finland also has a well-trained civil defense force supported by a nationwide complex of deep underground shelters, car parks and garages. Helsinki, the capital city, features about 10 square miles of sub-surface facilities stocked with foodstuffs and fresh water.
Finnish soldiers are familiar with NATO weapons systems and have staged training exercises with alliance militaries in the Arctic and Baltic Regions. Finnish military personnel have also helped train anti-Taliban Afghan fighters in Afghanistan. The Finnish Air Force recently replaced its F-18 fighters with F-35s. Finland's special contributions to the NATO alliance, in addition to its excellent air force, includes its superb winter warfare capabilities. US Marine Corps fighter pilots have exercised with Finland's Karelia Air Command at Rissala Air Base.
Finland, although neutral, is not pacifist. Finnish governments have supported European-wide and regional defense initiatives. Finland has pledged military participation in the European Intervention Initiative (EI2), a defense institution designed to increase Europe's operational readiness in a crisis. This concept was proffered by French President Emmanuel Macron in September 2017, and led to a subsequent meeting of 10 European defense ministers in June 2018. The EI2, which now has thirteen members, is exploring possible military contingencies which could require a Europe-only deployment. Finland is also active in the "Joint Expeditionary Forces" (JEF), a UK-led European initiative to stage multinational exercises. It consists of another sub-NATO military coalition of 10 northern European countries, and is designed to mobilize quickly to meet humanitarian or combat operational contingencies. In addition, Finland is one of the five member-state Nordic Defense Cooperation (NORDEFCO), which includes Sweden, Norway, Iceland, and Denmark. NORDEFCO has as its objective maximizing cooperation on region-wide defense issues, stressing weapons inter-operability, cost effectiveness, and efficient allocation of military related resources.
Russia has already issued retaliatory threats should Finland or Sweden join NATO. Russian President Vladimir Putin announced that any hope for a Baltic Nuclear Weapons Free Zone (BNWFZ), supported by Finnish and Swedish diplomats, would collapse. In addition, Putin disingenuously stated that Russia would deploy nuclear weapons in Kaliningrad, a Russian enclave between Poland and Lithuania. US and NATO strategic planners assume that Moscow already has nukes sequestered in Kaliningrad, capable of being affixed to the Iskandar short range ballistic missiles deployed there.
Finland, throughout the Cold War, technically maintained its neutrality, but since Russia's invasion of Ukraine, it has dropped all pretense of official non-alignment. Finland's Prime Minister Sanna Marin has indicated that a decision on whether to apply for membership in NATO will be made "within weeks not months." Marin added, "There is no other way to have security guarantees than under NATO's deterrence and common defense as under NATO's "Article 5" -- NATO's 30 member nation-state pledge, that "an attack on one is an attack on all."
Dr. Lawrence A. Franklin was the Iran Desk Officer for Secretary of Defense Rumsfeld. He also served on active duty with the U.S. Army and as a Colonel in the Air Force Reserve.