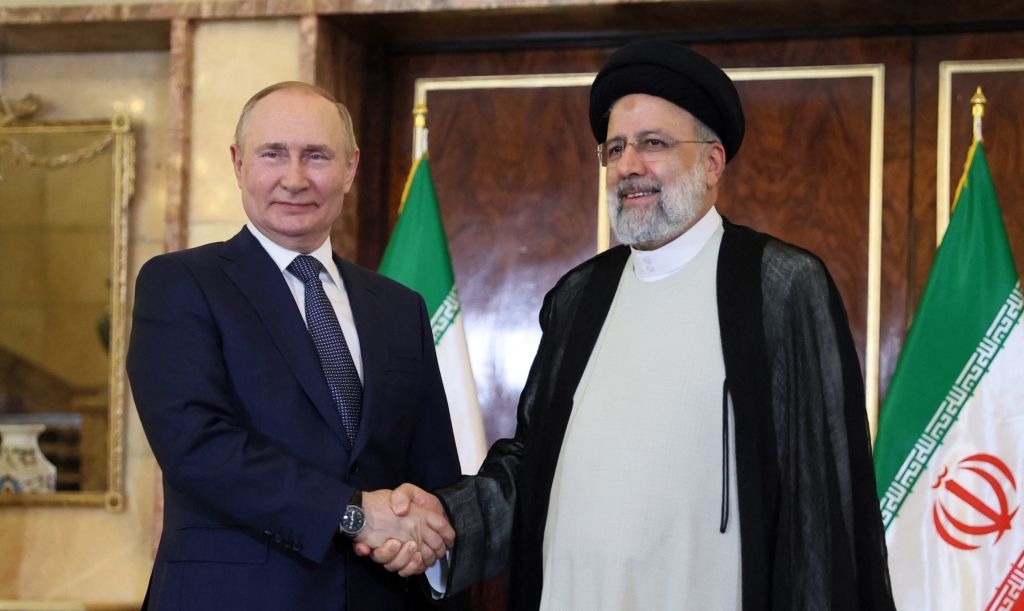 The Iranian regime's decision to give its backing to Russia's military offensive against Ukraine represents an alarming expansion in Iran's military ambitions beyond the Middle East. Pictured: Russian President Vladimir Putin and Iran's President Ebrahim Raisi hold a meeting in Tehran on July 19, 2022. (Photo by Sergei Savostyanov/Sputnik/AFP via Getty Images)
Iran's deepening involvement in supporting the Russian war effort against Ukraine should serve as a wake up call to Western leaders that Iran's military threat is no longer solely confined to the Middle East.
Ever since the ayatollahs seized control of the country more than 40 years ago, Iran's Islamic Revolutionary Guard Corps (IRGC), the regime's standard bearers, have mostly confined their military activities to the Middle East region, whether it is waging war against neighbouring countries like Iraq or threatening Israel through its proxies in Lebanon and Syria.
The only occasions when the IRGC has ventured beyond the Middle East has been to carry out terrorist operations, such as the 1994 bombing of a Jewish community centre in Argentina that killed 85 people and wounded more than 300, or the recent wave of terrorist attacks it has carried out in Europe.
The Iranian regime's decision to give its backing to Russia's military offensive against Ukraine therefore represents an alarming expansion in Iran's military ambitions beyond the Middle East.
According to Western security sources, there has been a marked escalation in Tehran's involvement in the conflict since Russian President Vladimir Putin's summit in Tehran this month, where he met with key figures in the Iranian leadership, including Supreme Leader Ayatollah Ali Khamenei and the country's hardline president, Ebrahim Raisi.
The summit ended with Khamenei praising Putin for launching his invasion of Ukraine, and claiming that Russia would have been the victim of Nato aggression if he had not made the first move.
While describing war as "brutal and hard," Iran's leader suggested that had Russia not "taken the initiative, the other side, with its own initiative would have created a war anyway.... If the road is open to Nato, it knows no boundaries, and if it was not stopped in Ukraine, it would start the same war some time later under the pretext of Crimea."
Arguably Khamenei's most revealing comment during the visit was his call for Iran and Russia to increase what he termed "reciprocal cooperation" between the two countries to counter the threat of Western sanctions.
One of the first tangible signs of the deepening cooperation between Moscow and Tehran has been the signing of a $40 billion energy memorandum of understanding between the Russian energy giant Gazprom and the National Iranian Oil Company.
Russia and Iran have already been cooperating on energy issues, with Tehran offering to help Russia avoid Western sanctions imposed following the Ukraine invasion by making available its global oil-smuggling network.
The concern now, say Western security officials, is that the commercial ties between the two countries will lead to closer military cooperation.
US officials have reported that a team of Russian military experts have twice visited an airbase in central Iran to make a detailed assessment of Iranian-made drones.
This follows a report by the US National Security Council that Iran has offered to provide hundreds of drones to aid Russia's war effort in Iran.
There have even been unconfirmed reports by Iranian opposition groups that the IRGC is planning to send troops to fight along Russian forces, which would be the first time that Iranian forces have been deployed on European soil since the 1979 revolution.
Iran's very public displays of support for Russia certainly undermine the long-standing assumption of American and European policymakers that the Iranian threat, allowing Iran unlimited nuclear weapons, relates only to the Middle East -- and specifically against Israel.
This belief is one of the reasons that Britain, France and Germany, the three European signatories to the 2015 nuclear deal, have given their backing to the Biden administration's efforts to revive the agreement.
Iran's active support for Russia in its war against Ukraine, which is receiving military backing from the Nato alliance, completely refutes that argument, and should force both American and European negotiators, as a matter of their own national security, to seriously revise their approach to the negotiations.
The expanding military partnership between Russia and Iran is certainly bad news for the Biden administration, which has invested a great deal of political capital in reviving the nuclear talks, but now finds itself trying to negotiate with a country that is actively supporting its adversary in the Ukraine conflict.
US President Joe Biden's confused position on the Iran issue has been further exposed by the head of Britain's MI6 intelligence agency, who told this month's Aspen Security Forum that, in his view, Iran had shown little interest in negotiating a new nuclear deal.
"I don't think the Supreme Leader of Iran wants to cut a deal," he stated. "I don't think the Iranians want it."
Such a blunt assessment by the head of one of Europe's key intelligence services, one that has close ties with the American security establishment, certainly makes embarrassing reading for the Biden administration which, despite all the evidence to the contrary, still believes that the Iranian regime is willing to make a deal.
The truth of the matter is that Mr Biden's policy on Iran has become completely untenable, and the sooner he and his officials recognise their courtship of Tehran is doomed to end in failure, the better it will be for all concerned.
Con Coughlin is the Telegraph's Defence and Foreign Affairs Editor and a Shillman Journalism Fellow at Gatestone Institute.