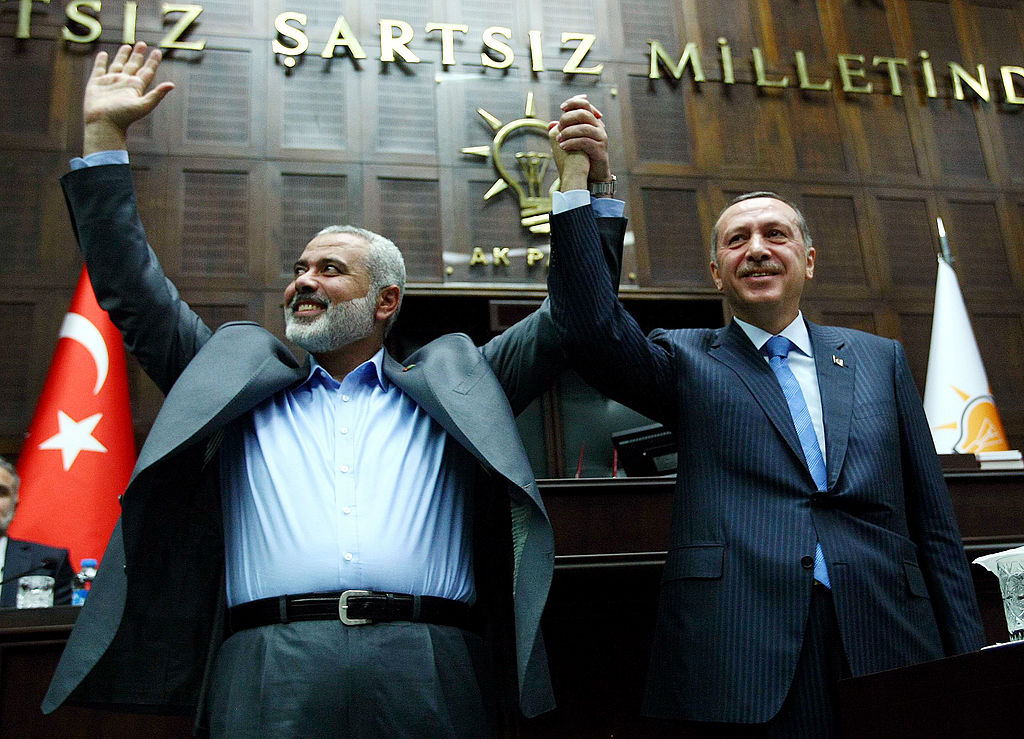 Beside Turkish President Recep Tayyip Erdoğan's regular antisemitic outbursts, other alarming issues -- such as Hamas' secret investment portfolio in Turkey and Turkey's granting passports to Hamas terrorists -- need to be addressed by Turkish government authorities. Pictured: Erdoğan (right) honors Hamas leader Ismail Haniyeh at the Parliament in Ankara, Turkey on January 3, 2012. (Photo credit by Adem Altan/AFP via Getty Images)
"Tayyip [Erdoğan] is a Jew who pretends to be a Muslim," wrote Yüksel Üstün, on his Facebook account in 2020. In November 2021, a criminal court sentenced Üstün with a fine of 7,000 Turkish liras ($385) for "insulting the president." In the complaint, filed by Hüseyin Aydın, an attorney for President Recep Tayyip Erdoğan, the expression "Jew" (when applied to Erdoğan) was deemed "humiliating, damaging to honor and dignity."
The Chief Public Prosecutor's Office of the city in which Üstün resides filed the lawsuit against Üstün after the Ministry of Justice gave permission to prosecute him. The indictment argued that the suspect committed the alleged crime in his post by "offending the honor, dignity and respectability of the president". The court initially sentenced the defendant to 10 months and 20 days in prison. The judge later commuted the sentence to a judicial fine. The defendant nearly went to prison for calling Erdoğan "a Jew."
Ironically, the government of Erdoğan, who believes that being called Jewish is an "insult", now claims to be in the process of "normalizing" its relations with Israel.
Beside Erdoğan's regular antisemitic outbursts, other alarming issues -- such as Hamas' secret investment portfolio in Turkey and Turkey's granting passports to Hamas terrorists -- need to be addressed by Turkish government authorities.
On May 24, according to the US Treasury Department, the United States imposed sanctions on a Hamas finance official as well as a network of financial facilitators and companies that generated revenue for the terror group.
The sanctions target Hamas's Investment Office, which holds assets estimated to be worth more than $500 million. This includes companies operating in Turkey, Sudan, Saudi Arabia, Algeria and the United Arab Emirates, again according to a statement issued by the US Treasury Department.
"Today's action targets the individuals and companies that Hamas uses to conceal and launder funds," said Assistant Secretary of the Treasury for Terrorist Financing and Financial Crimes Elizabeth Rosenberg while in Israel to discuss countering terror financing.
"Hamas has generated vast sums of revenue through its secret investment portfolio while destabilizing Gaza, which is facing harsh living and economic conditions. Hamas maintains a violent agenda that harms both Israelis and Palestinians. The United States is committed to denying Hamas the ability to generate and move funds and to holding Hamas accountable for its role in promoting and carrying out violence in the region."
In mid-2017, Usama Ali was appointed as the head of the Hamas Investment Office, a position from which he coordinated financial transfers for the terrorist group. The US Treasury statement noted:
"Hisham Younis Yahia Qafisheh (Qafisheh) is a Turkey-based Jordanian national who served as Usama Ali's deputy and played an important role in transferring funds on behalf of various companies linked to Hamas's investment portfolio. Qafisheh was involved in managing the operations or held key roles in several companies controlled by Hamas including serving as a member of the Board of Directors at Sudan-based Agrogate Holding and the Deputy Chairman of the Board at Turkey-based Trend GYO, and Chairman of the Board at Sudan-based Al Rowad Real Estate Development. Qafisheh also managed Anda Company, a real estate and construction business, which was based in Saudi Arabia.

"As of 2018, Hamas elements held about 75 percent of the issued capital at Turkey-based company Trend GYO. Additionally, Hamas planned to privately issue more than $15 million of Trend GYO's shares to senior officials in the investment portfolio."
See the US Treasury's list of specially designated nationals whose businesses operate in Turkey and elsewhere.
The database of the website Double Cheque, which helps companies refrain from business activity that facilitates terrorism, lists the subsidiaries of Trend GYO, a real estate investment trust ("gayrimenkul yatırım ortaklığı" in Turkish) located in Turkey, as follows:
IYS Yapi Co, a contracting company, and a subsidiary of Trend Gyo. Its CEO is Hamas operative Walid Jadallah. The chairman of the board of directors is Hamas operative Hisham Qafisheh.

Expert Yapi Co, another contracting company in Turkey and Trend subsidiary. Its CEO is Hamas operative Amer al-Shava.

Uzmanlar Co, a construction company and subsidiary of Anda Gayrimenkul Co. The company was established in 2001. The CEO is Hamas operative Ahmad Jahleb. The partners in the company and members of the board of directors are Hamas operatives Ahmad Odeh, Ahmad al-Maghrebi, Amar al-Shava, Ahmad Jahleb, and Ayman al-Duwaik, and Hamas facilitator Muhammad Bin Mahfouz. This company established two subsidiaries in 2014, one that imports and exports air conditioners and elevators, and the other in the tourism sector. The company operates in Jordan, Dubai, and Saudi Arabia as well.

Advancity Co., is a construction contracting company and subsidiary of Anda Gayrimenkul Co. It was founded in 2014. The company's CEO and chairman of the board is Hamas operative Amar al-Shava.

AG Yapi Co., a construction contracting company and subsidiary of Anda Gayrimenkul Co. It was founded in 2007. The company shareholders and board members include: Hisham Qafisheh (20%), Muhammad Bin Mahfouz (15%), Saleh Mangoush (20%), and Amar al-Shava (1%).
According to Double Cheque:
"It seems that Hamas has chosen to manage its secret investment portfolio in Turkey because of the weak financial system in Turkey, which enables Hamas to hide its money laundering activity and tax violations from the regulatory bodies. Trend Gyo, controlled by Hamas, has five subsidiaries in Turkey. Senior officials in the investment portfolio hold dual, high-ranking positions in all five companies.

"Trend Gyo has been traded on the Istanbul stock exchange since 2018. Raising funds via a public company that is traded on the Istanbul stock exchange is unprecedented in the extent of the risk posed by the terror organization to all investors, banks, accountants, and lawyers involved.

"In addition to the banking, business, and regulatory sectors, unwitting customers who buy apartments are unaware that they are purchasing real estate from a terror organization that is incapable of providing financial backing in case of a collapse. The correspondent banks linked to the banks that manage the investment portfolio accounts are also subject to fines and audits."
These companies are not the only way that the Turkish government has enabled Hamas. In 2020, The Telegraph reported that Turkey was in the process of granting citizenship to high-ranking Hamas members living in the country, who are suspected of involvement in directing terror attacks. Of the 12 senior members of the cell, most were already given citizenship, according to the British daily.
One of those who has apparently received citizenship is Zacharia Najib. He reportedly oversaw a plot to assassinate senior Israeli public figures, including the national police commissioner and Nir Barkat, who at that time was mayor of Jerusalem and is today a Member of Knesset. The Times of Israel reported that an East Jerusalem Palestinian-Arab, who was recruited to the cause during a meeting in Istanbul, was arrested after he returned to Israel and tried to buy a pistol.
Roey Gilad, chargé d'affaires at Israel's embassy in Turkey, confirmed the reports. "Some are in the process, some already got (the documents), but we are talking about around a dozen". Gilad said Israel has evidence of the arrangements.
Meanwhile, Erdoğan met several times with delegations of Hamas leadership, including its leader Ismail Haniyeh and deputy leader Saleh al-Arouri, both of whom have a $5 million bounty on their heads after being designated as terrorists by the US.
Erdoğan also received Haniyeh alongside the accompanying delegation at Istanbul's Vahdettin Palace.
The Erdoğan regime's close relationship with Hamas might be explained by the ideological agreement between the two entities. In 2017, Erdoğan targeted the Jewish people by referring to a hadith (traditional accounts of Islam's prophet Muhammad's deeds and sayings) about Judgement Day. "Those who think they are the owners of Jerusalem today will not even be able to find trees to hide behind tomorrow," he declared, ironically during a "Human Rights Day" event in Ankara on December 10, 2017. Erdoğan's comment came in response to the U.S. administration's recognition of Jerusalem as Israel's capital. According to the hadith, for the "the coming of the hour," the Jews must suffer a violent death to the last one.
The Hamas Charter also refers to the same hadith:
"The Day of Judgement will not come about until Moslems fight the Jews (killing the Jews), when the Jew will hide behind stones and trees. The stones and trees will say O Moslems, O Abdulla, there is a Jew behind me, come and kill him. Only the Gharkad tree, would not do that because it is one of the trees of the Jews." (related by al-Bukhari and Moslem)."
Meanwhile, a Palestinian official told the Israel daily Israel Hayom this past April that "Some of the people with ties to Hamas' military wing have been deported" from Turkey. A month later, however, a senior Turkish official and other sources told Middle East Eye that Turkey had not expelled any Hamas members and was not planning to expel the Muslim Brotherhood presence in the country, either. As Hamas is the Palestinian branch of the Muslim Brotherhood, it is probably not a reach to assume that Turkey has no plans to ask Hamas to leave any time soon.
Hamas continues to operate an office -- or more -- in Turkey. The Israeli chargé d'affaires in Turkey, Irit Lillian, said on August 26 that Israel "expects Turkey to close the Hamas office and send the activists there away from here."
As Turkey-Israel relations appear to be entering a so-called "new phase", the government of Turkey needs to publicly explain the following: When Hamas began operating in Turkey, what its political, financial, military, and diplomatic activities have been there, how many Hamas terrorists have lived in Turkey, and why Turkey has enabled them. Why did Turkey give them Turkish citizenship? And if they really deported a few of them, what has changed? Does Turkey see Hamas as a terrorist organization now? How many Hamas terrorists remain in Turkey as of today? And why?
Until the Turkish government officials honestly and transparently answer these questions and take concrete steps to end Hamas's presence in Turkey, its "rapprochement" with Israel should be understood only as an unauthentic attempt to benefit Erdogan's regime and harm Israel.
Uzay Bulut, a Turkish journalist, is a Distinguished Senior Fellow at the Gatestone Institute.