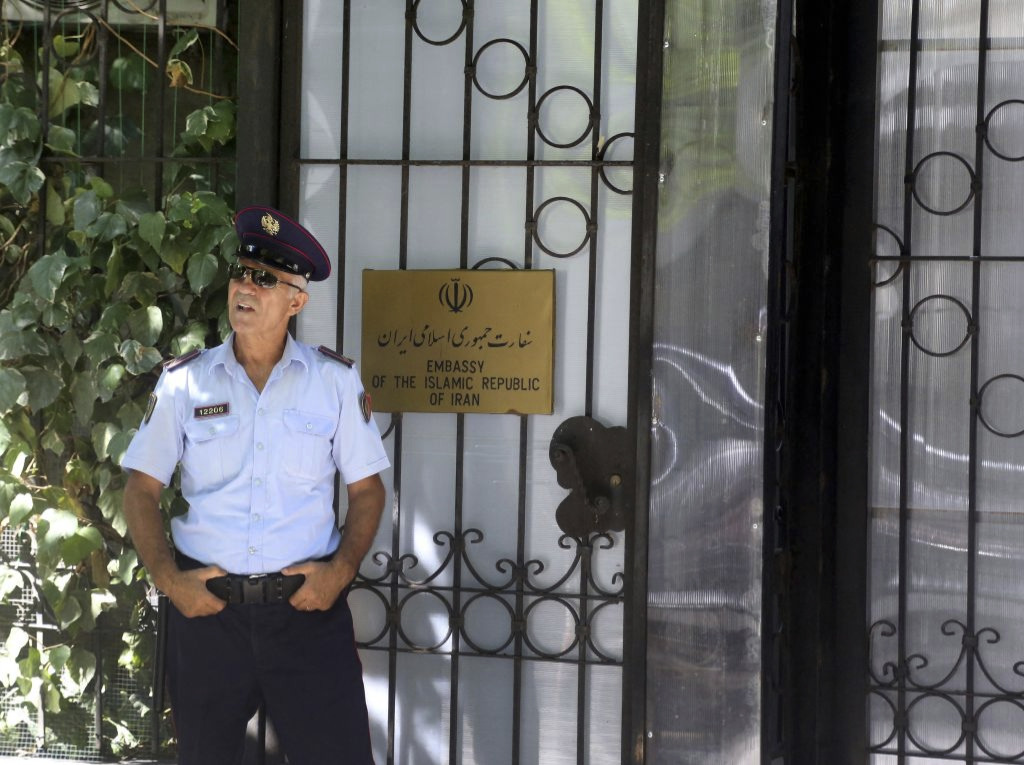 Not only is the Biden administration is turning a blind eye to the Iranian regime's terror activities and plots abroad, it has also been completely silent about the mullahs' escalating cyberattacks.
The small country of Albania appeared to have more courage and stronger leadership than the Biden administration: it recently sent a strong message to the Iranian regime after Iran's cyberattacks against Albania in July. Albania severed diplomatic relations with Tehran and ordered Iranian diplomats and embassy staff to leave within 24 hours. Albania's Prime Minister Edi Rama stated in a video:
"The in-depth investigation provided us with indisputable evidence that the cyberattack against our country was orchestrated and sponsored by the Islamic Republic of Iran through the engagement of four groups that enacted the aggression...

"The government has decided with immediate effect to end diplomatic relations with the Islamic Republic of Iran. This extreme response... is fully proportionate to the gravity and risk of the cyberattack that threatened to paralyse public services, erase digital systems and hack into state records, steal government intranet electronic communication and stir chaos and insecurity in the country".
Not only the Biden administration, but also NATO has not taken any actions against the Iranian regime, even though Albania is one of its members. A cyberattack actually could be grounds to trigger Article 5 of NATO's founding treaty.
In 2014, NATO members recognized cyber defense as part of NATO's core task of collective defense, which means that a cyber attack could be grounds to invoke Article 5 of NATO's founding treaty. According to Article 5:
"Collective defence means that an attack against one Ally is considered as an attack against all Allies. The principle of collective defence is enshrined in Article 5 of the Washington Treaty."
If the Biden administration remains silent and continues to negotiate with the Iranian regime to revive the nuclear deal, appease the Iranian leaders, and lift sanctions on Tehran, the Islamist mullahs will be emboldened and empowered to target ever more Western governments with its cyberattacks. Halting negotiations with this regime and sanctioning its economy are steps in the right direction.
Iran's cyber warfare program is most probably run by the Islamic Revolutionary Guard Corps (IRGC), which, with the ruling mullahs, will be the sole beneficiaries of a new Iranian nuclear deal. As the Israeli-based Institute for National Security Studies has said:
"The IRGC clearly makes the country one of the best and most advanced nations when it comes to cyberwarfare. In a case of escalation between Iran and the West, Iran will likely aim to launch a cyberattack against critical infrastructures in the US and its allies, (targeting) energy infrastructure, financial institutions and transportation systems."
We should not underestimate the Iranian regime's cyberattacks. Cyber warfare could have consequences at least as severe as military actions: cyberattacks can take control of or disrupt an entire nation's infrastructure -- public services, hospitals, transportation, internet, municipal or governmental institutions, the energy sector, steal people's private information, take control of another country's missiles, unmanned vehicles (drones), and even its military's intelligence, command, control and communications.
As Daniel Coats, who served as the U.S. Director of National Intelligence, stressed at a hearing of the Senate Select Committee on Intelligence:
"We face a complex, volatile and challenging threat environment. The risk of interstate conflict is higher than any time since the end of the Cold War -- all the more alarming because of the growing development and use of weapons of mass destruction by state and nonstate actors. Our adversaries, as well as the other malign actors, are using cyber and other instruments of power to shape societies and markets, international rules and institutions, and international hotspots to their advantage."
This was not the first time that the Iranian regime had launched a major cyberattack against another country. In November 2018, two people based in Iran were accused of being behind a series of cyberattacks inside the U.S.. The attacks included crippling the municipal government of Atlanta, Georgia, by targeting its hospitals, schools, state agencies and other institutions. Data from these major institutions was held hostage in exchange for ransom payments.
According to Brian Benczkowski, who served as the Assistant Attorney General for the Criminal Division of the U.S. Department of Justice, the individuals "deliberately engaged in an extreme form of 21st-century digital blackmail, attacking and extorting vulnerable victims like hospitals and schools — victims they knew would be willing and able to pay."
The Justice Department also indicted seven Iranian citizens for distributed denial of service (DDoS) attacks against 46 companies, mainly in the banking and financial sectors. Several intelligence agencies and officials in 2017 revealed that a group of Iranian hackers, known as "Cadelle and Chafer," carried out damaging cyber attacks against Saudi Arabia.
Thanks to the EU and the Biden administration's appeasement policy towards the Iranian regime, the ruling mullahs have been emboldened to such an extent that they launched a major cyberrattack against a NATO member's governmental and public infrastructure, and have been attempting to murder US citizens and officials on American soil.
That is just what the West needs: the world's largest state sponsor of terrorism and cyberattacker extraordinaire, soon to have an unlimited quantity of nuclear weapons, precision ballistic missiles to deliver them, and up to a trillion dollars -- and in a deal negotiated by -- of all countries - Russia! And the US government seriously thinks that this mix will prevent war? Let us instead follow the example of spunky Albania, punish bad behavior rather than reward it, and make sure that Biden's atrocious new "Iran deal," reportedly "off the table at least for the time being," is off the table forever.
Dr. Majid Rafizadeh is a business strategist and advisor, Harvard-educated scholar, political scientist, board member of Harvard International Review, and president of the International American Council on the Middle East. He has authored several books on Islam and US Foreign Policy. He can be reached at Dr.Rafizadeh@Post.Harvard.Edu