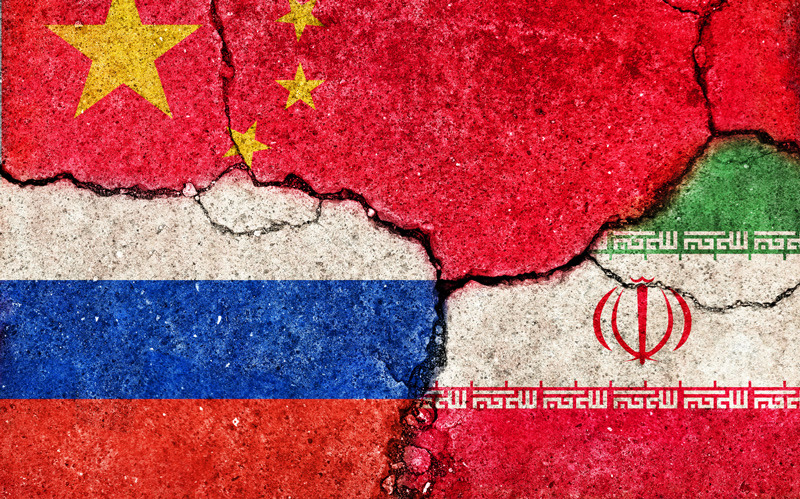 Thanks to the Biden administration's weak and vacillating leadership, Iran, Russia and China have been emboldened to levels never before seen.
First, the US sanctions against Russia are completely being smoothly violated by Iran's mullahs and China. Despite the Biden administration's sanctions, Iran's oil exports have reached a new peak last month.
Bloomberg reported:
"While everyone looks at Russia, another oil-rich country under Western sanctions has quietly increased its production: Iran.... Iran's oil exports are surging... Much of it appears to be finding its way to China. The country's oil exports surged to about 1.3 million barrels a day in November [2022], and last month held near the highest in four years, according to data from Vortexa Ltd. and Kpler, two well-known shipping analytics firms."
Although the US sanctions did have a negative impact on the Iranian economy prior to the Biden administration, as more countries violate them, the US sanctions have become cosmetic.
Meanwhile, the Biden administration has not been taking any action to deter, disincentivize or punish those who breach the sanctions. Ever since the Biden administration assumed office, in fact, Iran's oil exports have been on the rise.
While in 2018 and 2019, Iran's oil exports were significantly reduced to 100,000 to 200,000 barrels a day, Iran is currently exporting more than a million barrels a day -- of which more than 800,000 barrels a day are being exported to China.
The Iranian regime is also assisting Russia in war crimes without facing any consequences, according to The Sunday Guardian:
"Speaking anonymously because of the sensitivity of the matter, [a US] official said that [on August 19] one [Russian] plane carried $150m in cash and a number of captured UK and US weapons to Iran in exchange for a large number of deadly drones for Russia's use in its war against Ukraine.... These had all been shipped to Ukraine for their use against the invaders, but had "fallen into Russian hands....For their part, the Iranians supplied Russia in excess of 200 unmanned aerial vehicles (UAVs), which included more than 100 ... drones, nicknamed "kamikaze" drones because they are designed to crash into their targets and explode on impact. They are capable of delivering explosive payloads at distances of up to 1,500 miles. The rest of the load was ... able to carry guided missiles or bombs.... [Russia's] use of a combination of cruise missiles and Iranian self-detonating UAVs, packed with explosives, has deprived millions of Ukrainian citizens of electricity and running water, deliberately contravening the Geneva Convention.... The WHO has documented 703 attacks by Russia on Ukrainian health infrastructure since its invasion began."
The White House has acknowledged that it has evidence that Iranian troops were "directly engaged on the ground" in Crimea supporting Russian drone attacks. National Security Council spokesperson John Kirby stated:
"The [drone] systems themselves were suffering failures and not performing to the standards that apparently the customers expected... So the Iranians decided to move in some trainers and some technical support to help the Russians use them with better lethality."
Both Russia and Iran are also strengthening their military links. While Russia is receiving weapons and military personnel from Iran, the mullahs -- in addition to reverse-engineering the state-of-the-art US and British materiel that Russia captured -- are reportedly seeking Moscow's assistance to complete Iran's nuclear weapons program.
Thanks to the Biden administration's abject posture towards China; its dithering over help to Ukraine; its ruining the US economy by shutting down America's energy independence then rushing to buy oil from Saudi Arabia and Venezuela rather than Canada; the unconscionable abandonment of Afghanistan and our allies there; the Biden family's appearance of influence-peddling, and, by closing down the China Initiative, the administration's failure to stop Communist China's runaway espionage, Russia, Iran and China are simply not taking the US seriously.
"Biden is a complete joke with regard to foreign policy," U.S. Senator Rick Scott pointed out.
"Why is Putin doing this? Because he knows Biden is weak. Biden would rather have ice cream with somebody than stand up for Americans... "It's a disaster. I mean, Biden's a clown. Biden's never been a serious person. He's just a talker. Talk, talk, talk, talk, talk, that's all he's ever done."
Scott also cited former President Barack Obama is reported to have warned the US: "Don't underestimate Joe's ability to fuck things up."
Even some of America's European allies, despite the US sanctions, are freely doing business with Iran's theocratic establishment. Mehr News Agency stated:
"Iran and the European Union's 27 member states traded €4.36 billion worth of goods during the first 10 months of 2022, registering a 14.28% rise compared with last year's corresponding period... Germany was the top trading partner of Iran in the EU region during the period, as the two countries exchanged over €1.6 billion worth of goods, 15.44% more than in a similar period of the year before. Italy came next with €555.39 million worth of trade with Iran to register an 11.14% year-on-year rise.... the Netherlands with €351.94 million (down 10.76%) and Spain with €296.06 million (up 13.12%) were Iran's other major European trade partners."
So long as the Biden administration does not demonstrate real leadership, Iran, Russia and China will continue to seize all opportunities to become more empowered and emboldened. The Biden administration's legacy so far appears to be leaving the world a far more dangerous place.
Dr. Majid Rafizadeh is a business strategist and advisor, Harvard-educated scholar, political scientist, board member of Harvard International Review, and president of the International American Council on the Middle East. He has authored several books on Islam and US Foreign Policy. He can be reached at Dr.Rafizadeh@Post.Harvard.Edu