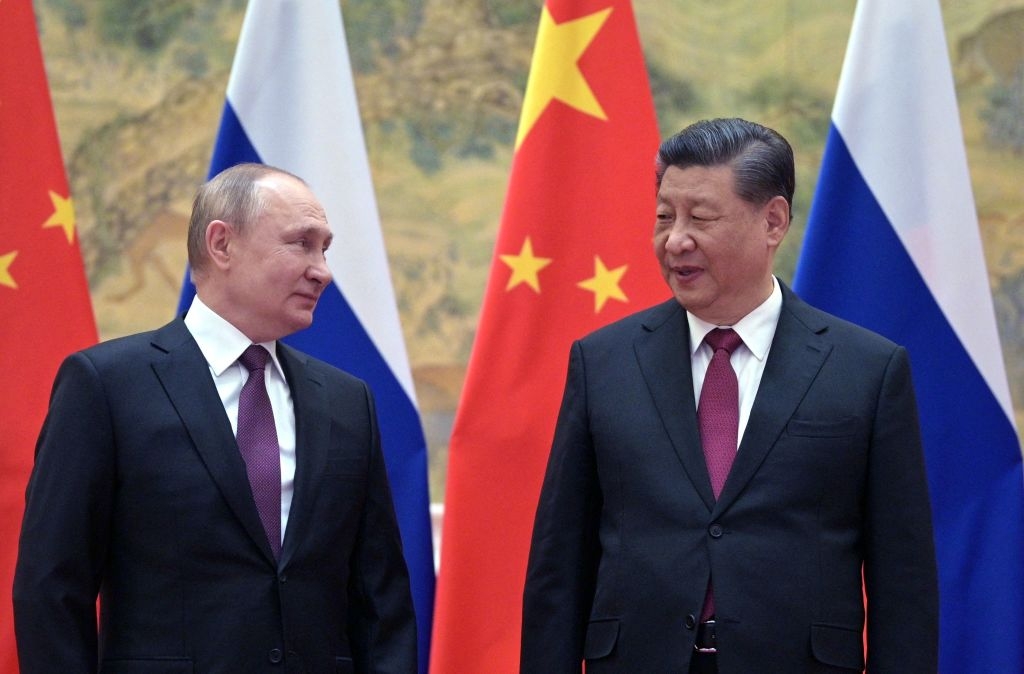 China and Russia continue to deepen their ties, a pact that has not gone unnoticed by the European public. In a new poll taken by the International Republican Institute (IRI) across 13 Central and Eastern European countries, there was much concern about this deepening partnership.
Jan Surotchak, Senior Director for Transatlantic Strategy at IRI, said:
"Our data clearly show that many Europeans see a working relationship between Vladimir Putin and Xi Jinping as a threat to security and prosperity across the continent. As the war in Ukraine rages on, they are worried that an alliance between powerful authoritarians will continue to have a negative impact in their own backyard."
Similarly, a Pew research poll taken in the United States in April 2022 found 62% of respondents saying that the strengthened China-Russia relationship was "a very serious problem."
The collaboration between China and Russia has been deepening since before Russia's invasion of Ukraine in February 2022. Just 20 days before the invasion, Russian President Vladimir Putin and Chinese President Xi Jinping signed a statement that said their cooperation had "no limits... no forbidden zones."
"Russia and China are making common cause to better defend their respective interests and their authoritarian systems from Western pressure," said Daniel Russel, a former Obama administration official handling Asia issues, at the time.
Shortly after that, Putin announced new Russian oil and gas deals with China worth an estimated $117.5 billion. On February 18, six days before the invasion, Russia announced a $20 billion deal to sell 100 million tons of coal to China. Since Russia's invasion of Ukraine, China's imports of oil, piped natural gas, liquefied natural gas and coal from Russia have reached a total of $68 billion, up from $41 billion for the same period last year, at a time when the West has banned the import of most Russian energy. In November, Russia even surpassed Saudi Arabia as China's primary supplier of crude oil.
The trade of goods between Russia and China reached $190 billion in 2022, up more than 30% from 2021. Both countries have also increasingly been conducting this trade in their national currencies.
In October 2022, Chinese Foreign Minister Wang Yi told his Russian counterpart Sergei Lavrov that China wants to deepen its relationship with Moscow "at all levels."
In December, the Wall Street Journal reported that Xi had given instructions to make economic ties with Russia even stronger:
"The plan includes increasing Chinese imports of Russian oil, gas and farm goods, more joint energy partnerships in the Arctic and increased Chinese investment in Russian infrastructure, such as railways and ports, the advisers say. Russia and China are also conducting more financial transactions in the ruble and yuan, rather than the euro or dollar, a move that helps insulate the two against future sanctions and put the Chinese currency into wider circulation."
"Xi has been strengthening China's relations with Russia largely independent of the Russian invasion," said Yun Sun, director of the China program at the Stimson Center, a Washington think tank. "The relationship may well be becoming ever closer."
Although China has not provided Russia with materiel for its war on Ukraine, China and Russia's relationship does extend to military cooperation and joint military exercises. In September 2022, China and Russia agreed "on further military cooperation with a focus on joint exercises and patrols, as well as on strengthening contacts between the General Staffs."
In December, China and Russia held joint live-fire naval exercises, known as Maritime Cooperation 2022 -– a yearly event between the two countries since 2012 -- in the East China Sea with the live-fire participation of Russia's Navy and China's People's Liberation Army Navy, as well as Chinese aircraft.
According to a Russian statement:
"The active part of the exercise will include joint missile and artillery firing against air targets, artillery firing against sea targets, and practicing joint anti-submarine actions with practical use of weapons... The main purpose of the exercise is to strengthen naval cooperation between the Russian Federation and the People's Republic of China and to maintain peace and stability in the Asia-Pacific region."
China's defense ministry described the exercises as a demonstration of "the determination and capability of the two sides to jointly respond to maritime security threats, maintain international and regional peace and stability and further deepen China-Russia comprehensive strategic partnership."
The United States was not strong enough "to keep in check both countries at once, so was mobilising Europe, Japan and others to join it," Russian Foreign Minister Sergei Lavrov said in January, according to Reuters. "The West is trying to sow discord in our relations... We and China see all these games."
In February, China and Russia will be holding joint military exercises with South Africa off the South African coast, underscoring the growing influence that China has in Africa.
Xi is expected to visit Putin this spring.
"We are expecting you, dear Mr Chairman, dear friend, we are expecting you next spring on a state visit to Moscow," Putin told Xi in video-conference at the end of December.
Above all, China's close and increased dealings with Russia have provided a lifeline to Putin, enabling him to continue his war on Ukraine. This is something that the Biden administration has done little about, apart from threatening last March:
"We are communicating directly, privately to Beijing, that there will absolutely be consequences for large-scale sanctions evasion efforts or support to Russia to backfill them. We will not allow that to go forward and allow there to be a lifeline to Russia from these economic sanctions from any country, anywhere in the world."
China is "the invisible hand behind Putin," Michael Pillsbury, author of The Hundred-Year Marathon, said in March 2022.
"They are the ones who are funding the war. Roughly half of Russia's gold and currency reserves are controlled now by the U.S. and by the West, he [Putin] can't get access to them. But the other half the Chinese can provide access to and they've been doing it... The trade and the purchase of long-term energy supplies undercut the sanctions, because it shows Putin he has got somebody in his corner for the next five years or more. There's a number of ways that China's support is just crucial for Putin. I believe the Chinese could stop the war with one phone call to him. It would be like the banker calling you... so far it's not happening... Probably the only way to get ahead is going to be American sanctions on China... the war will go on because the banker is not going to make that call."
Seemingly only now, almost a year after the invasion of Ukraine, the Biden administration has reportedly begun to address China "with evidence that suggests some Chinese state-owned companies may be providing assistance for Russia's war effort in Ukraine," according to Time magazine.
"The people familiar with the administration's thinking characterized the state-owned enterprises' activities as knowingly assisting Russia in its war effort. They didn't elaborate on what evidence the administration might have to support that view."
On January 24, White House Press Secretary Karine Jean-Pierre remarked:
"We will continue to communicate to China the implications of providing material support to Russia's war against Ukraine. We have talked about this many times that we will be very clear what it means to support Russia's aggression against Ukraine. And, as I've said many times, as my colleagues from NSC has said many times, we will continue to support Ukraine and the Ukrainian people as long as needed."
For the sake of deterring the many enemies of the Free World, let us hope this is so. So far, the Biden administration's help to Ukraine has been insufficient and slow in coming; however, protecting the West by saving Ukraine may yet go down as Biden's legacy and his administration's greatest achievement.
Judith Bergman, a columnist, lawyer and political analyst, is a Distinguished Senior Fellow at Gatestone Institute.