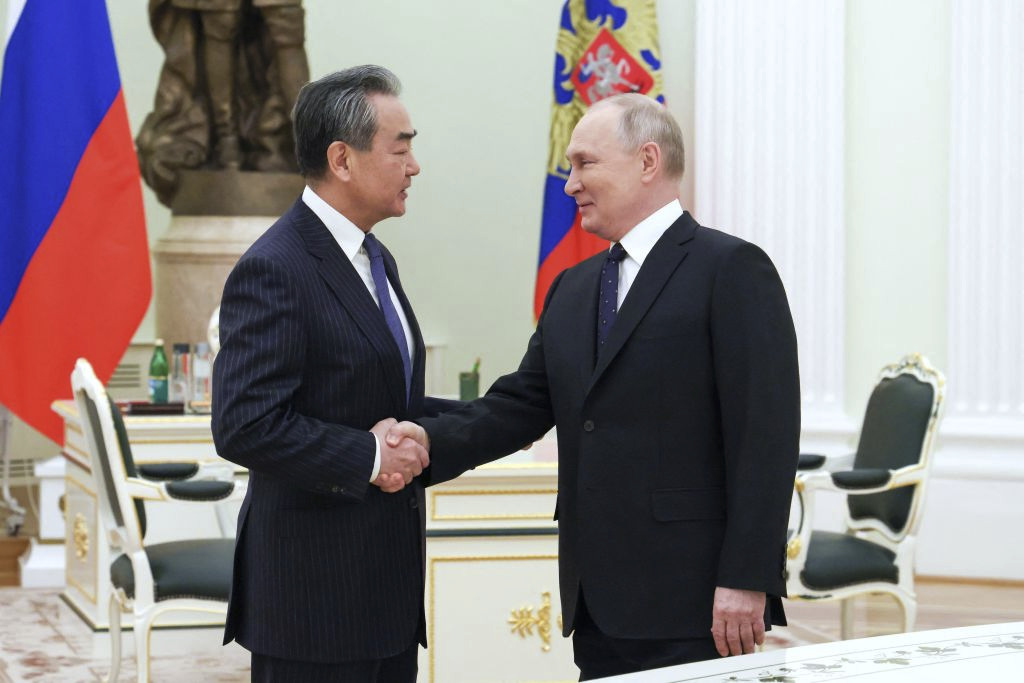 It has been known for quite a while that China has been undercutting Western sanctions against Russia through trade and Chinese purchases of long-term energy supplies.
Twenty days before the invasion of Ukraine, Russia and China declared a "no-limits" partnership, and have steadily been increasing trade with each other ever since -- and in their own national currencies. When, however, it was recently reported that "China is providing technology that Moscow's military needs," including "navigation equipment, jamming technology and jet-fighter parts," the move seemed to take the Biden administration by surprise.
China is "considering" what US Secretary of State Antony Blinken called "lethal" support to Russia, as he said in an interview with CBS on February 19. Asked what was meant by "lethal support," Blinken replied, "Weapons... There's a whole gamut of things that fit in that category, everything from ammunition to the weapons themselves."
It would appear, however, that China is doing a lot more than merely "considering" lethal support to Russia. China has already supplied significant military aid in the form of dual-use products that have both civil and military uses, including semiconductors used in a wide variety of weapons including fighter jets, helicopters, drones and guided missiles. According to Maria Shagina, of the International Institute of Strategic Studies:
"There is evidence that China is the biggest exporter of semiconductors -- often through shell companies in Hong Kong and the UAE -- to Russia. Some Chinese companies are also supplying civilian drones, exploiting the grey space between military and civilian purposes."
Already in July 2022, information was surfacing that Chinese exports of semiconductors to Russia had more than doubled in just the first five months of the year, while Chinese shipments of aluminum oxide, used to make aluminum, vital in weapons production, were 400 times higher than in the previous year.
A recent report by the Wall Street Journal showed that, in addition to exporting semiconductors, Chinese state-owned defense companies have been shipping navigation equipment for Russia's M-17 military transport helicopters, and $1.2 million worth of parts for Russia's Su-35 jet fighters. China has also sent the Russians drones that they used to locate Ukrainian forces to target them with artillery.
According to Naomi Garcia, an analyst at Center for Advanced Defense Studies, a US nonprofit that specializes in identifying national-security threats:
"Despite international scrutiny and sanctions protocols, reliable global trade data shows that Chinese state-owned defense companies continue to send military-applicable parts to sanctioned Russian defense companies. These Russian companies have been recorded using these same types of parts directly in Russia's war in Ukraine."
Blinken raised the issue of the Chinese Communist Party's lethal support for Russia when he met with his Chinese counterpart, Wang Yi, at the Munich Security Conference in mid-February.
"The secretary was quite blunt in warning about the implications and consequences of China providing material support to Russia or assisting Russia with systematic sanctions evasion," a senior State Department official commented about the meeting.
US ambassador to the United Nations Linda Thomas-Greenfield was even more explicit: If China provided lethal military aid to Russia, she said, it would cross a "red line."
It is highly questionable at this stage whether the Chinese will pay any heed to Blinken's or Thomas-Greenfield's warnings: In March 2022, the Biden administration delivered similarly worded threats to China -- that helping Russia evade sanctions would lead to "consequences." China did exactly that; a year later, "consequences" have yet to be seen.
Jake Sullivan, President Joe Biden's National Security Adviser, said in March 2022:
"We are communicating directly, privately to Beijing, that there will absolutely be consequences for large-scale sanctions evasion efforts or support to Russia to backfill them. We will not allow that to go forward and allow there to be a lifeline to Russia from these economic sanctions from any country, anywhere in the world."
In September 2022, China and Russia agreed "on further military cooperation with a focus on joint exercises and patrols, as well as on strengthening contacts between the General Staffs."
In December, Chinese President Xi Jinping gave instructions to strengthen economic ties with Russia. China has also been collaborating with Russia on large-scale military exercises. In December, the two countries held joint live-fire naval exercises, known as Maritime Cooperation 2022 -– a yearly event since 2012 -- in the East China Sea.
On February 14, the Russia Navy frigate Admiral Gorshkov, reportedly armed with Zircon hypersonic missiles, arrived in Cape Town, South Africa, for a 10-day joint military exercise. According to the Russian state-owned news agency TASS, the Admiral Gorshkov "will perform a training launch of a Tsirkon (Zircon) hypersonic missile during a joint exercise with South African and Chinese navies."
On the political level, China's senior diplomat, Wang Yi, arrived in Moscow on the eve of the one-year anniversary of the invasion, February 21, in a show of support for Russia. Wang met with Foreign Minister Sergei Lavrov, Nikolai Patrushev, the head of Russia's Security Council and President Vladimir Putin, saying that China would continue to work to "strengthen and deepen the Sino-Russian friendship."
"No matter how the international situation changes, China has been and remains willing to maintain the positive trend with Russia in building a new type of cooperative relationship between major powers...

"Sino-Russian relations are mature and solid as a rock, and will withstand the test of the changing international situation...

"We are ready, together with the Russian side, in accordance with top-level agreements, to resolutely defend national interests and dignity, and promote mutually beneficial cooperation in all areas."
Chinese President Xi Jinping is expected to visit Putin in the coming months.
It should come as no surprise that in addition to all this extremely public cooperation, China has also been secretly exporting military components for Russia's war effort in Ukraine -- especially since the US threat of "consequences" for China's evasions of Western sanctions exposed itself as hollow.
These revelations are not only an embarrassment for the Biden administration -- which should have known and acted upon them long ago -- but also serve as yet another black hole in the ability of the United States to deter adversaries.
It shows, sadly, that the words and threats of the US carry zero weight internationally, and that America's most aggressive adversaries are able successfully to collaborate.
John Richardson is a researcher based in the United States.