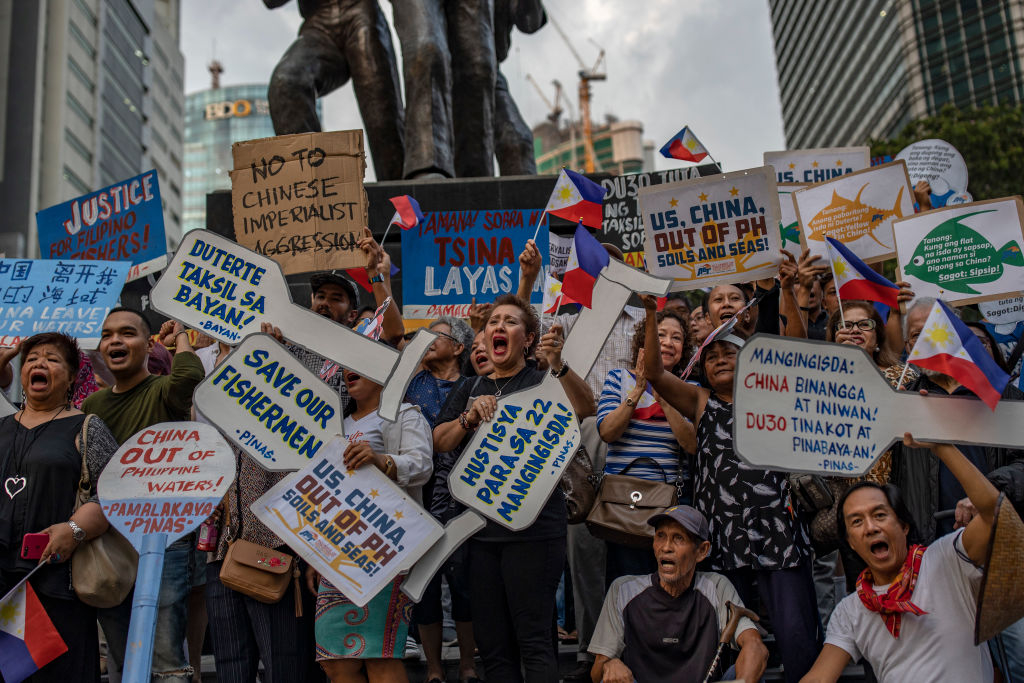 Manila apparently ran out of patience.
After a decade of suffering China's aggressive acts against Philippine vessels, fishermen and energy exploration efforts in waters within the archipelago country's Exclusive Economic Zone, President Ferdinand Marcos Jr. recently welcomed an expanded US military presence.
Marcos now has responded to continued Chinese belligerence by granting US forces access to five additional military bases on Philippine territory.
In a direct rebuke to China, two of these new bases are on Palawan, one of the disputed Spratly Islands, which are also claimed, as is much else, by Communist China. A US military presence on Palawan will be a direct challenge to the Chinese Communist Party's plan to ultimately seize Taiwan: Palawan is the closest large Philippine island to Taiwan and the equally disputed waters of the South China Sea. US air and naval assets on Palawan could potentially play a large role in supporting the Free World forces against China.
Despite Chinese President Xi Jinping having agreed to manage maritime differences through consultation, during Marcos' state visit to China in January, the Chinese Coast Guard initiated another incident with the Philippines in disputed waters in the South China Sea. A Chinese Coast Guard vessel on February 6, 2023, lasered a Philippine Coast Guard ship. The Chinese vessel directed a military-grade laser at the bridge crew of the Philippine ship twice, temporarily blinding a Filipino sailor.
On February 14, Marcos summoned China's Ambassador to the Philippines Huang Xilian. Marcos then condemned the Chinese Coast Guard vessel's "dangerous maneuvering," in which it came within 150 yards of the Filipino ship. The US government called China's use of laser beams against the ship "provocative and unsafe." Both the Australian and Japanese Embassies in the Philippines followed up the US diplomatic protest with similar condemnatory notes to their Chinese counterpart in Manila.
In 2022, the Philippines criticized China's aggressive maneuvers in South China Sea waters by lodging roughly 200 protests with Beijing. This pattern of reckless Chinese behavior may have helped Marcos to reverse the pro-China slant of former President Rodrigo Duterte, his predecessor. Duterte foolishly sought to appease Beijing during his term from 2016 to 2022, by issuing flippant statements such as: "It's time to say goodbye to Washington." Duterte, during his mid-October 2016 visit to China, attempted to negotiate a diplomatic agreement with Xi to defuse any incidents involving conflicting claims in the South China Sea. During his fifth visit to China in August 2019, however, where he finally was permitted an audience with Xi, Duterte failed to lower China's ambition to control the entirety of the East and South China Seas.
Philippine officials have failed to persuade China to abide by the May 2016 ruling of the Hague's Permanent Court of Arbitration (PCA), which said that China had consistently violated the Philippines' rights, guaranteed under the 1982 United Nations Convention of the Law of the Sea. The Philippines filed their complaint at the PCA against China three years earlier, in January 2013. Upon completion of the proceedings, the PCA's 501 page decision sided entirely with the Philippines. The PCA's unanimous ruling by a five-judge panel declared that China was responsible for disrupting the enterprise of Filipino fishermen, interfering with Philippine hydrocarbon operations, and creating environmental hazards with its construction activity on seven different entities. The PCA also criticized China for having constructed airfields, ports facilities and other military installations on artificial islands in the South China Sea, particularly the Scarborough Shoal and the Mischief Reef in the Spratly Islands.
China, by bullying its neighbors, is bringing about what it fears the most: a united phalanx of Asian powers under an American umbrella that is ready to prevent China from expanding to what it claims as its historic land and maritime borders.
Dr. Lawrence A. Franklin was the Iran Desk Officer for Secretary of Defense Rumsfeld. He also served on active duty with the U.S. Army and as a Colonel in the Air Force Reserve.