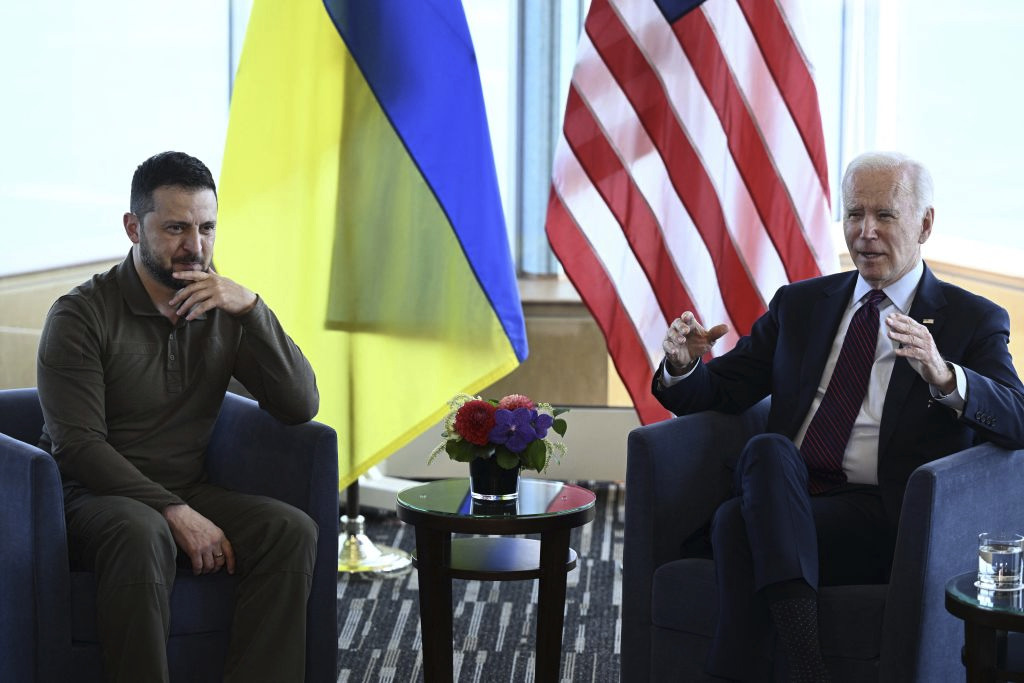 It has required a major U-turn on the part of President Joe Biden to finally give his approval for F-16 warplanes to be supplied to Ukraine. Even so, given the unconscionable delays that have affected other commitments by the Biden administration to provide Kyiv with advanced weapons, concerns remain about whether the aircraft will actually arrive in time to make a material difference to Ukraine's war effort.
Ukrainian President Volodymyr Zelensky and his senior military advisors have been appealing to their Western allies for months to be given access to Western warplanes as they seek to inflict a decisive victory against their Russian foes.
While the Ukrainian air force has exceeded expectations in withstanding Russia's aerial bombardment, questions have been raised about the ability of the country's ageing fleet of Soviet-era MiG fighters, which have suffered significant losses during the year-long conflict, to continue providing the air cover required to maintain military operations.
A shortage of available warplanes is said to be one of the key reasons Kyiv has postponed its long-anticipated spring offensive to liberate eastern Ukraine and the Crimea from Russian occupation.
As Zelensky himself recently conceded, without first establishing air superiority, Ukrainian forces could suffer heavy casualties if they advanced without proper protection. "We will lose a lot of people," the Ukrainian leader admitted in a recent interview.
Biden's decision, therefore, to back Western efforts to provide Ukraine with F-16 fighters, a vastly superior warplane compared with the country's current fleet of MiG fighters, therefore has the potential to be a game-changer for the Ukrainians, even if the Biden administration's characteristic dithering over the issue means it could be months before any Ukrainian F-16s actually see combat.
Procrastination and equivocation have been the key watchwords of Biden's response to the Ukraine crisis, with the supposed leader of the free world seemingly incapable of making a decision about how best to provide the Ukrainians with the weaponry they require to defeat their Russian adversaries.
At the start of the conflict, Biden hesitated about providing Kyiv with the long-range HIMARS rocket systems that, when finally introduced, enabled the Ukrainians to make a number of spectacular gains on the battlefield. Then he delayed making a decision about providing the Ukrainians with western battle tanks.
A similar pattern of unpardonable prevarication has defined Biden's response to Kyiv's request - made at the start of the year - to be provided with sophisticated Western warplanes.
Following Zelensky's public appeal to be supplied with sophisticated Western fighters such as F-16s, Biden initially responded by ruling out sending the warplanes to Ukraine which, as they were developed by the US, require Washington's approval before being handed over to third parties.
In an interview with ABC's David Muir in February, Biden declared that Ukraine "doesn't need F-16s now" and that "I am ruling it out for now," while the following month Colin Kahl, a top Pentagon policy official, told U.S. lawmakers that even if the president approved F-16s for Ukraine, it could take as long as two years to get Ukrainian pilots trained and equipped.
It was only after a number of key European allies, including the UK, France, Germany and Poland, backed the creation of a Western "coalition of jets" to boost Ukraine's war effort, that Biden eventually agreed that the transfer of the warplanes could go ahead – assuming, that is, that sufficient numbers of the warplanes were available to donate to the Ukrainian cause.
Making the announcement at the recent G7 summit in Japan, US National security adviser Jake Sullivan said Biden "informed his G7 counterparts" of the decision during the summit, and that the US would also supervise training of Ukrainian pilots.
At the same time, the administration moved swiftly to dampen expectations that the aircraft would be delivered anytime soon and that, when they did materialise, it was unlikely to make a significant difference to Ukraine's war efforts -- not exactly the ringing endorsement of support the Ukrainians were expecting.
US Air Force Secretary Frank Kendall was among a number of senior officials urging caution about the announcement, suggesting it could take several months to iron out the details of providing the aircraft.
"It will take several months at best for them to have that capability and there are a lot of details that are going to have to be sorted out," Kendall said. "It will give the Ukrainians an incremental capability that they don't have right now. But it's not going to be a dramatic game changer."
One of the big hurdles that needs to be overcome is finding F-16s that can be donated to Ukraine in the first place. The US, while willing to provide training and support, had indicated it does not want to send American warplanes to Ukraine, mainly because of the Biden administration's aversion to upsetting Russian President Vladimir Putin.
Meanwhile, European countries, such as the Netherlands, Belgium, Denmark and Poland, which operate F-16s and have led the campaign for them to be sent to Ukraine, say they have insufficient numbers of the aircraft to give to the Ukrainians.
All of which suggests that, rather than providing a tangible uplift to Ukraine's war-fighting capabilities, Biden's announcement about sending F-16s to Kyiv could prove to be little more than an empty gesture, one that raises serious doubts about whether the Biden administration really has any genuine interest in Ukraine winning this bloody war.
Con Coughlin is the Telegraph's Defence and Foreign Affairs Editor and a Distinguished Senior Fellow at Gatestone Institute.