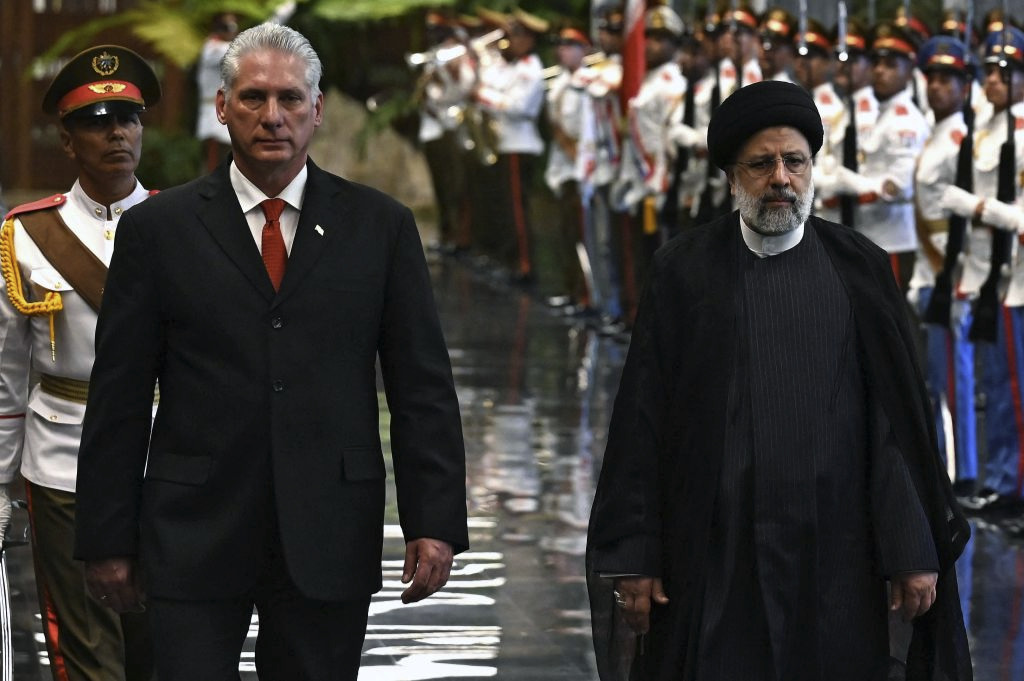 Thanks to the Biden Administration's apparently lack of policy towards Latin America as well as the Administration's policy of appeasement towards Iran's Islamist regime, the ruling mullahs have been freely violating sanctions and increasing their influence in America's backyard without facing any consequences.
Iranian President Ebrahim Raisi, during a recent historic tour of Latin America, first visited Venezuela and its president, Nicolás Maduro. Raisi discussed the US and made clear that the reason behind strengthening ties between Iran and Latin American countries would be to counter the United States, it allies, and to scuttle US national interests. He pointed out that the link between Iran and Venezuela "is not normal but rather a strategic relationship," and that they share "common interests" and "common enemies."
Latin American countries are opportune places for Iranian covert intelligence operations, especially those targeting the United States. A CNN report from 2017 stated:
"One confidential intelligence document obtained by CNN links Venezuela's new Vice President Tareck El Aissami to 173 Venezuelan passports and ID's that were issued to individuals from the Middle East, including people connected to the terrorist group Hezbollah."
The Venezuelan passports could be used for travel to North America and Europe.
"We're concerned," said Nathan Sales, former coordinator for counterterrorism at the US State Department, "that Maduro has extended safe harbor to a number of terrorist groups... [including] supporters and sympathizers of Hezbollah."
Iran began significantly increasing its influence in Latin America after US President Joe Biden assumed office, most likely assuming, apparently correctly, that the Biden Administration would not take any action against the regime. As Raisi acknowledged during his trip:
"In the years after the Islamic Revolution, the Islamic Republic of Iran had good relations with all the countries of the Latin American region, but these relations have not been active for some reason for the past decade. It was necessary to review the relations with Latin American countries as an important and strategic center in the world and remove the obstacles to the activation of relations."
He added that during this recent trip, "A total of 35 cooperation documents were signed with Venezuela, Nicaragua and Cuba in the fields of energy, industry, mining, construction of power plants and biotechnology."
US Rep. Maria Elvira Salazar, chair of the House Subcommittee on the Western Hemisphere, slammed the Biden Administration in a statement:
"Weak leadership from the Biden Administration has allowed the world's worst actors to penetrate our hemisphere with impunity. President Raisi's visit to Cuba, Venezuela and Nicaragua in plain defiance of the United States demonstrates the failure of the Administration's Latin America policy. We must repair our relationships with our friends in the region so that we can form a united front against the countries that invite the Islamic Republic's terrorist regime into our hemisphere".
The Iranian regime's terror cells have indeed grown in Latin America. Iran's terror proxy Hezbollah and Al Mustafa International University have both played a key role in expanding the mullahs' presence and ideology in the region. According to "United Against Nuclear Iran" (UANI), Al-Mustafa International University is tasked with "training the next generation of Iran's foreign Shi'a clerics, religious scholars, and missionaries."
"It is estimated that Al-Mustafa has 40,000 foreign students enrolled at present, roughly half of whom are studying at campuses within Iran. Many Al-Mustafa graduates are selected by the Iranian regime to establish religious and cultural centers in their home countries, where they can then recruit students and inculcate loyalty to the Islamic Revolution among local populations...

"Al-Mustafa operates several branches in European countries, most notably the Islamic College of London. Graduates of Al-Mustafa such as Italian cleric Abbas DiPalma have gone on to form Iranian cultural centers in their home countries, such as the Imam Mahdi Center in Rome. Al-Mustafa has also dispatched Lebanese graduates as missionaries to Latin America, where they seek to create inroads with expat communities and proselytize among local populations."
Thanks to the Biden Administration's non-existent leadership in Latin America combined with an appeasement in overdrive, Iran -- which the US Department of State has called the "world's worst state sponsor of terrorism" – is taking over America's backyard: Latin America. The Iranian regime is creating terror cells, exporting its Islamist ideology to Latin America, gaining access to Latin American passports, expanding the number Iranian-trained imams and militants in Latin America, increasing recruitment of radicals – while back at home the regime continues to enrich uranium to levels slightly below those needed for nuclear weapons breakout, all of which -- along with China set to militarize Cuba -- is a clear and present existential danger to the United States.
Dr. Majid Rafizadeh is a business strategist and advisor, Harvard-educated scholar, political scientist, board member of Harvard International Review, and president of the International American Council on the Middle East. He has authored several books on Islam and US Foreign Policy. He can be reached at Dr.Rafizadeh@Post.Harvard.Edu