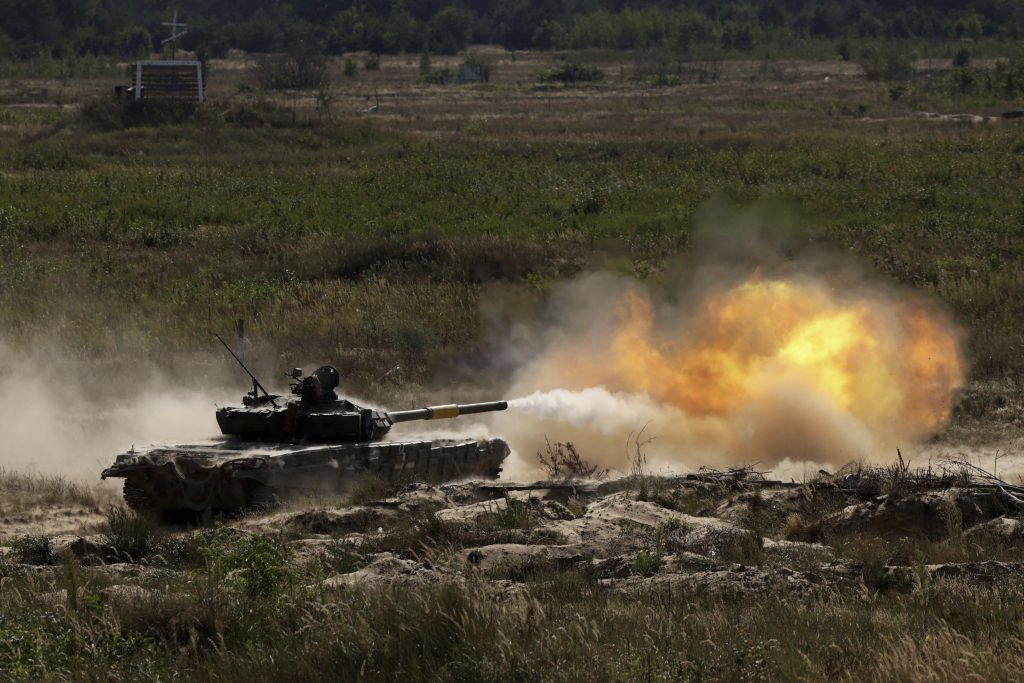 Ukraine's counteroffensive to liberate territory occupied by Russia may be taking longer than expected, but the central goal of inflicting a devastating defeat on Moscow remains imperative if other autocratic regimes like China are to be deterred from initiating future acts of bellicosity.
Since the Ukrainians launched their counter-offensive in the summer, their forces have made slow but steady progress in recapturing territory occupied by the Russians after President Vladimir Putin launched his unprovoked invasion last year.
The latest military assessment by US officials has concluded that the Ukrainian offensive, particularly in the south of the country, has achieved sufficient momentum to push through the so-called Surovikin Line, the complex network of defensive positions named after the Russian general who devised it.
Kyiv desperately needs to breach the Surovikin line at least to reach its main target of the coastal city of Melitopol, thereby severing Russia's land bridge between the mainland and occupied Crimea.
The slow rate of progress, though, being made on the battlefield by Ukraine's forces has raised concerns about the expectations of Kyiv's long-term strategic goal of expelling Russian troops from the entire country.
The slow rate of progress has also prompted politicians on both sides of the Atlantic to question whether it is worth continuing to support Ukraine's military effort or instead concentrate their efforts on negotiating a peace settlement between the warring countries.
In this context recent comments made by Vivek Ramaswamy, a candidate for the Republican Party nomination in the 2024 US presidential election, have been greeted with considerable concern in Kyiv.
Ramaswamy, a 38-year-old entrepreneur and relative newcomer to the political stage, has attracted much attention over his novel approach, where he is calling for Ukraine to cede territory to Russia as part of a peace package that would also commit Moscow to end its military alliance with Beijing.
Ramaswamy's fundamental argument, which is attracting support in some Republican circles, is that by supporting Ukraine's war effort, the US and its allies risk forcing Moscow to align itself more closely with Beijing, thereby creating a powerful bloc to confront the West.
It is a view that has also been espoused by former Fox News host Tucker Carlson, who has warned about the Ukraine war "pushing Russians into the arms of the Chinese." Florida Governor Ron DeSantis, a prominent contender for the Republican nomination, earlier this year broke ranks to argue that protecting Ukraine is not a key US interest.
As Justin Logan, the director of defense and foreign policy studies at the conservative think tank Cato Institute, recently commented, the views espoused by Ramaswamy and other prominent Republicans risk appealing to ordinary Americans who are growing more tired of financing the war.
While these arguments have understandably caused alarm in Kyiv, where Ukrainian President Volodymyr Zelensky is calling on the West to increase its support for the Ukrainian military, not diminish it, they also fail to acknowledge the vital importance inflicting defeat on Russia will have for the future of the West's security.
Had it not been for the surrender of the US to Afghanistan in August of 2021, Russia would never have invaded Ukraine. Putin only started slowly sending troops to its border a few weeks later in September. Recently, China has begun sending ships and fighter jets toward Taiwan in the same slowly escalating way, to "normalize" troop movements and avoid raising alarm. The US simply cannot afford another defeat, this time in Ukraine. The surrender of any Ukrainian territory in some "deal" to end the war will be seen by the international community as a victory for Putin and another feckless American cut-and-run.
So far, according to the latest Western intelligence assessments, Western support for Ukraine's military campaign has resulted in Moscow losing almost half of its total combat capability in the conflict. And the longer the war continues, the more Russia's conventional military strength becomes degraded, thereby limiting its ability to mount a significant military threat to the West. Russia would still retain the world's largest nuclear arsenal, but its ability to threaten its neighbours through conventional means would be severely restricted.
Moreover, the notion that Western support for Ukraine will force Moscow to forge closer ties with China is also overstated. Chinese President Xi Jinping may have given his tacit backing for Putin's invasion of Ukraine last year, but Beijing regards Moscow as being very much the poor relation in their alliance, and sees Russia as being little more than a gas station to be used to fuel the Chinese economy. If Russia seriously thinks its interests would be better served by developing close ties with China, it should think again.
Another important factor that needs to be taken into consideration is the impact Russia's defeat in Ukraine will have on other autocratic regimes, such as China, who are tempted by the prospect of using military force to achieve their nationalist objectives.
If Putin were to succeed in capturing large swathes of Ukrainian territory through force of arms, China would conclude that it could use similar tactics to achieve its own aims, such as launching an invasion of Taiwan. If Putin is defeated, though, China's Communist rulers will have to think twice before launching an unprovoked military assault.
Still another factor that risks undermining Western support for Ukraine is the unreliability of the Biden administration's approach to the conflict. On one level, the White House remains committed to supporting the Ukrainian cause. On another, it appears confused about defining its ultimate objectives in the conflict. As retired US General Jack Keane recently commented in an interview with Fox News, the Biden administration's current track record suggests that it still does not have a strategic goal in the conflict.
If that is the case, then in the interests of Western security, the administration needs to agree on an endgame for the Ukraine conflict, one where Russia's humiliating defeat at the hands of Western backed Ukrainian forces becomes the central objective.
Con Coughlin is the Telegraph's Defence and Foreign Affairs Editor and a Distinguished Senior Fellow at Gatestone Institute.