Police in the suburbs of Paris are working to restore order after hundreds of Muslims went on a rioting spree to protest the simple identity check of a Muslim woman who was wearing a full-face Islamic veil.
It is against the law to wear the face-covering niqab or the body-covering burqa in public spaces in France; violators are subject to fines of up to €150 ($200).
The latest round of violence erupted the evening of July 19 in Trappes, a gritty suburb situated 30 kilometers (20 miles) southwest of Paris. Trappes has 30,000 inhabitants, many of whom are Muslim immigrants.
Police say a crowd of possibly 400 Muslims gathered outside the Trappes police station in response to the arrest on July 18 of a man who had assaulted a police officer during an identity check on his wife, who was entirely veiled.
The niqab-wearing woman in question is 20-years-old; her 21-year-old husband, a convert to Islam, reportedly objected to the policeman interrogating his wife, and allegedly tried to strangle him, an act that lead to his arrest. Muslims insist the man was provoked.
After police in Trappes rejected Muslim demands to release the husband, the mob went on a rampage, throwing stones and Molotov cocktails at police, pelting police with firecrackers from rooftops, burning cars and trucks and destroying public property, including several bus stops, before being repelled by riot police.
A nine-minute video on YouTube shows police helicopters buzzing overhead amid burning cars and trash bins, as well as a building that was torched. Photos of the unrest can be viewed here and here.
Although no one died in the disturbances, five people were injured, including four police officers and a 14-year-old boy, who lost his eyesight from a projectile.
Despite a heavily reinforced police presence, on July 20, approximately 50 people were involved in fresh clashes with riot police. Around 20 cars were torched and four people arrested. A seven-minute video of the violence can be viewed here.
The violence also spread to the surrounding towns of Elancourt and Guyancourt.
The rioting continued on July 21, when police in Trappes dispersed several dozen protesters after fireworks and other projectiles were tossed towards police lines.
At least six people have been arrested in connection with the riots, and on July 22 a French court sentenced a 19-year-old North African youth to six months in prison on charges of committing acts of violence and throwing projectiles at the police during the riot in Trappes.
Clean-up crews are now clearing away shattered glass from bus shelters, burned trash bins and stones littering the pavement; tow trucks are carting away burned cars.
A similar outbreak of unrest occurred in June, when police stopped a 25-year-old woman for wearing a niqab in Argenteuil, a suburb 12 kilometers (8 miles) northwest of Paris.
According to the French newspaper Le Parisien, the woman had initially agreed to the identity check, but a passerby got involved, saying that, in his opinion, the check was illegitimate. He then began to attack the police; apparently in almost no time, some 60 Muslims joined the melee. Outnumbered, the police were forced to call in reinforcements, who eventually used tear gas to disperse the crowd.
A local resident who witnessed the riot said Muslims attacked, insulted, beat and punched the police. Two men, including a cousin of the woman, were arrested for "provoking the crowd" and "inciting violence against police officers."
In the southern French city of Marseille, Muslims went on a rampage a year ago, in July 2012, after police ordered an 18-year-old woman Muslim woman who was wearing a niqab to show her identity card. The woman refused: "I don't obey the laws of the French Republic," she said, and allegedly bit one of the officers. Scuffles then broke out, with around 50 Muslims present, including the woman's partner. Three police officers were injured.
Four people, including the woman and her partner, were arrested and taken to a police station, but were released shortly afterwards "in a gesture of appeasement during Ramadan," according to the public prosecutor.
Marseille's deputy mayor, Nora Présozi, supported the police: "Many women wearing the burka are looking for confrontation with the police," she sad. " By doing so, they are conveying a poor image of Islam."
Rioting in French suburbs is nothing new. France has Europe's largest Muslim population, and tensions are high in all major French cities, especially in the immigrant suburbs known as banlieues.
French authorities, however, reportedly fear a repeat of the riots in 2005, when the deaths of two Muslim teenagers in Clichy near Paris sparked weeks of looting and car-burning, and led to the imposition of a state of emergency.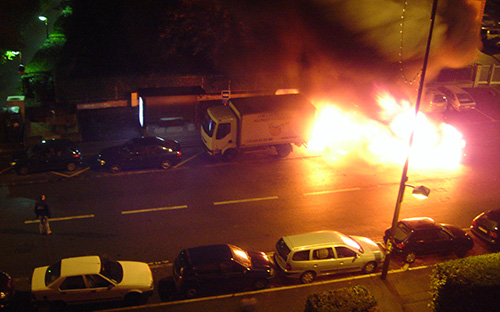 A car burns in Sèvres, France, during the 2005 riots. (Source: WikiMedia Commons)
More recently, Muslims say they are upset over police who are enforcing the secular laws of France.
These laws include France's much-debated "burqa ban" which entered into force in April 2011. This law, which prohibits the wearing of burqas and niqabs in all public spaces in France, comes amid rising frustration that the country's estimated 6.5 million Muslims are not integrating into French society.
With certain exceptions, anyone in France covering her face on the street and in parks, on public transportation, in public institutions such as train stations and town halls, and in shops, restaurants and movie theaters, will be subject to a fine of €150 ($200). Exceptions to the ban include covering of one's face with a motorcycle helmet, sunglasses, a bandage, a welding mask, a fencing mask or a fancy dress mask.
More severe penalties are in store for those found guilty of forcing others to cover their faces by means of "threats, violence and constraint, abuse of authority or power for reason of their gender." Clearly aimed at Muslim fathers, husbands or religious leaders, anyone found guilty of forcing a woman to wear an Islamic veil against her will is subject to a fine of €30,000 ($40,000) and one year in jail, or €60,000 ($80,000) and up to two years in jail if the case involves a minor.
The ban does not apply in private homes, hotel rooms and office buildings, except for elevators, conference rooms and lobbies and other spaces open to the public. The law also defines the inside of an automobile as a private space, exempt from the measure.
Around 300 women have been issued fines since the face-veil ban took effect.
French Interior Minister Manuel Valls has defended the country's ban on wearing full-face veils in public. In an interview with the French radio station RTL on July 22, Valls said the "police did their job perfectly." He added: "The law banning full-face veils is a law in the interests of women and against those values having nothing to do with our traditions and values. It must be enforced everywhere."
Soeren Kern is a Senior Fellow at the New York-based Gatestone Institute. He is also Senior Fellow for European Politics at the Madrid-based Grupo de Estudios Estratégicos / Strategic Studies Group. Follow him on Facebook.