Since the signing of the Oslo Accords 20 years ago, PLO leaders and officials have threatened to resign each time they wanted something from the international community or Israel.
Saeb Erekat, the chief PLO negotiator, who is currently heading the PLO negotiating team with Israel, tendered his last "resignation" earlier this month in protest against "continued settlement construction."
This was Erekat's sixth or seventh "resignation" over the past two decades. Erekat will probably enter the Guinness Book of World Records for the number of times he supposedly resigned.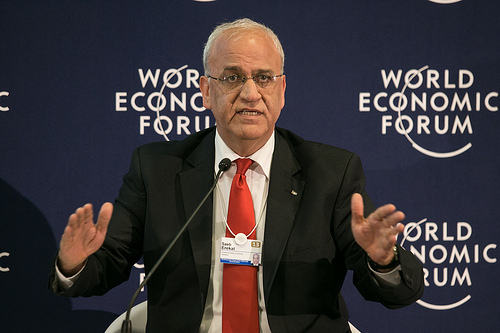 Saeb Erekat, the PLO's chief negotiator, addresses the World Economic Forum on the Middle East and North Africa, 2013. (Image source: World Economic Forum / Benedikt von Loebell)
Each "resignation" was intended to exert pressure on the international community to comply with various PLO demands. Sometimes, however, the "resignations" are aimed at extracting concessions from the PLO leadership itself.
For most Palestinians, Erekat's repeated "resignations" have become a laughing matter. Each time they hear or read about the "resignation" of Erekat or any other top PLO official, many Palestinians react with a wide smile.
Palestinians understand that the "resignations" are mainly aimed at prompting the US and Western countries to exert pressure on Israel to make concessions to the PLO. Others see the move as a "political maneuver."
Erekat's journey with "resignations" dates back to 1993, when he and two other negotiators, Hanan Ashrawi and Faisal Husseini, announced that they were quitting over a dispute with Yasser Arafat.
The dispute erupted after Erekat and his two colleagues discovered that Arafat and the PLO leadership had been conducting secret negotiations with Israel behind their backs.
Arafat then rejected the "resignations" and asked Erekat and his colleagues to stay on, according to a dispatch from Associated Press in August 1993.
In 1998, Arafat again rejected the "resignation" of Erekat, according to the Egyptian daily Al-Ahram.
Between 2002 and 2013, Erekat was reported to have quit at least another five times.
Erekat's repeated "resignations" have obviously not stopped him from remaining in his job as chief PLO negotiator.
Erekat's latest "resignation" has been rejected by Palestinian Authority President Mahmoud Abbas, according to Palestinian officials in Ramallah.
They said that Abbas has asked Erekat to remain in his post until the formation of a new negotiating team. Erekat, of course, cannot say no to the president and that, he explains, is why he will continue to lead the Palestinian negotiating team.
Erekat and other PLO officials who keep threatening to quit are hoping that the Americans and Europeans will "freak out" at the thought of losing Palestinian "peace partners."
Abbas himself has also endorsed the ploy. Over the past eight years, he too has threatened to resign and dismantle the Palestinian Authority unless the Americans and Europeans forced Israel to make concessions.
In October 2010, Abbas informed former US envoy George Mitchell that settlement construction would prompt him to resign.
The message that Erekat and the PLO officials are sending to the world is: "Hold us back from resigning or else there will be no peace process."
The "resignations" and threats to quit are also intended to send a message to the Palestinian public, which long ago lost confidence in the PLO negotiators' performance, that Erekat and his colleagues are playing tough with Israel.
PLO officials are apparently convinced that they can "fool all of the people all of the time." The next time the Americans and Europeans hear threats to resign from PLO officials, they need to react the same way as Palestinians do -- with a wide smile.
They also need to be reminded that Abbas and his predecessor, Arafat, also threatened to quit at least 20 times since the beginning of the peace process.